Most studies show that direct swabbing or sampling of the feeding or milking equipment surfaces to quantify bacterial contamination using classic microbiological culture is generally the gold standard method. However, the determination of colostrum total bacterial counts does not enable separation between different sources of contamination, which include colostrum contamination during milking, feeding, and storage.
Colostrum and milk-feeding equipment are especially at risk of protein, fat, and sugar deposits if improperly cleaned. These residues can serve as a matrix for future bacterial adhesion, growth, and biofilm formation, which allows future bacteria to adhere and proliferate on the contaminated surface. Knowing the variation of contamination levels in herds and associating it with calf-raising procedures could be helpful for dairy producers and consultants. It could help assess if the farm's equipment cleaning standard operating procedures are adequate, and thus could help improve calf-raising programmes on farms.
Applying ATP luminometry
The researchers assessed the cleanliness of various equipment used for colostrum harvest and calf feeding procedures on dairy farms using a quick portable ATP luminometry device. The study was performed on 42 commercial dairy herds in Québec, Canada.
During the study period, colostrum and milk-feeding equipment cleanliness was assessed using direct surface swabbing with Hygiena Ultrasnap swabs. A total of 155 swab samples were obtained from 6 pieces of equipment (buckets used for colostrum harvest, bucket or bottle used for feeding, tube feeders, milking colostrum line, and internal surface of the nipples).
Adenosine triphosphate (ATP) collected from the swabbed surface reacts with the luciferase solution present in the swab by bioluminescence, which is proportional to the quantity of ATP present and quantified as relative light units (RLU). To define excessive bacterial contamination of feeding equipment a high threshold of ≥1,000 RLU was set. In brief, luminometry quantifies the ATP found on the surface being investigated and is correlated with bacterial counts.
Cleanliness of equipment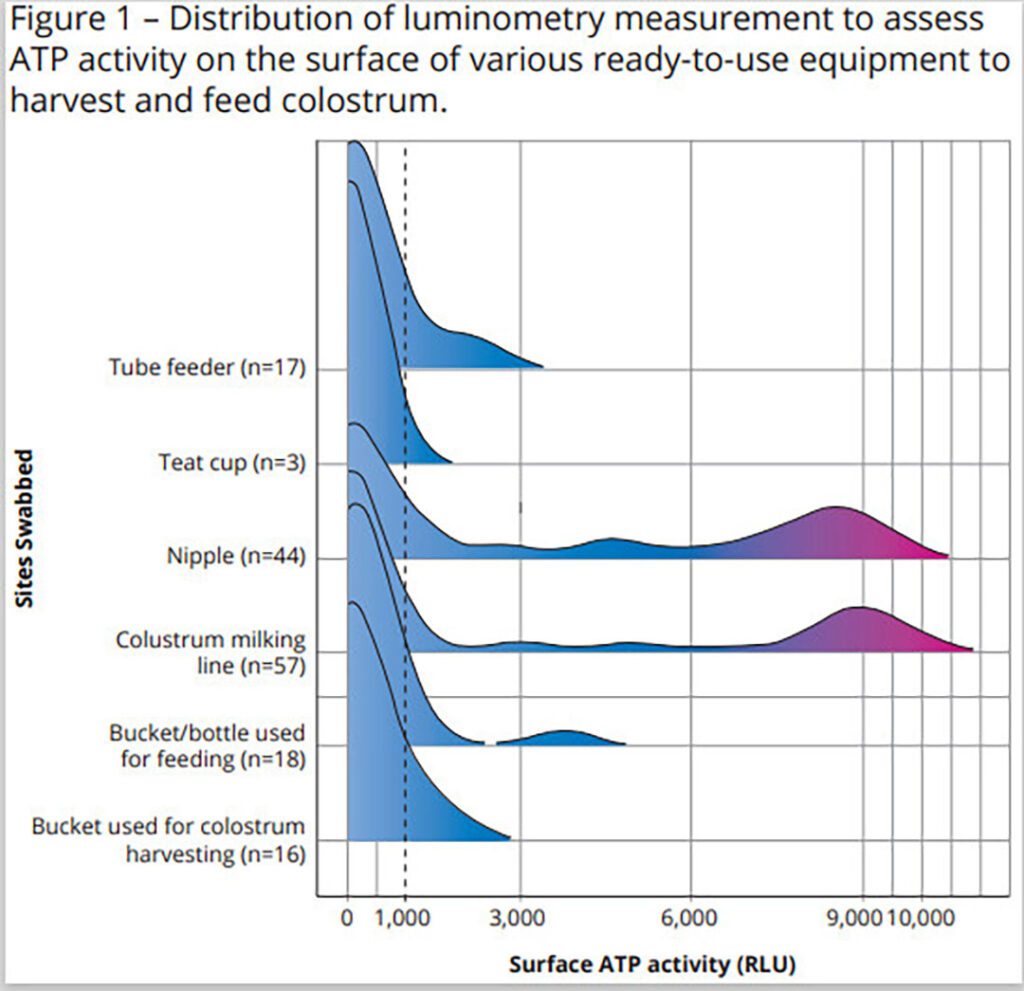 Milk lines used for colostrum harvest and the internal part of nipples had the highest contamination levels of all sampled areas. It was found that the median (range) RLU for buckets used for colostrum harvest, buckets or bottles used for feeding, tube feeders, milking colostrum line, and the internal surface of the nipples were 41 RLU (3–1,625 RLU), 78 RLU (<1–3,765), 29 RLU (<1–2,177) RLU), 83 RLU (<1–9,968) RLU), and 1,101 RLU (2–9,546 RLU), respectively. Despite using a relatively high threshold to define excessive bacterial contamination of feeding equipment (≥1,000 RLU), 67% (28/42) of the visited farms had a maximal RLU value above this threshold, indicating that there is room for improvement in cleaning colostrum harvesting and feeding equipment.
Points to remember
The researchers concluded that the use of a portative luminometer device is promising as a quick on-site tool to help assess cleaning and sanitation practices for colostrum and milk-feeding equipment and distinguish dairy herds according to management practices and hygiene characteristics. They also stated that an indirect suggestion from the current study would be to use luminometry as a quick screening test for the investigation of global hygiene colostrum management.
They also emphasised that due to the existence of variations between luminometer types, the Hygiena 1,000 RLU threshold used in this study cannot be extrapolated to other luminometer types. Their suggestion for future research is to determine the optimal way for tailoring the use of luminometer in calf barns as well as the positive effect of decreasing luminometry values on calf health and performance.