They were doing their very best, putting in long days, trying to make conservative financial decisions, growing their herd and hiring non-family members. But despite their 'work hard' mantra, they found themselves having to borrow money every month to pay the bills. The financial stress was keeping them up at night. Trying to learn how to manage people was another headache.
And those factors together led to underperformance on the dairy with low milk production, high somatic cell counts and way too many sick cows.
Get a win and get more milk
They were at the breaking point; if something didn't change, they risked losing the family farm, and worse yet, ruining their family relationship. That's when they called Pauly.
He walked into disgruntled employees, inefficient routines, an overflowing treated pen and a family farm on the verge of falling apart. So, where did he start?
"The first thing I try to do is get a win," Pauly says. With his keen eye for efficiency, he could see that the first priority was to get more milk out of the cows. But before that could happen, there were employee problems to address.
"I wanted to figure out how we could get some more income and try to change the attitude of the employees," he adds.
His first conversations were with the milking crew. He could see that they were stretching out the 2 milking shifts, which triggered other problems like increased standing time and too many minutes away from the feed bunk, all triggers for the domino effect of hoof, leg and metabolic problems.
Instead of telling them what needed to change, he asked for their input first. What he uncovered was that the 3 8-hour shifts were not what the employees wanted. They were working, leaving and then coming back, and they did not like that. Pauly took this feedback and made it part of restructuring the solution.
"We went from an 8-hour shift to a 12-hour shift, so we were able to eliminate 1 shift of employees. We started milking cows and got that done in 5 hours. Employees were then able to take an hour-long break and do some washup, and then start milking again," he explains. "It took 10 hours, so they're totally done, cows were back in the pens much quicker, and production started climbing instantly."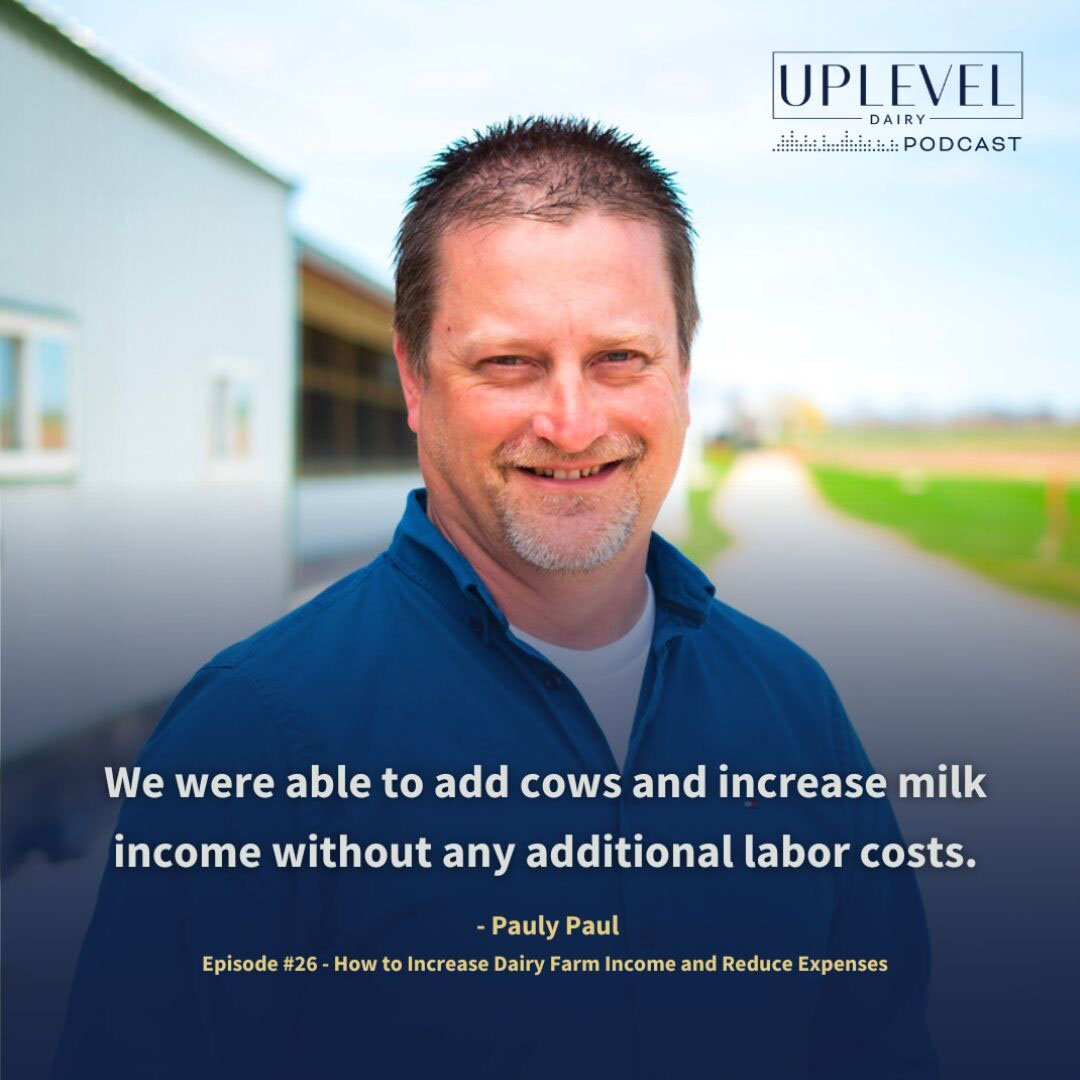 Employee morale and more income
He adds: "The morale of the employees became really good once they realised the schedule that was put in place was actually favouring them, so they were getting paid for their 12 hours and they only had to work for 10."
These shift changes also allowed for the herd to go to 4x milking, thus generating more income without adding any additional labour costs. These were the first 'wins' – employees were happier, the milk check was bigger and the cows were doing better. The wins led to more buy-in from the employees for changes in other areas on the dairy, like the feed centre.
Win after win after win…and 6 years later, they are up 20 pounds of milk, well under 100 SCC, no employee turnover, no longer borrowing money for bills, and these farmers are sleeping well at night, knowing the farm and their family are set up for success.
So the take-away here is really this: Look for the first 'win'. When overwhelmed and challenged to know where to start, find a place where you can get that first 'win' because along with it comes confidence and momentum for the next one.
So what is your next 'win'?
*Uplevel Dairy Podcast Episode #26: How to Increase Dairy Farm Income and Reduce Expenses