The farm stands out as a well-preserved example of history, architecture and culture from 1800 Brazil, when coffee was the main economic pillar for the country.
In fact, the bin where coffee grains were warehoused in the past is key for 'Queijo Tulha', the first Brazilian cheese to win the gold medal at the World Cheese Awards, held in San Sebastian, Spain, in 2016.
This 'combo' of history, quality and flavour convinced jurors from the international competition, whilst the prize also attracted visitors to Atalaia Farm. Currently, up to 2,000 people visit there every weekend looking to experience a typical farm routine.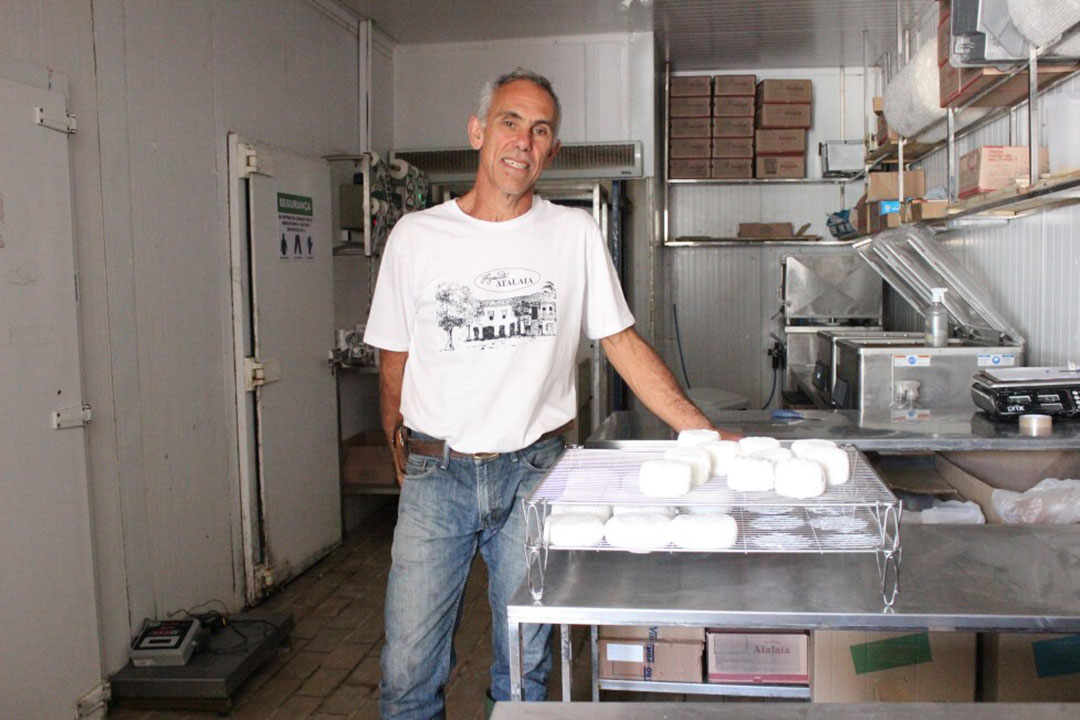 From coffee to cheese
Despite the attempt to continue with coffee production, the effects of the 1929 crisis changed the Atalaia Farm's activities. The farm tried sugarcane and an alembic was built after the 1940s, but at the end of the century, cheese became a focus.
"My wife began with a few cows and 40 litres of milk per day to produce artisan cheese. That was 27 years ago. Currently, we have more than 30 types of cheese and dozens of other products," says Paulo Rezende, agronomist and owner of Atalaia Farm.
The success of cow cheese and tourism motivate him to diversify production and improve structure to receive visitors. Currently, they have around 100 cows in lactation, 130 goats and 50 sheep for cheese production.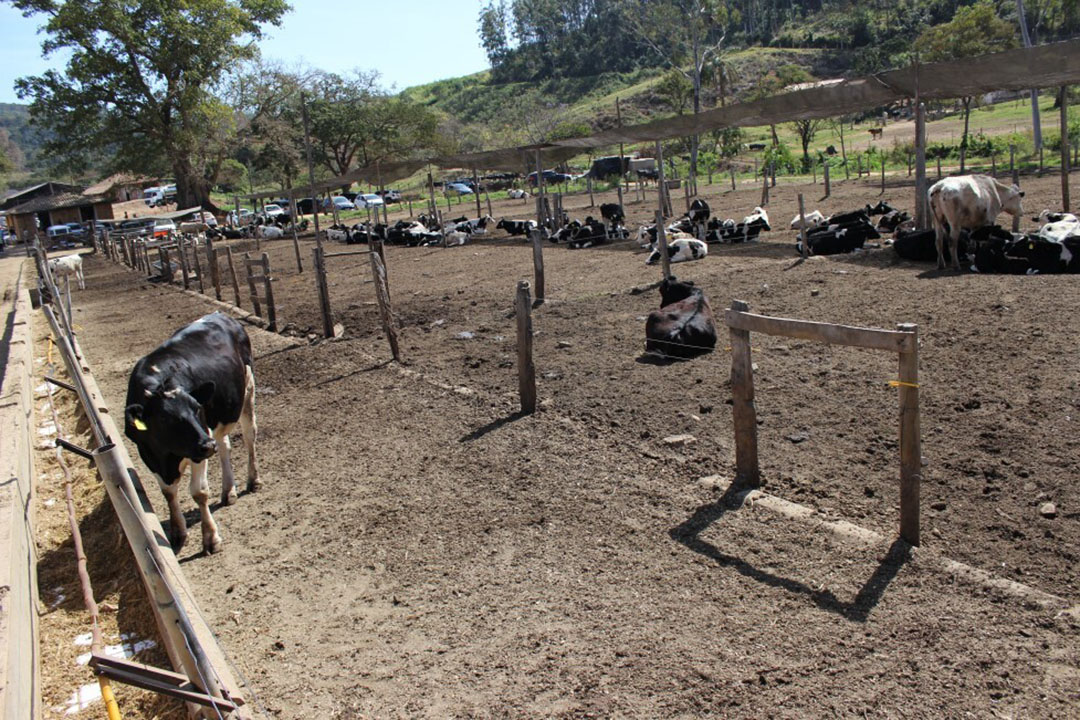 "Goats and sheep have just recently been introduced on the farm. We started with goats 2 years ago and sheep this year. Our Caprinus cheese received the bronze medal at World Cheese Awards last year," he said.
Cheeses
Atalaia Farm produces about 350 kg of 30 various types of cheese per day. Among them are matured varieties Tulha, Mogiana, Mantiqueira, Figueira, Alvorara, Figueira, Taipa and Trilha.
The famous 'Queijo Tulha' is made from a dough cooked with milk from A1 cows, with low fat content and 3 types of maturation (8, 12, and 18 months) in the old coffee bin.
Thanks to fungi, bacteria and yeasts typical of this environment, the cheese has a hard, reddish rind. Its dough is firm like Parmesan, but it melts in the mouth when eaten, revealing its delicately citrusy salty flavour, with the presence of crystals that resemble passion fruit.
Atalaia´s other best-sellers are 'Mogiana cheese', the Mantiqueira cheese and the awarded goat cheese Caprinus. Mogiana cheese is aged for 120 days, presents good acidity, orange tone due to annatto in the recipe and is suitable for hot recipes.
Mantiqueira cheese presents mild flavour and there are 2 versions – with bark matured with rosemary or washed in Stout beer which, in the mouth, presents a greater creaminess.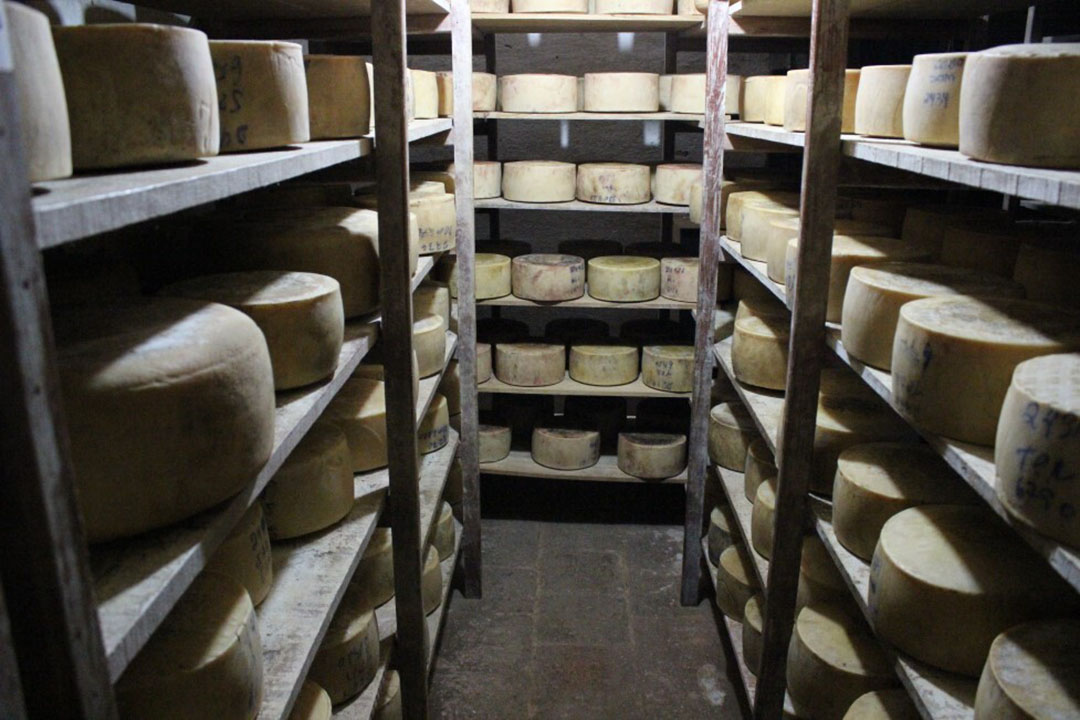 Finally, Caprinus cheese is a very matured cheese that spends about 9 months maturing in an underground cave. This time inside the cave brings unique characteristics, its terroir, to this cheese.
The prolonged maturation of goat cheese softens the strong and earthy flavour characteristic of this type of cheese, but even so, Caprinus cheese is an intense cheese, with a crumbly mass that, when eaten, brings notes of milk and yet still slightly earthy flavour.
Touristic attraction
With regard to tourist attractions, they already have a restaurant, shop and guided tours around the farm since 2018, but the plan is to improve 'real experiences' and accommodation and the cultural agenda on the farm.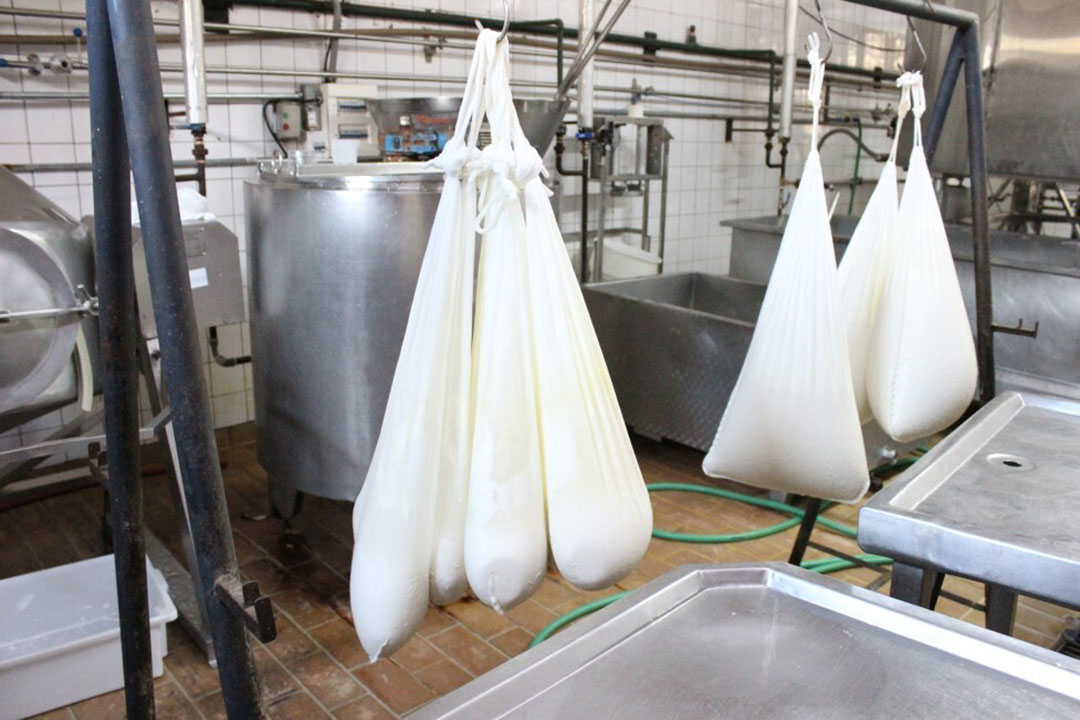 "When we received the award and when we became better known from 2017 onwards, people started coming quite spontaneously. Thus, we are developing projects to improve this cultural on-farm offering," describes Meiri Cardoso, responsible for communication and culture at Atalaia Farm.
In addition, she said new dairy and food products are continuously being developed from goat and sheep cheeses, with improved and innovative dairy products and baked goods.
Visitors can also experience a walking tour approximately 50 minutes through the farm. The guided historical tour aims to contextualize Atalaia Farm, a century-old property dated back to the 1850s, and a part of Brazilian history.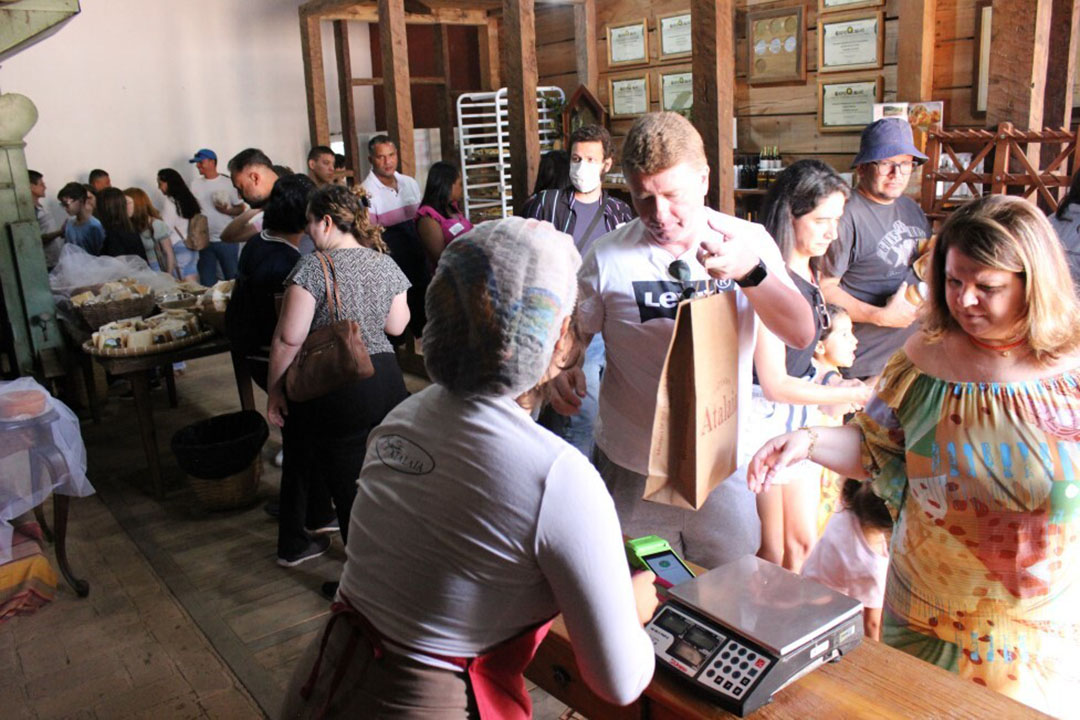 Experts talk about coffee culture expansion in the country, the arrival of railways in the region, slave exploitation and immigrant labour, architectural culture and restoration at the farm and also dairy farming in the region and so on.
Atalaia Farm also offers a restaurant lunch with typical dishes and traditional breakfast from Wednesday to Sunday, in addition to the cheese tasting sessions and daily shop opening hours for their artisanal products.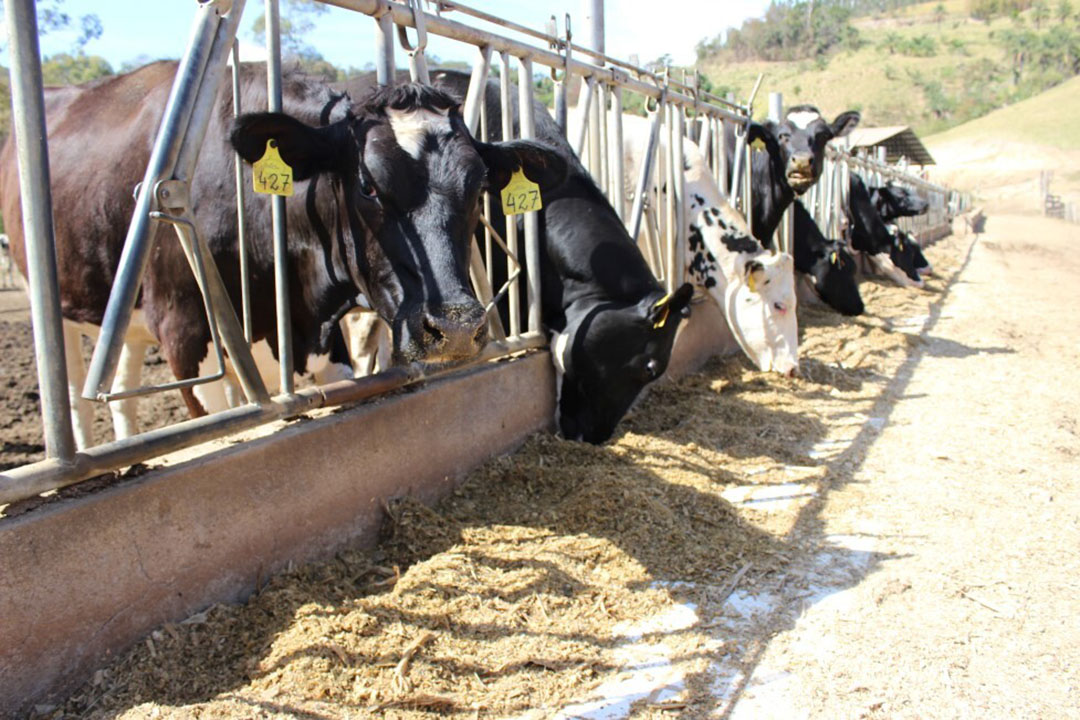 "If you do not produce commodities on a large scale, you need to add value onto your production and structure. It is a great pleasure to me to see that people from all over Brazil and abroad want to know our history and products," says Paulo.
Dairy farm restoration
Since 2012, the farm has been undergoing restoration planning for its main buildings (granary, coffee yard and main house). The resources obtained from the commercialisation of dairy products has made investments in architectural restoration possible.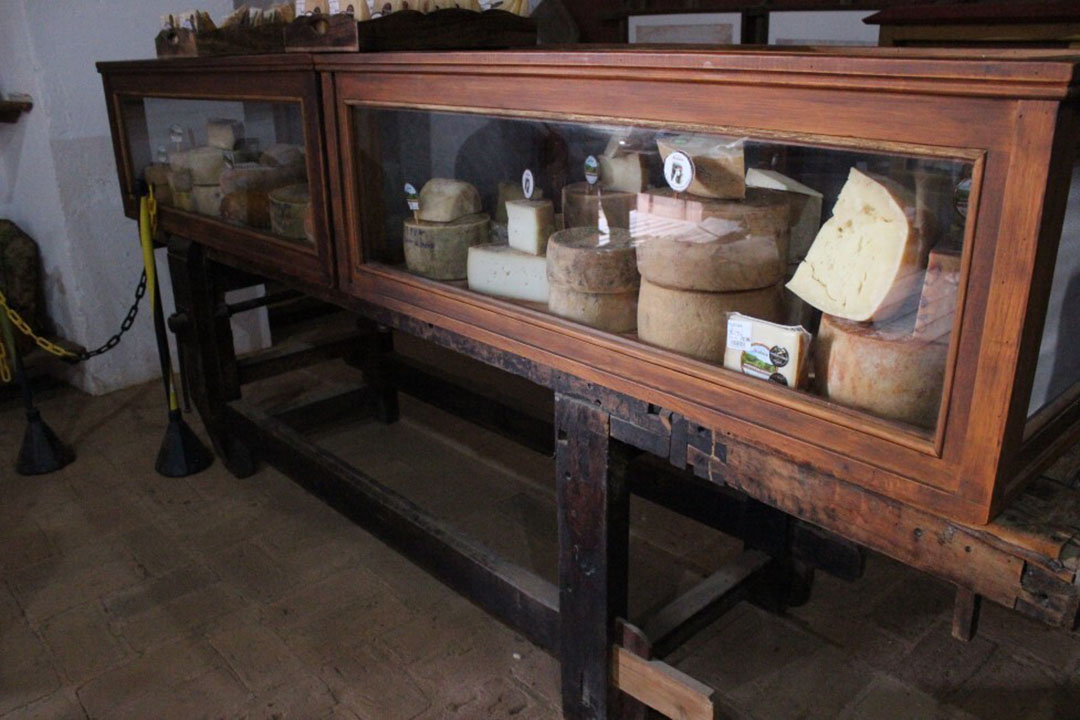 The restoration and reconstruction of the fencing structures carried out using antique construction techniques, such as Taipa de Mão, Taipa de Pilão and Adobe, using clay, bamboo and wood.
The same techniques that were originally used for the building during the coffee period and that today characterises the maturation of cheeses in a natural environment.