The Dorset college is working with Wessex Internet on a number of projects designed to improve the health and welfare of its livestock as well as looking to cut carbon emissions.
David Cotterell, farm manager, said monitoring the mobility of the herd was very important, as early onset of lameness affected the animals' appetite and milk production as well as causing discomfort.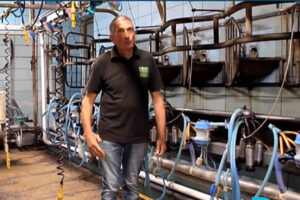 Camera recognition
"We have a camera at the exit of the parlour that recognised the cows from the top of their heads – not their ear tags or numbers on their back but the shape and colour patterns of black and white. It's like facial recognition with cows.
"Every day, twice a day, the cows will walk past the camera and the camera will look at subtle changes for body movements – stuff that we can't see with the naked eye. It marks them and gives them points every day, and if they stray over a certain number of points it will flag up potential lameness."
Preventing lameness & boost welfare
The camera feeds live images back to base form the milking parlour. This allows Cotterell to use the CattleEye analysis software to monitor the health of their cattle remotely and make timely decisions across the herd.
He said the camera and the data feeding from the images were enabling cows to have their feet trimmed to prevent lameness and boost animal welfare, an issue that the herd's farm assurance scheme RSPCA Assured and dairy company Marks and Spencer, are particularly keen to enhance.
Temperature sensors
He added that the college was also working with Wessex Internet on a range of temperature and humidity sensors in the cattle shed to prevent any temperature spikes.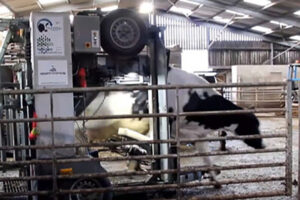 Methane and ammonia sensors
"It's important to keep cows at the right temperature and the sensor measure things over time and we can look at trend. We are also looking at sensors for methane and ammonia – which we want to monitor and keep under control.
Filtering the data
"Data can be immense but it's very important to have systems in place to filter that data which we can use in the business. We don't have time to analyse lots of bits and pieces. We need a simple system that can identify cows that need help. If 5G can get us data that can be processed and back to farmers who can understand and use it, it will be very good for the efficiency of the business and also for the environment and animal welfare."
Cost of technology
Digby Sowerby, Wessex Internet project manager, told a Digital Dorset webinar that costs for some of these technologies were very reasonable. The fitted camera can be bought for £150 and the costs of software were in the region of £3-4,000 for the 150-head herd.
Mr Sowerby said there were many advantages of using such equipment: "Marks and Spencer and the Royal Veterinary College have been really interested – they like to see this type of data. I think it will have knock on effects on traceability along the supply chain. It's also useful from a labour perspective and will bring in new people into farming and new skills sets."
Ben Lancaster, rural practice manager at Dorset Council, said he could see the costs comparing favourably with traditional locomotion scoring and traceability.