Even though the Lameness in Ruminants Conference was postponed, a recent 'Week of Webinars' has taken place, which was organised by the Cattle Hoof Care Standards Board and hosted by the British Cattle Veterinary Association. It presented a good opportunity to keep up-to-date with what's happening in the lameness and foot trimming world.
Predicting what's on the inside, from the outside
I was pleased to be given the opportunity to start the week by sharing some findings from my University of Nottingham PhD, which is funded by Agriculture and Horticulture Development Board (AHDB). This part of the research built on early discussions around appropriate toe length and whether "a good 7.5cm for a Friesian" of the original Dutch 5-step method still applied.
More than 220 hind limbs from recently slaughtered dairy cattle were assessed with a wide range of external measurements recorded from each foot before dissecting and measuring sole thickness under the tip of the pedal bone. The best predictor of sole thickness was dorsal wall (toe) length as measured from where the horn was palpably hard at the coronary band to the toe tip.
Interestingly, cow parameters such as weight and age were not useful predictors and including a combination of different factors did not significantly improve predictions. Around half of the variation in sole thickness could not be explained based on the parameters assessed, suggesting that whilst dorsal wall length is the appropriate measurement to use to estimate sole thickness, it is important to apply caution by allowing for a margin of error.
These are interesting results which indicate a greater heritability for sole haemorrhage and ulcer than previously thought.
Can we breed our way out of lameness or replace our eyes with technology when it comes to lameness detection?
Next in the line-up was Professor George Oikonomou from the University of Liverpool who covered 2 interesting topics. First of all, he shared the interesting results from a project looking at the heritability of foot lesions. This large-scale study enrolled 2,352 Holstein cows over an 8-month period and evaluated them at 4 different times to assess for lesions: pre-calving, freshly calved, early lactation and late lactation. Combining the data from all stages indicated that the heritability of sole haemorrhage, sole ulcer and white line lesion was 0.20, 0.29 and 0.06, respectively.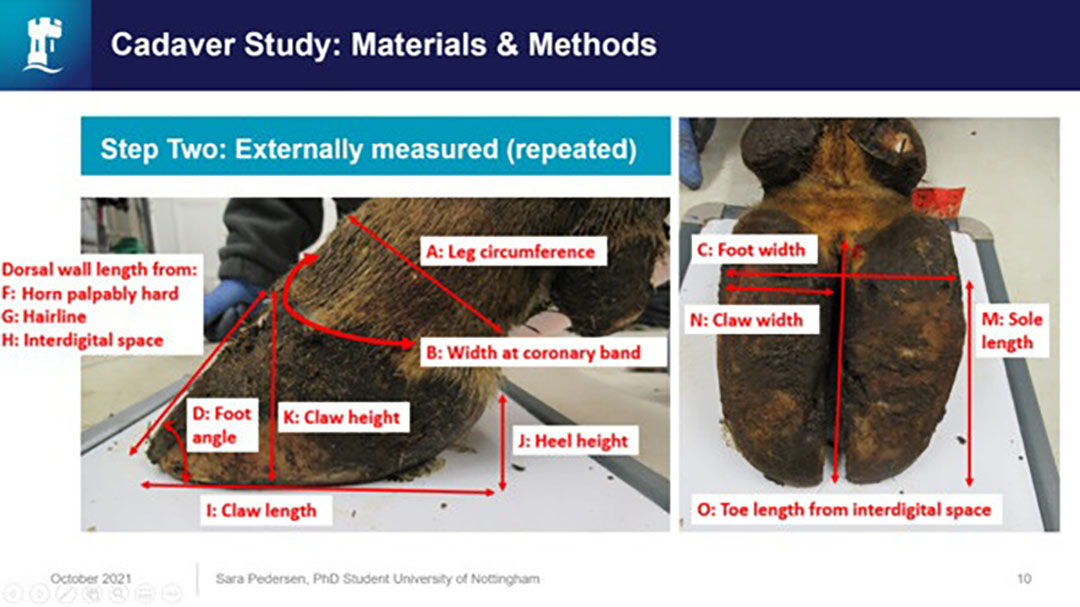 These are interesting results which indicate a greater heritability for sole haemorrhage and ulcer than previously thought. Although there are clearly environmental influences to consider in reducing lameness, it indicates that genetics should also be part of the prevention strategy.
Oikonomou finished by covering some of the work being conducted to evaluate the automatic lameness detection system, CattleEye. This system uses a simple camera mounted above the cows to assess their walking behaviour. A series of algorithms assigned to each cow gives a mobility score. In a validation study, in comparison to 2 standardised, independent mobility scorers, the system was superior at differentiating between cows with and without major foot lesions.
The role of NSAIDs in setting heifers up to succeed
The third webinar focused on the treatment of claw horn lesions with Dr James Wilson of the University of Nottingham sharing the results from his 3-year randomised control trial on the role of NSAIDs in treatment. Animals were allocated to 1 of 4 treatment groups:
1. Trim only when lame (control; n=111)
2. Trim and NSAID when lame (no trim; n=117)
3. Trim plus NSAID when lame and NSAD at each calving (n=100)
4. NSAID only when lame (n=110). The NSAID treatment was 3 days of ketoprofen.
The results were quite staggering, but also indicated a difference between heifers and cows. Compared with the control group, those in Groups 2 and 3 were at a reduced risk of being culled throughout the study period.
For heifers that entered the study in Group 3, these had an absolute reduction in lameness prevalence of 10% compared to heifers allocated to Group 1. This effect was not evident in older cows, perhaps due to historic damage by previous lameness events, further highlighting the need to start heifers off on the right foot. It also sheds further light of the potential impact of inflammatory events around calving potentially predisposing the cow to lameness and that there may be a role in NSAIDs at calving from a lameness perspective. The full study will be published later this year.
Strategic steps ahead
Professor Martin Green of the Dairy Cattle Mobility Steering Group gave an update on the ongoing work the group is doing to help reduce lameness in the UK herd. This group is a stakeholder group that meets twice a year to support AHDB with the development of the Healthy Feet Programme and other foot health activities.
Since leaving the EU, the UK and devolved governments are setting out plans for the replacement of funding mechanisms and support schemes. With lameness top of the agenda, it's clear that this group will play a pivotal role going forward in helping develop support mechanisms and strategies in the coming years.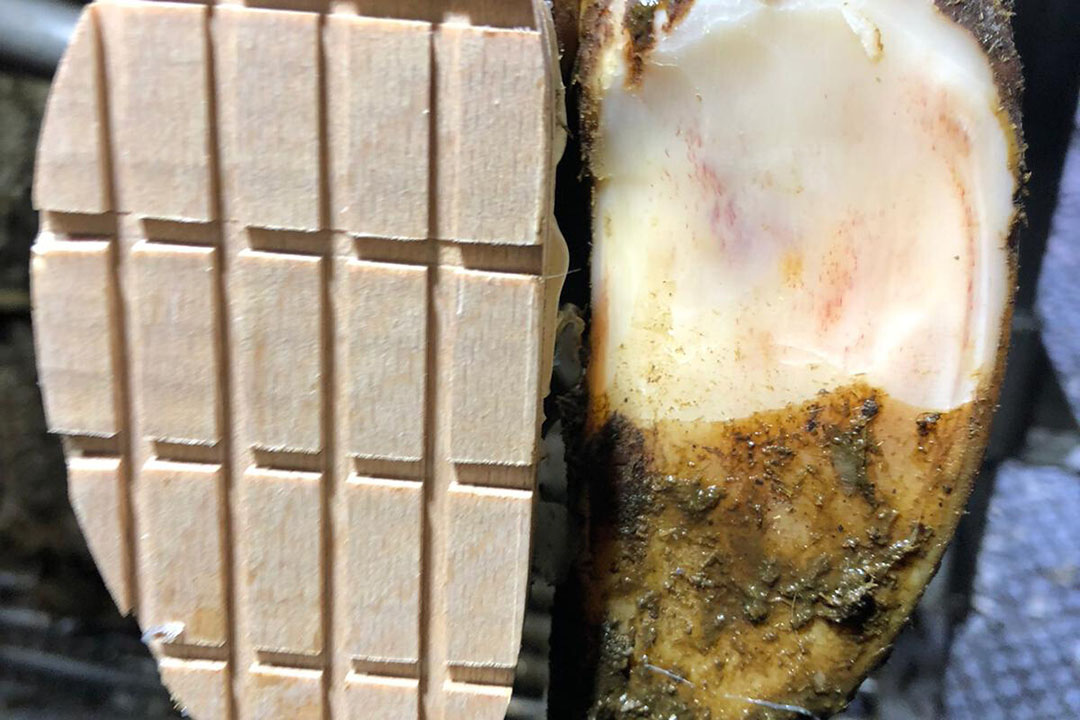 Getting everyone on the same page
Next up was Dr Gerard Cramer from the University of Minnesota who also shared 2 interesting pieces of work his group had been involved with. Firstly, he presented the results of his trial that compared the effects of a larger, wider model versus a smaller model when incorporated into a preventive trimming protocol. For the farm scenario evaluated in the study (US dairies using recycled sand) the results indicated that cows with a larger model and fewer lesions, however, this effect was greater in first lactation animals.
Cramer concluded by discussing research on vet-trimmer-farmer communication. An engaging and thought-provoking speaker as ever, it really set the challenge of making sure the whole team is brought together and communicating effectively to achieve the desired result. More on this research can be found in the September blog.
Whilst we wait to be able to meet face to face the Week of Webinars created a great opportunity to find out what's been happening in foot related research over the past couple of years. It's clear that much has happened and there's even more to come which is great news when it comes to helping reduce lameness in the global herd.
The Week of Webinars will be freely available to watch online soon – visit www.bcva.org.uk and www.hoofcarestandards.co.uk for more information.