As the first point of contact for mycotoxins in dairy cows, the rumen provides some protection against dietary mycotoxins through microbial degradation. However, not all mycotoxins are equally degraded in the rumen. For some mycotoxins, like zearalenone (ZEN), degradation may increase toxicity. Among mycotoxins not completely inactivated in the rumen, only aflatoxin (AF) B1 is transferred into dairy milk as AFM1 in levels that create public health concerns. Research has demonstrated that cows genetically selected for high milk production may also excrete higher levels of AFM1 into milk.
Mycotoxin risk in the TMR
Mycotoxins like AF, fumonisins, ZEN, ergot toxins and trichothecenes (DON and T-2 toxin) in the total mixed ration (TMR) can cause health concerns when present in the ration at high concentrations. All these mycotoxins are mainly produced at the pre-harvest stage and contaminate concentrates (grains and cereals) as well as in maize silage and even straw (trichothecenes).
Mould growth at the post-harvest stage (mouldy silage and roughages in general) can lead to reduced feed intake, loss of production and even a neurological syndrome. More than 80 micro-aerobic fungal species can grow in silages producing diverse mycotoxins. Penicillium roqueforti, Aspergillus fumigatus and Bysspchlamus are the major moulds in silages and the mycotoxins produced by them have antibacterial and anti-protozoic activity. Emerging mycotoxins such as enniatins and fusaric acid can also have such an effect and this can be one of the reasons for a reduced rumen function and a reduced mycotoxin degradation capacity of rumen.
Emerging, masked mycotoxins
Not routinely analysed or regulated, emerging mycotoxins include Fusarium mycotoxins, Aspergillus mycotoxins, Alternaria mycotoxins and Penicillium mycotoxins. Some mycotoxins like conjugates of DON, ZEA and T-2 toxin are difficult to detect in feed when routine extraction methods are applied. These so-called masked mycotoxins remain active and are often released by enzymatic activity in the digestive tract. These emerging and masked mycotoxins further add to the complexity of managing mycotoxins in dairy cows.
Diagnostic tool for mycotoxins
As part of its Mycotoxin Risk Management programme, Trouw Nutrition uses the Mycomaster+ system to check raw materials, feeds, and milk for the 'Big 6' mycotoxins and AFM1. The AFM1 system to control milk can be calibrated according to EU or US AFM1 residue limits. Nutriopt Mycotoxin Monitor global database provides reports on potential contamination levels in regional feed ingredients and feeds while NutriOpt Mycotoxin Adviser is customer-specific.
Mycotoxin mitigation strategy
Mycotoxin mitigation strategies in dairy cows demonstrate the importance of an integrated approach. It starts from optimal crop management, includes harvesting and storage of raw materials and finally the management of TMR (Figure 1). Innovations in organic acid application (Selko Fylax range) are allowing for better storage of raw materials in silos, leading to optimal silage production and face management, and preventing heating of TMR (Selko-TMR). The so-called mycotoxin binders (Toxo range) can be added to TMR directly or via concentrate to effectively reduce mycotoxin risk for animal health and help ensure that milk is not contaminated with Aflatoxin M1 exceeding statutory limits.
Toxo's 4 modes of action include binding mycotoxins at the intestinal level, improving gut wall integrity to reduce mycotoxins' opportunity to enter the bloodstream, modulating the immune system to fight mycotoxins effectively and enhancing the antioxidant status of cows.
Figure 1: Tackling mycotoxin risk requires a fully integrated approach.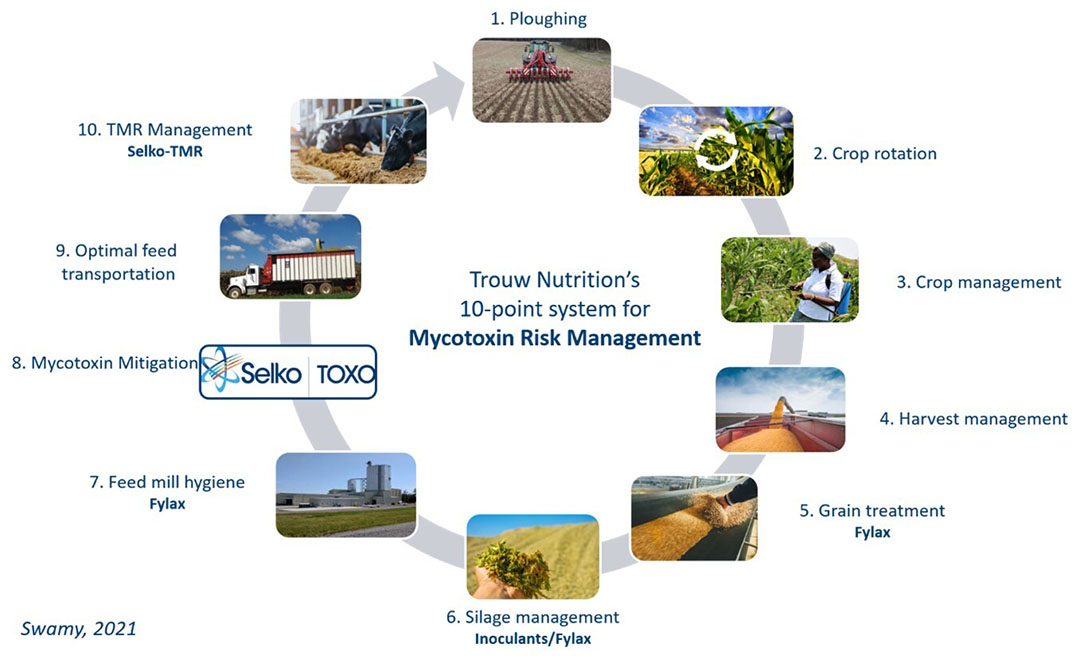 Study results and insights – understanding modes of action and efficacy
Addressing binders' limitations, Trouw Nutrition developed the Toxo portfolio, using four modes of action to reduce the absorption of mycotoxins and to protect the animal against toxin damage.
For example, an in vivo study in Italy examined ways to limit AFB1 transfer from feed into AFM1 in milk. Toxo-MX addition to AFB1 diet reduced AFM1 concentration in milk significantly.
A series of in vitro trials studied ways to bind ergot toxins, some emerging mycotoxins, and LPS or endotoxins. When looking at ergot, Toxo was able to adsorb 93.6% of the ergot toxins at pH 3 and 7. A study done in 2021 in Germany looked at Toxo's ability to bind emerging mycotoxins at a pH of 3 or 6.5. All 3 of the emerging mycotoxins (roquefortine C, sterigmatocystin and enniatin) could be bound at more than 75%.
In another study, Toxo was found to bind 86% of LPS at a pH of 3 and 90.7% at a pH of 7. This is an important secondary effect, as high endotoxin levels may induce an overall inflammatory reaction thereby affecting animal health and productivity, particularly in high-yielding dairy cows.
A study in France revealed dairy feed with high levels of multiple mycotoxins. Within 2 weeks, cows that received 100 g/h/d of Toxo-XXL showed an increase in milk production of 2.5 kg/d. Additionally, milk fat levels rose, somatic cell count dropped, a recurring mastitis challenge ended, and the reproduction rate improved.
In a Toxo trial with dairy cows in the Netherlands, feed was contaminated with ZEA. Cows received either 0 or 100 g/h/d Toxo for a month followed by 50 g/h/d for 11 months. Cows receiving Toxo saw an improvement in fertility parameters (Figure 2).
Figure 2: Toxo improves reproductive performance of dairy cows