The role of enzymes in the feed industry
Enzymes play a key role in an animal's digestive process. They are proteins that catalyse certain biological processes, which in turn facilitate the degradation of substrates such as starch and fibre. Although digestive enzymes are produced by the animal itself — or by naturally occurring microbial organisms in the animal's digestive system — producers have also used exogenous feed enzymes for nutrient utilisation and improved performance in animal feed.
One area of focus in recent decades has been the use of exogenous enzymes in dairy rations. Rumen microbes naturally produce enzymes to digest dietary fibre and starch, but adding exogenous enzymes to the diet can support the animal's ability to extract nutrients from feed ingredients.
Boosting feed efficiency
Considering the percentage of maize and maize silage in most dairy rations, the rate and extent of starch digestion in the rumen are important for performance. However, optimising starch digestion while avoiding acidosis can be a challenge. Research on the alpha-amylase enzyme technology Amaize has shown promise in not only changing starch digestion but also modifying overall ruminal digestion, optimising overall nutrient utilisation and boosting feed efficiency and milk production.
Alpha-amylase enzymes are specifically designed to facilitate starch utilisation and availability, providing more energy to the cow. They work by modifying the substrates available to rumen microbes by breaking the starch into different oligosaccharides. By providing a different mix of oligosaccharides than would be available without enzyme supplementation, alpha-amylase allows different rumen microbes to proliferate. This leads to a shift in rumen volatile fatty acid (VFA) profiles, helping to increase butyrate production.
An increase in butyrate production influences metabolites, rumen development, and even milk production. Several commercial and university research studies have addressed the effects and benefits of alpha-amylase enzyme technologies such as Amaize in dairy rations. In a multi-herd commercial study (5 herds in Canada and 3 in the US), Johnston and Tricarico (2002) reported that:
Supplementation with the alpha-amylase enzyme improved average milk production (by 1.3 kg), fat-corrected milk production, milk fat yield and milk protein yield across the eight herds studied.
These improvements in performance may have been attributable to changes in the ruminal fermentation of starch, ultimately resulting in more energy available to the cow.
In another study, Tricarico et al. (2005) examined the effects of alpha-amylase enzyme technology on rumen fermentation and milk production in lactating Holsteins. As in the commercial study, they found that, even though milk composition remained similar across treatments, enzyme supplementation showed:
a quadratic increase in milk production;
a tendency toward increased milk protein yield, and;
a shift toward a greater proportion of ruminal butyrate.
Research into alpha-amylase enzyme technology has continued with a recent publication from Bugoni et al. (2023), reporting that cows supplemented with a combination of an alpha-amylase enzyme (Amaize) and a proteolytic enzyme (Vegpro) digested the starch in their feed more completely. An increase in milk yield was also seen for cows given this alpha-amylase/proteolytic enzyme combination, as well as for cows given only the alpha-amylase. The authors attributed this increase in milk yield directly to improvements in both fibre and starch digestibility as well as a minor shift in ruminal fermentation.
Benefits in calves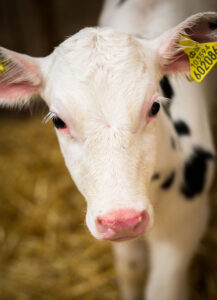 Rumen development – including the formation of papillae, the thickness of the rumen wall, and the level of capillary development – is highly dependent on and stimulated by the presence of microbially produced VFAs such as butyrate. Butyrate provides energy for rumen development, and an increase in butyrate has been shown to benefit rumen development in the neonatal calf.
Heinrichs et al. (2007) reported that when supplementing Holstein bull calves with the alpha-amylase enzyme in the calf starter from birth through 5 weeks of age, amylase led to enhanced rumen tissue growth. There was a larger papillae surface area, which is the absorptive surface in the rumen. So, calves supplemented with alpha-amylase had the potential for better nutrient absorption.
Supporting rumen development and establishing a healthy rumen microbial population as early as possible is critical in the young calf. Early rumen development allows for optimised intake, digestion, and growth as well as economic efficiency, especially in early weaning systems.
Exogenous enzymes in rations
The processes of modifying starch digestion and optimising butyrate production are important in both lactation and neonatal diets. Research shows that supplementation with an alpha-amylase enzyme such as Amaize may further improve productivity by enhancing digestion at the microbial level, enabling the rumen to utilise nutrients from feed ingredients better.
Maize and maize silage remain important feedstuffs due to their relatively low cost, their consistency, and their high digestibility. When there is a poor maize silage crop or when a high-starch diet is being fed, the animal must be able to digest the starch present in maize or wheat while maximising glucose efficiently from starch.
Supplementation with alpha-amylase such as Amaize supports microbial production of butyrate and can thus have a potentially positive impact on converting feed to milk. Amaize can provide a tool for maintaining rumen health in lactating dairy cows, enabling herds to maximise milk production even during times of poor crop quality.