It may seem far-fetched, but a few dairy farmers around the world are growing some of their own feed – inside.
There are now 'HydroGreen' hydroponic sprouted grains growing systems on dairy farms in Agropoli, Italy (a water buffalo dairy called Massaria Cielentana near Naples), Japan, Canada and the US. These systems are already installed on several beef farms in the US and Canada.
Hydroponics harvested at 6 days
In a HydroGreen system, wheat or barley seed is continually sprouted and harvested at 6 days. Cultivation is very simple to manage, with automated seeding, watering and harvesting. No fertiliser is required. Once ready for harvest, the sprouted wheat or barley rolls off an automated belt like a carpet and is shredded, ready to add to the cattle ration.
The percentage of the ration that can be met with fresh HydroGreen feed is at least 15% for dairy cattle and up to about 30% for beef. The sprouts are also suitable for other livestock categories such as poultry and goats.
Some cattle farmers have chosen HydroGreen because of the droughts that have become more common across many parts of the US and the Canadian Prairies. The system was invented several years ago by a US rancher named Dhil Grohs, who wanted to develop a low-maintenance feed production system he could rely on to meet some of his cattle's needs.
HydroGreen was acquired in 2019 by CubicFarm, a maker of indoor greenhouse food crop growing systems. CubicFarm (founded in 2015) is based in Langley, British Columbia, Canada and HydroGreen in Sioux Falls, South Dakota, USA.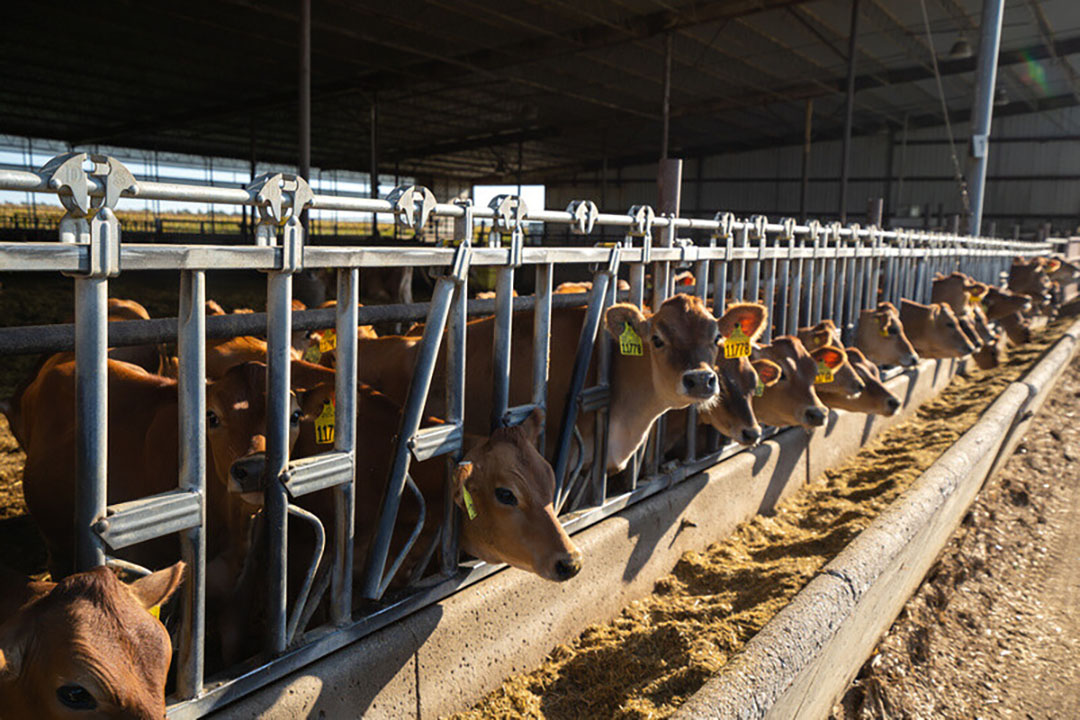 Two systems
The HydroGreen 'DGS 66' unit is geared towards operations of 100 to 200 cattle. One unit costs US$139,000. It must be housed in an existing or newly-constructed building of at least 140 sqm outfitted with the appropriate plumbing and electrical infrastructure.
Recently, to address the needs of larger operations, HydroGreen created vertical pastures. As the name suggests, it's a vertical growing system consisting of groupings of a larger module called the GLS 808. It's about to be piloted at Burnett's Land & Livestock in Wyoming, on track for completion by the end of year, for use with some of their dairy cattle.
Burnett invested US$1.5 million in CubicFarms, and as part of the private placement deal, it is receiving 12 GLS808 units. Each of these modules costs $265,000 (€226,794) and so the cost of 12 modules is US$3.18 million (€2.72 million).
"…the largest indoor growing system for fresh livestock feed in the world."
CubicFarm communications manager, Andrea Magee, explains that the building at Burnett's that will house the 12 modules is about one acre in size and has room for expansion to 24 modules. It will be the largest indoor growing system for fresh livestock feed in the world.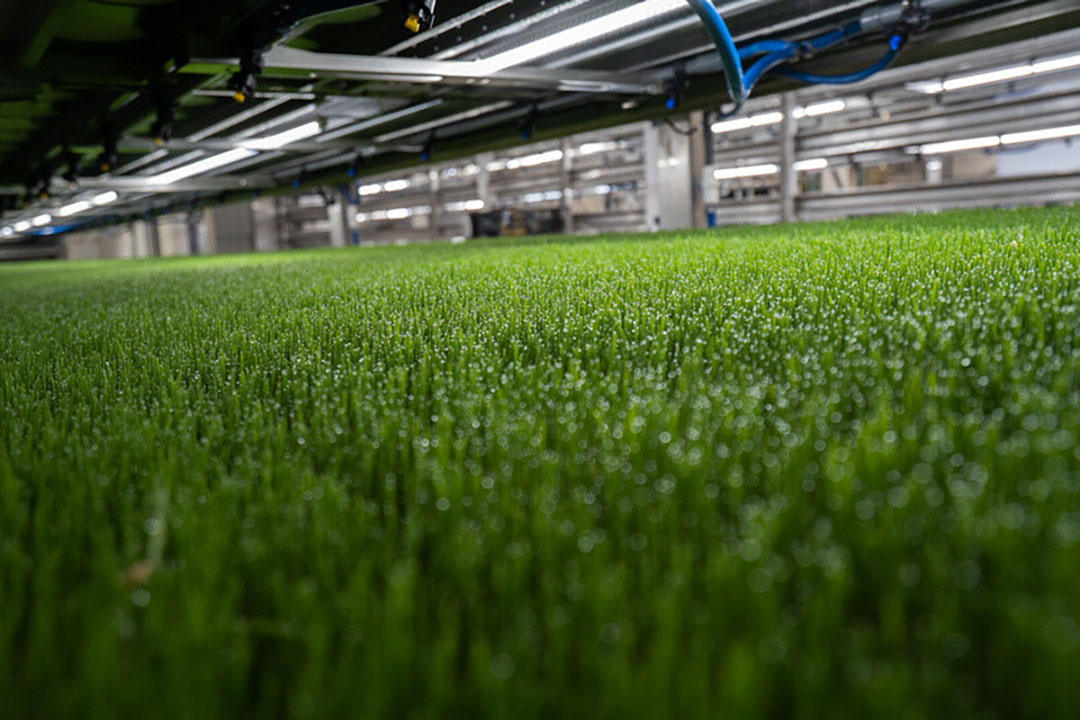 Each module provides part of the ration for about 170 cows. The 12 modules being installed now will provide Burnett's with up to 72,000 lbs of fresh feed daily (16 tonnes of dry matter/DM). "As part of the ration, that's enough to feed 2,000 animals daily," says Magee. "In this case, it will start with the dairy cows." HydroGreen is collaborating with Burnett's on research into cow health and feed analysis.
ROI factors
With these systems, ROI (not including the costs of a properly-outfitted building) is dependent on operational costs such as water, electricity and grain seed, but also on the existing costs for feed, feeding (labour, fuel, etc.) and so on. Estimates of operational costs are not available from HydroGreen for any of its installations around the world.
Existing feed costs can, of course, include transportation. The Burnetts in Wyoming, for example, have been transporting cottonseed from Texas for part of their dairy cattle ration.
ROI can also be affected by higher profits, if certified organic grains are sprouted and the resulting beef or dairy products are certified organic. HydroGreen is currently quantifying health and meat quality using 'indirect observation' and reports from customers.
Dairy cattle nutritional analysis of hydroponics
Fernando Diaz, a dairy cattle nutritionist at animal nutrition and health firm, Dellait, has been hired by HydroGreen to do an independent analysis. He notes that overall, "including HydroGreen in dairy cow diets improves palatability, total DM intake and overall production performance. Another advantage of HydroGreen sprouts is their low content on potassium, so they are an excellent forage for close-up (pre-partum) cows."
Diaz did not provide details on how much including HydroGreen in dairy cow diets improves total DM intake and overall production performance. He also did not provide information on how many cows were involved in these observations, and what was replaced in the diet of these cattle by HydroGreen sprouts.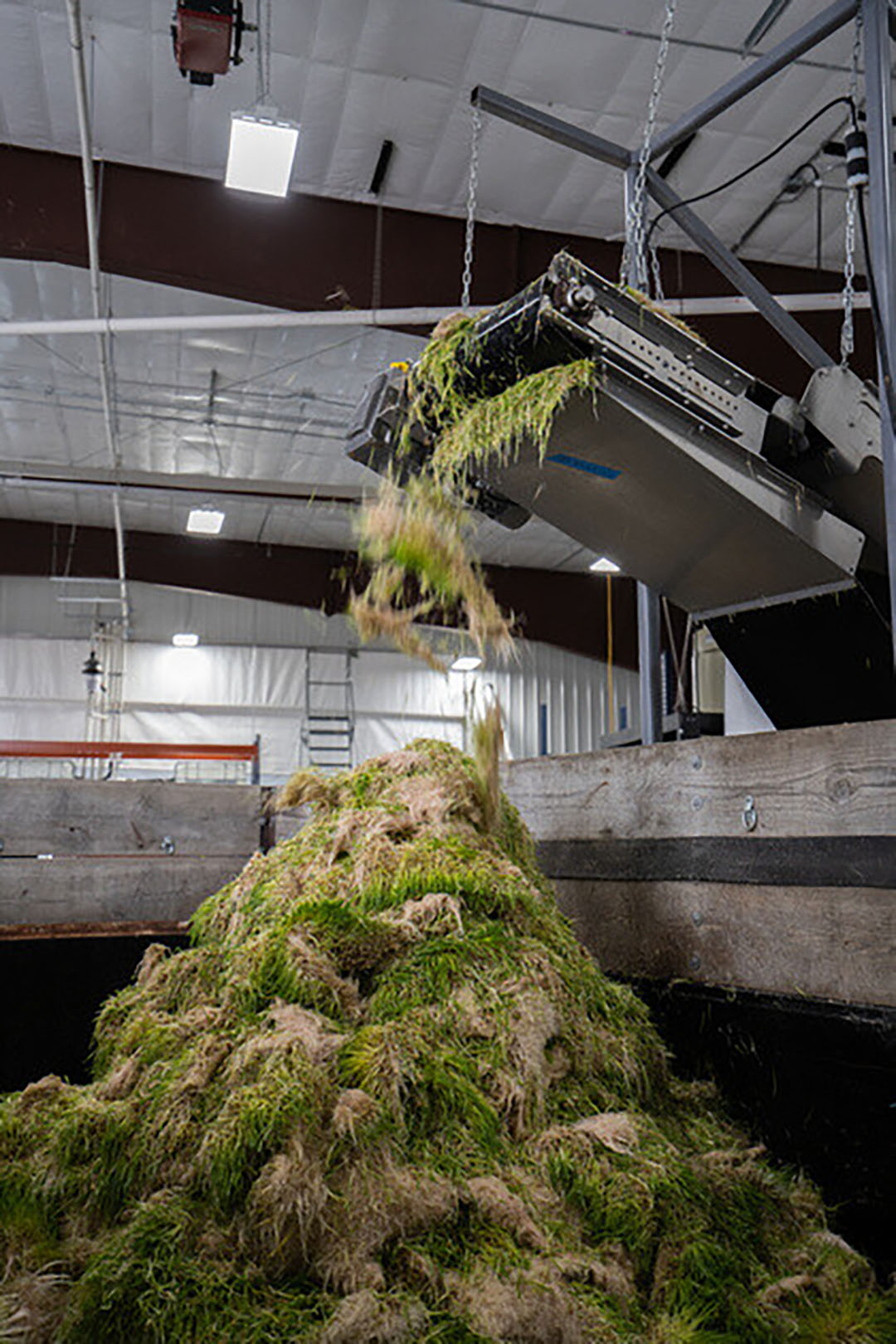 Diaz reports that protein content in HydroGreen sprouts is similar than in high-quality grass pasture (15-20% DM basis). Sugar content is extremely high in HydroGreen (more than 30% DM) compared with grass pasture (less than 15% DM). Similarly, total digestible nutrient concentration is at least 10 percentage points greater in HG sprouts (>75% DM).
Diaz explains that HydroGreen sprouts are forages with high digestibility and sugar concentration. "Since they are very high in energy content, they can replace energetic forages like corn silage, and alfalfa and alfalfa/grass forages with high relative feed value," he says. "HydroGreen sprouts can also replace other fibre-rich co-products such as cottonseed, corn gluten feed and soyhulls. In addition, co-products with high sugar concentration like molasses and whey are not needed in HydroGreen diets."