The Future Forages research is part of the new DairyBio21–26 programme. It will also improve existing forage varieties and species. The new programme started in July of this year, and the aim is to drive productivity and profitability on Australian dairy farms.
DairyBio21–26 is an initiative of Agriculture Victoria, Dairy Australia and the Gardiner Dairy Foundation.
The programme will continue research and innovation from DairyBio16–21, which will deliver F1 hybrids and gene editing in the forage programme. It will also introduce new traits and gene selection in the animal programme. Eventually, the programme will provide farmers with adapted and transformational high-quality forage options.
The programme will deliver a huge 3x genetic gain in short-term ryegrass and a range of future forages. The forages will be better adapted to changing climates. There will also be a 15% unit increase in herbage quality through digestibility in short-term ryegrass, lucerne and warm season grasses.
Fast-track technology
DairyBio should also deliver a 20% increase in biomass of short-term and perennial ryegrass. The programme will expand this technology into relevant and important species for the dairy industry. Rapid breeding processes will be further developed and delivered, including genomic selection, F1 hybrids, and integration and exploitation of genome edits in ryegrass species.
Demonstration sites will help to fast-track the technology. "By altering a lignin and making more energy available in a range of forages, we will make them far more dairy-friendly," says Dr Noel Cogan, DairyBio forage programme leader. "One of the key outcomes of both DairyBio programmes is driving profitability improvements through efficiency gains – that is, producing more milk for the same or less inputs – and improving pasture quality has a direct relationship with increasing milk production."
One of Australia's largest seed companies, Barenbrug, is a commercial partner of the programme and will deliver F1 hybrids. "This will boost the biomass of the ryegrass by at least 20%," Cogan expects. "This is equal to more than the last 20 years of improvement from the breeding industry. On top of this we also have novel endophytes and tools that consider how the environment and genes interact – which is phenomics – being integrated into our commercial breeding."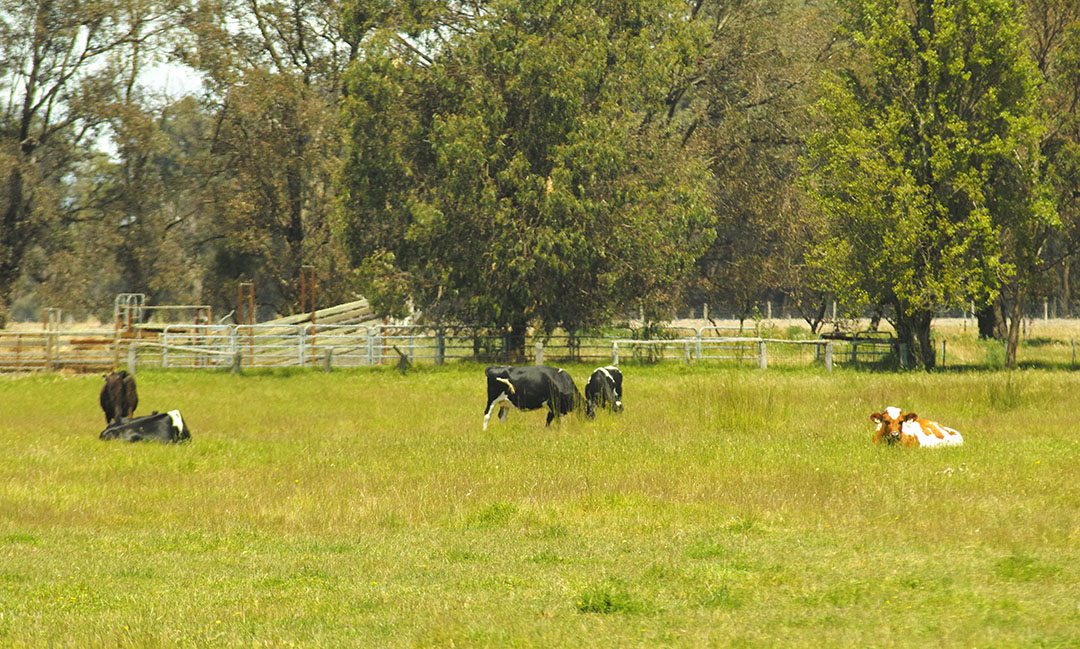 Profitability improvements
Australian dairy farmers could see a 20% increase in farm profit through the uptake of technology enhanced by demonstration sites. Seeing the application of technology in person is an important way for farmers to assess the options and confidently determine the appropriateness of the technology and products for their production systems.
According to Cogan, demonstration sites are a known bridge between research and adoption of new technology or products by farmers. "We are setting up sites where we can demonstrate the commercial application of these products in local conditions. And we are looking forward to inviting industry to come and see the profitability improvements that we have been working on."
The University of Melbourne found in 2016 that profitability could drop by 10–30% by 2040 due to climate if dairy farmers did not adapt to the warmer and drier conditions. Research by Dr Brendan Cullen and Dr Margaret Ayre showed year-to-year profit variability that depended on the production system. More intensive systems are more reliant on high milk prices and lower feed prices and are capable of making a large profit – and a large loss.
Less intensive systems have a similar average level of profitability but do not have the same levels of variability. In the future, less intensive systems in some regions could carry less risk and drive a reverse in current trends to smaller herd sizes, less grain feeding and a lower stocking rate.
Future temperature
The research demonstrated that for dairy farming to be viable into the future, farmers need to adapt to the changing climate, and part of that adaption is growing the best pasture for the conditions. Agriculture Victoria research scientist and University of Melbourne Professor Kevin Smith has been working on the Future Forages project funded by Agriculture Victoria to better understand the way that future climates will affect the seasonal pattern of pasture growth and digestibility.
This project uses climate modelling to determine what the future temperature and rainfall look like in 2030, 2050, 2070 and 2090 at a regional level to determine future forage needs.
"Climate analogues are where the expected future climate of the place of interest is matched with the current climate of somewhere else," Smith explains. "They allow us to see in a practical way what the climate of the place of interest will look like in the future."
"We used the climate scenario predictions with a focus on rainfall rates and minimum and maximum temperatures alongside historical climate records from to 2015 to create a baseline and model the predicted changes," Prof Smith points out. "The results for each area were calculated using low, moderate and high rainfall and temperature ranges and then compared to what current climates are elsewhere to choose climate analogues."
The benefit of this research for future forages is that nurseries and trial plots can be located at the climate analogues to ensure adaptation to the future environment.
Focus on forage quality
Changes to yield, persistence and nutrition from climate are anticipated to affect all temperate forages. Perennial ryegrass will be further affected by the forecast increased extreme heat events in spring, as early spring is the key season for production. The project has identified a number of research priorities for future forages to allow time for the dairy industry to adapt to the future climate. "We need to expand the modelling work and include subtropical grasses in environments," Smith says. "We also need to be including persistence in the modelling with the increased frequency of extreme weather events and re-sowing requirements for all species."
Targeted breeding of forage species with a focus on quality is essential, as is investigating and improving the digestibility of warm season grasses. It is also essential to develop breeding and demonstration sites now that will be future climate–aligned, with dairy areas to breed and test forages.
According to director of major innovation projects and DairyBio co-director Kevin Argyle, the climate and pasture modelling project findings will prove invaluable to developing future forages for the dairy industry. "We know that the climate is changing, and we need to adapt for it."