Grass seed mixes with NutriFibre provide today's farmers with optimal roughage. The new grass technology offers farmers a solution for their farm management under a wide variety of conditions. A huge number of dairy farmers in Europe have already chosen the benefits of using the product and feed their cattle this grass to complete satisfaction.
The foundation of the product is soft-leaf tall fescue, a development stemming from the Royal Barenbrug Group's international breeding programme 'Grass for highly productive dairy cattle'. The new grass technology combines mineral efficiency, high protein production, digestible, effective fibre-rich cell walls and rooting intensity. The interaction of these individual properties has a mutually enhancing effect that results in exceptionally high-quality silage. This gives the specific combination a value worth more than the sum of its parts. The new grass technology has been extensively trailed in a diverse range of conditions, soil types and different farm management systems.
Highest protein yield
The grass product from Barenbrug delivers the highest total protein and energy production per hectare compared with all other grass species. This is why the product enables farmers to economise on the purchase of feed concentrates, thereby lowering the cost of your milk production.
30% more dry matter
After sowing, the grass product from Barenbrug puts a lot of energy into the development of its root system. This explains why it has a slower start than other grasses in the first year. After developing a solid underground system, the grass yield is high. A 3-year research project demonstrates that NutriFibre yields 30% more dry matter and 30% more protein than perennial ryegrass. With proper grassland management the forage quality can be perfectly maintained for many years. The product has a long lifespan and will produce high yields for at least ten years with undiminished productivity.

Climate resistant
The product is also tolerant to long periods of drought. During dry periods it is able to absorb water from deeper layers in the soil. The grass continues to grow and produces a whopping 47% more yield during the dry summer months. An additional advantage is that drought won't cause bare patches where weeds can take root.
Strong and long root system
During an average summer, grass will suffer from a water shortage for three months. In the coming decades the probability of dry, hot summers will increase. The product is highly tolerant to these periods of drought thanks to its deep rooting ability. Soil permitting, NutriFibre's roots can reach depths of more than 100 cm. It can survive these periods of drought thanks to its strong and long root system.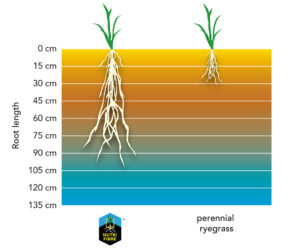 Mineral efficient
The product's efficient use of nutrients guarantees a reduction in leaching. Because it optimally utilises fertilisers, dairy farmers get more yield with the same level of fertilisation compared to other grasses. It can reach depths of more than 100 cm, compared with only 25 cm on average for perennial ryegrass. This enables the grass product from Barenberg to utilise 96% of the nutrients contained in the soil (nitrogen, phosphate, potassium) and will produce high yields for at least ten years with undiminished productivity.
Best phosphate utilisation
Phosphate is attracting a lot of attention due to the expected worldwide phosphate shortage. This means that applications of phosphate will have to be utilised more efficiently. The product offers the perfect solution, as its long roots allow the crop to intake 15% more phosphate. In addition, it is able to utilise the phosphate present in deeper soil layers and convert this into extra growth. The grass product gives a higher protein yield per hectare compared with other grass varieties.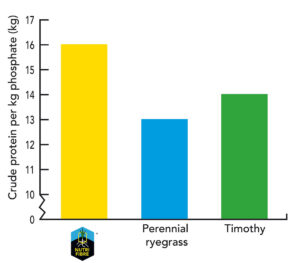 Healthy cows
The effective fibre leaves of the grass product from Barenburg, stimulate rumination activity in cows. Rumination is indispensable to healthy rumen activity. Healthy cows produce more milk.
Rumen acidosis occurs at many dairy farms and often goes unnoticed. It mostly affects highly productive dairy cattle that are given too much high energy feed (sugars and starches). Rumen acidosis leads to disappointing milk production, milk with a lower protein and fat content and health issues such as low fertility and hoof problems.
The effective fibre is in the leaf
Due to the effective fibre is in its leaves, this grass does not depend on flowering for high fibre content. Therefore, the product can be harvested before flowering, maintaining its effective fibre. After flowering, feed value decreases in all grasses.
High digestibility from cell walls
Cows get a large part of the energy from the cell walls because the product's cell wall composition is more easily digestible than that of other grasses. Cell walls can be built from 3 different components:
Lignin = indigestible wood dust without feed value.
Cellulose = dairy cows only digest one-third of the cellulose.
Hemicellulose = breaks down in eight hours enabling cows to digest it completely.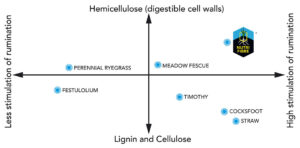 NutriFibre's cell walls consist mostly of hemicellulose. This explains the high feed value in combination with effective fibre. All other effective fibre products such as heading grass have a lower digestible hemicellulose rate, causing a large part of the feed to fail to convert into milk.