We looked at 6 companies from the Rabobank Global Dairy Top 10: Nestlé, Danone, Fonterra, Royal FrieslandCampina, Arla, and Saputo. The main conclusions of our deep dive show are that these challenges apply to everyone, particularly in the mature European and North American markets.
Figure 1 – Continued challenges, albeit different from previous years.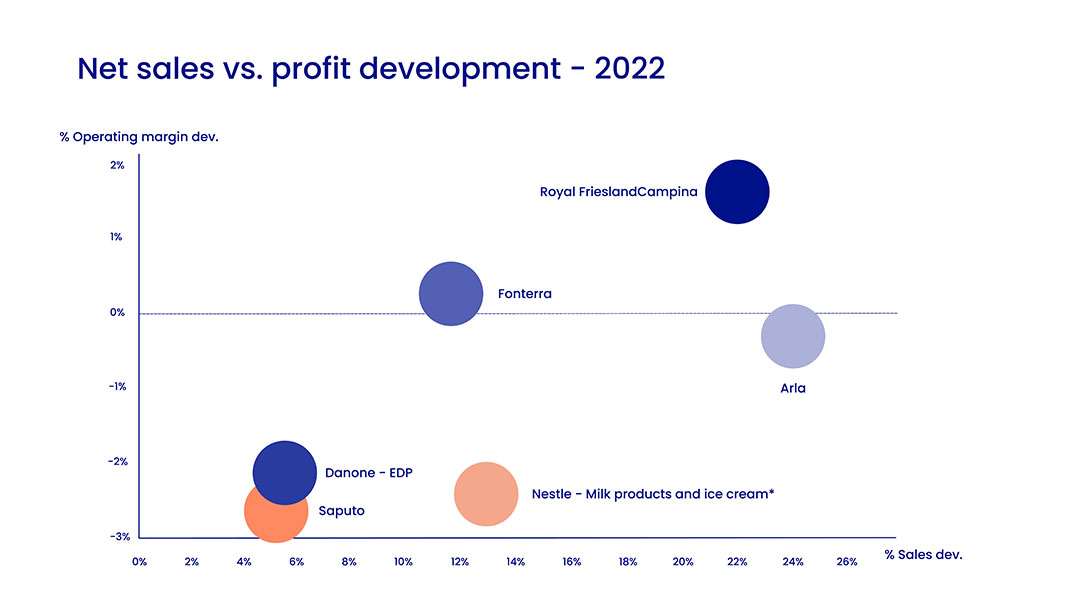 During the Covid-19 pandemic and before, dairy giants continued to outperform the industry on an operational level, highlighting the growing significance of scale and direct access to milk supplies. These multinationals could be flexible during the Covid-19 pandemic years and were able to move sales from out-of-home to retail, or shift production to better-performing product categories.
This exemplifies the importance of having a diverse customer and product portfolio. 2021 marked a recovery, but challenging market conditions such as labour shortages, supply chain disruptions and cost inflation remained.
2022 was characterised by significant cost inflation across the board. It is not surprising that all businesses experienced strong sales increases in the most recent year, mostly because they passed on higher input costs to customers (some of which increased by more than 25%).
The ability to produce and sell at high volumes is under pressure as not all price increases can be passed on to customers. This raises challenges in the short and long term.
Growth markets/strategies
The European dairy industry is a mature market. The demand in the European dairy sector is relatively stable and it is expected that this remains in the future. With limited growth potential in demand, there are several ways in which companies aim to deal with the challenges of a saturated market.
For (Western) European players, adding value is the key to success, as seen by above-average margins and greater resilience. Examples demonstrate how origin, branding, product quality, and innovation all contribute to added value.
For example, one of the world's largest dairy producers, Danone, offers a wide variety of goods with an emphasis on added value, including branded (fresh) dairy products and customized nutrition solutions (e.g., infant formula). Moreover, margins are more crucial for a dairy company that is listed on the stock market than they are for a family-owned or cooperative dairy business. With an EBIT of 8.2%, this is still the case in 2022.
Figure 2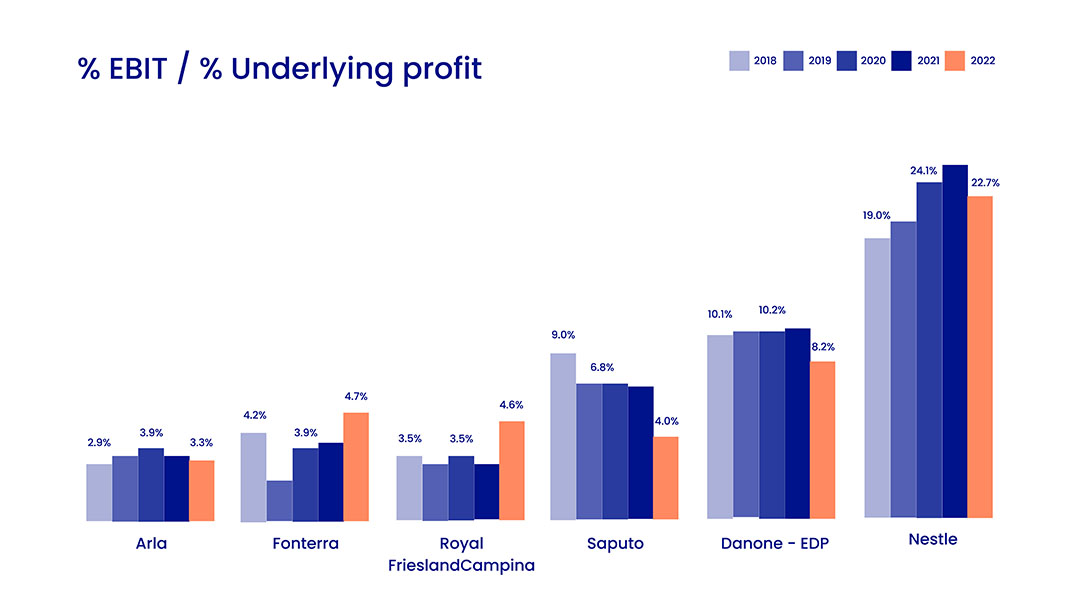 Arla, FrieslandCampina, and Nestlé also focus on higher-value brands in their (short-term) strategies as well. But the inflation continues to affect consumer behaviour, and customers are increasingly turning away from A-brands (Dutch language) because of this. It will be interesting to see how that plays out over the course of the coming years – especially in the next year as inflation persists.
Extensive production and sustainability
In the mature European market for dairy, sustainability will likely be the main driver or difference maker in the coming years. Driven by environmental concerns, western European countries like the Netherlands and Germany already produce less milk. Due to this, extensive production (lower quantities) is preferred, as dairy herds are expected to decline even further and lead to a decrease in EU milk production of 0.2% per year by 2032.
We also saw plant-based alternatives gaining traction in the market. However, remaining profitable remains a challenge.
How can these top dairy companies maintain their leading position?
Another challenge in this mature European market comes from smaller firms. They are obtaining a larger market share, threatening the larger firms, like Royal A-Ware, which went on an acquisition spree in 2022 and is gaining serious traction in the market.
Smaller businesses can differentiate themselves more than larger ones because they are more adaptable and can position themselves in specialty markets. In terms of scale, larger businesses have an edge over their smaller counterparts. Scale has the ability to increase operational efficiency over the long term. But given the circumstances, the advantage of size appears to be more of a hindrance. As a result, the question shifts to: how and where can I benefit from my scale?