In euro terms, the combined turnover increased by 5%. Merger and acquisition activity by Top 20 companies remained relatively stable in 2021 but dropped in the first half of 2022.
Supported by the recovery in foodservice channels after the initial Covid-19 pandemic and continued strong retail channel sales, dairy demand firmed globally, according to Richard Scheper, dairy analyst for Rabobank. "Combined with lower-than-anticipated milk production growth in the main exporting regions and exceptionally strong Chinese import demand, dairy product prices rallied to elevated levels in 2021."
This year's ranking is characterised by the movers and the shakers, Scheper says. Both turnover growth and strategic activities were more significant than in recent years, causing movement in the ranking. Strategic repositioning and mergers and acquisition activities, for example, resulted in the entry of Froneri and the departure of Kraft Heinz in the ranking.
The second half of the leader board remains crowded with less financial separation between the companies. In 2020, 8 companies in the second half of the table were separated by less than US$1 billion. This year, 4 companies are within US $0.15 billion in sales.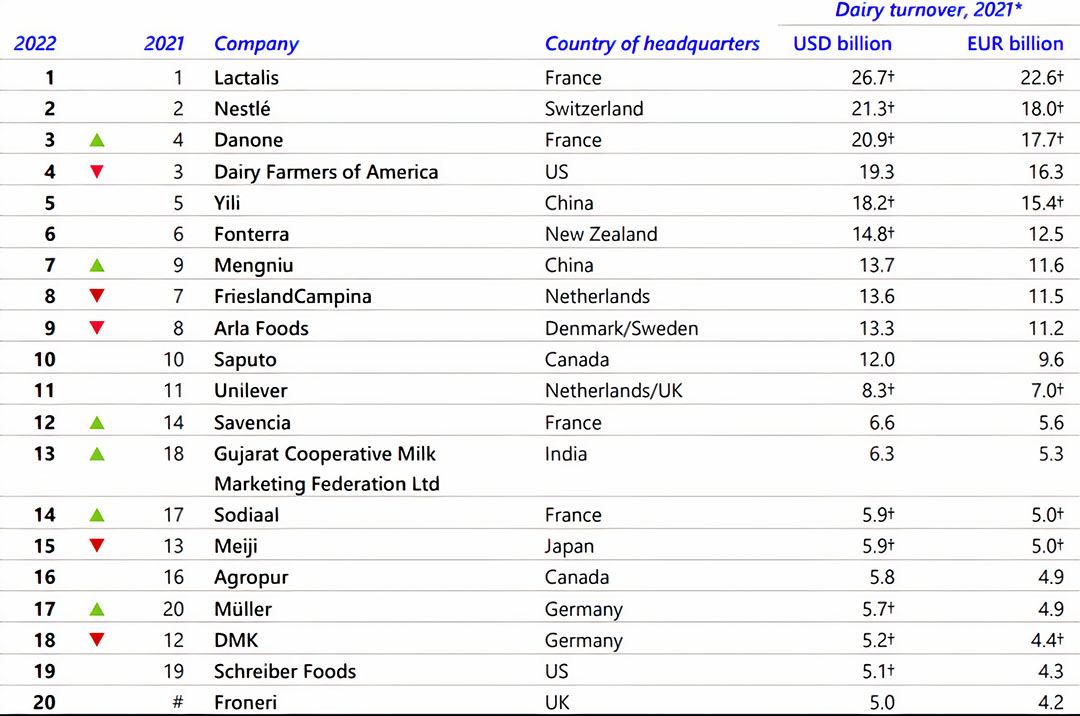 Dairy alternatives
With numerous product launches, dairy alternatives (from beverages, yogurts, frozen desserts and cheese to hybrid products) becoming more common in the product portfolio of Top 20 companies, making it more difficult to extract pure dairy revenues. As a result, the designation of dairy is also becoming much more blurred.
The 4 global cooperative giants are bunched in the sub-top of this year's ranking. Each is facing some degree of limitation for organic growth in their domestic market. In 2021, Dairy Farmers of America continued its integration of the Dean Foods assets, while both Fonterra and FrieslandCampina disposed of non-core assets.
More dairy companies are aligning their climate ambitions with the Science Based Targets initiative (SBTi). To date, 8 of the Top 20 companies have made a public commitment to (some of) the SBTi targets or have targets that are considered aligned with SBTi.
Rabobank expects this number to grow in the near term as evaluation and target setting are still underway. Dairy companies are working on their climate and sustainability targets for 2030, but also adding net-zero ambitions for 2050.
Another strong year for dairy turnover
Rabobank also expects another strong year for the combined Global Dairy Top 20 turnover next year, as the underlying dairy commodity prices hit record or near record levels around the globe on the back of the war in Ukraine and escalating inflation.
Scheper: "However, weaker global dairy demand in the second half of 2022 is anticipated due the combination of Covid-related lockdowns, inflation impacting consumers' purchasing power, and other economic headwinds. Due to the weakening of local currencies, especially the euro against the US dollar, some companies might struggle to maintain their positions and gains in this year's ranking."