VIV Europe reports a successful show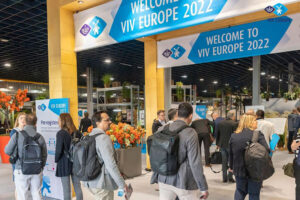 VIV Europe closed its 2022 edition after 3 days of networking, face-to-face business, knowledge sharing and a buzzing floor ground at Jaarbeurs Utrecht, the Netherlands. A total of 19,024 visitors from 142 countries joined the event with Western Europe counting for 68% of the show audience, followed by Middle East and Africa with 14%, Eastern Europe 10%, Asia 4% and the rest of the world (4%). Some 435 exhibitors from 44 countries participated.
DSM acquires Prodap in Brazil
Royal DSM has reached an agreement to acquire Prodap, a Brazilian animal nutrition and technology company that combines technology offerings, consulting services, and customised nutritional solutions to drive efficiency and sustainability in animal farming. Through its portfolio of digital solutions, Prodap collects data and develops insights in real time, which are then translated into nutritional solutions for customers. The company has operations in Mato Grosso and Minas Gerais and employs 330 employees, serving more than 5,000 farms across Brazil.
Global Dairy Farmers announces new partner
The Global Dairy Farmers network welcomes their newest partner, the Royal Barenbrug Group. "They will be a great addition to the network with their expertise and knowledge on grass breeding and looking what the future might need when it comes to grass seed solutions," said the company. The Royal Barenbrug Group is involved in grass breeding, production and the marketing and sales of innovative grass seed solutions, including nutritious forages for cattle in various climates.
Expo en Español returns to World Dairy Expo
Created for Spanish-speaking dairy owners, managers, and mid-managers, Expo en Español returns to World Dairy Expo in October with an expanded schedule. Presented exclusively in Spanish, Expo en Español will be hosted at 14:00 on Tuesday through Friday during World Dairy Expo in Mendota 1 of the Exhibition Hall. Each session includes a presentation and a question-and-answer segment. Topics of interest include milking procedures, employee retention, safety resolving conflicts on dairies.
pHix-up app, a new tool for rumen acidity management
Preparations underway for Sommet de l'Élevage in France
The 31st edition of the Sommet de l'Élevage livestock show will be held from 4-7 October 2022 in Clermont-Ferrand, France, where over 1,500 exhibitors, 2,000 animals and almost 100,000 farming industry visitors are expected.
Nuqo appoints Salmix as distribution partner in Brazil
Nuqo has appointed Salmix as the preferred distribution partner for their range of feed additives in Brazil. Nuqo's portfolio includes new technologies, which it says are based on the microencapsulation of phytogenics and phycogenics designed to specifically release active molecules on spot to support gut health, mitigate challenges and boost animal performance. The portfolio includes a range of palatants and flavours for feed.
Evonik shares dairy research insights at ADSA annual meeting
Evonik and its academic partners delivered 8 abstracts outlining their latest research findings in dairy cow nutrition solutions, with a particular focus on the essential amino acid, methionine, at this year's American Dairy Science Association annual meeting in Kansas City, held in June.
Farm Tech Circle launched by Agri EPI Centre
Recognising a need to bridge the gap between academia, research, technology development and the farming community to support technological adoption on-farm, Agri-EPI Centre has launched a free membership network for farmers to discover and connect on topics that focus on enhancing the profitability and sustainability of agriculture. "We have a network of 25 Satellite Farms which are commercial farms we engage with to trial and validate innovative technologies. Trish Toop, Agri-EPI Centre CTO: "Farm Tech Circle is an extension of our current engagement with farmers. It's an inclusive membership for any farmer looking to enhance the sustainability of their farm business through knowledge exchange and the support of technology."
UK survey on calf colostrum management show improvements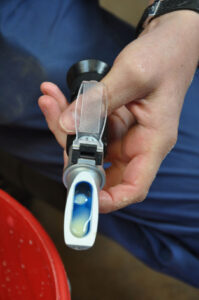 UK dairy farmers are making real progress towards better calf colostrum management practices but still need to focus on improved performance monitoring, according to the results of a 2022 survey of current colostrum management practices conducted by MSD Animal Health. Feedback was gained from 248 UK dairy farmers representing both year-round and block calving herds.
World Dairy Expo's Dairy Cattle Show entries are open
Entries for the Dairy Cattle Show, which will be held 3-7 October at the 55th World Dairy Expo in Madison, Wisconsin, are now being accepted online. The first entry deadline is 5 September, and the entry fee for all animals until 5 September is US$55. Late entries can be submitted online through 15 September for an increased fee. The 2022 Dairy Cattle Show adds a Summer Junior Two-Year-Old Class to the International Brown Swiss Show and International Junior Brown Swiss Show, along with a Best Three Females Class to the International Ayrshire Show.
National Farm Management Conference returns
The National Farm Management Conference is returning this November to tackle the big questions which come with balancing the requirement for food security with environmental needs. This year's conference is titled 'Agriculture's defining decade: Balancing food and environmental security' aims to address the 'thornier' issues which come with efficiently producing food while safeguarding the environment.
Dr. Eckel highlights natural active ingredients to combat heat stress
Successively hotter are increasingly taxing high-yielding dairy cows and negatively impacting the farmers' bottom line, says the company, Dr. Eckel, adding that the natural active ingredients of AntaOx FlavoSyn reduce inflammatory markers in times of severe heat stress, saving energy and ensuring good milk yield.
Intracare launches eco-friendly hoof bandage
Intracare has introduced what they say is "the world's most eco-friendly hoof bandage". The biodegradable hoof bandage, Intra Eco Tape, is based on a natural fabric composition and packed ecologically without plastics. It is produced without chemical coloring.
Holstein UK announces team for European Young Breeders School
Holstein UK has announced the names of the 6 Holstein Young Breeders who have been selected to represent the UK at the European Young Breeders School in Battice, Belgium, from 31 August until 4 September. The team is made up of Hattie Jackson (Lancashire), Izzy Smith (Shropshire), Jack Wilson (Border & Lakeland), Jo Langley (South West), Mark Bryson (Scotland), and Tom McKnight (Northern Ireland).
Elections at Holstein UK
Members of Holstein UK have elected 2 new members to the Board of Trustees whilst offering a fond farewell to retiring representatives. David Jones (West Midlands) stood down from the Board having completed his second term and David Yates (Scotland South) stood down after completing his first term. Following the end of his first term on the Board, Stephen Hill was re-elected for another term.
Members welcomed Claire Jones and Jimmie Baillie to the Board to represent the West Midlands and Scotland South regions, respectively. Jones has been an active member of Holstein UK for over 30 years while Baillie joins the Board of Trustees to represent the Scottish Club members.
RABI appoints new chair of trustees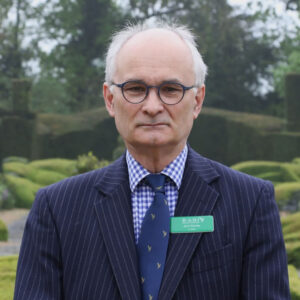 Farming charity RABI has announced the appointment of John Stanley as the new chair of trustees. Stanley, a Longhorn beef breeder from Leicestershire, has been a trustee at RABI since 2016 and says the charity has an important role in continuing to provide responsive, professional support, that meets the needs of farming people now and in the decades ahead.
Dr Gabriel Bó receives Simmet prize for assisted reproduction
The International Congress on Animal Reproduction has announced that Dr Gabriel Bó of the Instituto de Reproducción Animal Córdoba (IRAC) in Córdoba, Argentina, was presented with the Simmet Prize for Assisted Reproduction at the 19th International Congress. The prize was given for Bó's efforts to develop practical protocols for fixed-time artificial insemination, superovulation and embryo transfer in cattle. Bó is currently president and director of research and post-graduate training at IRAC and professor of Obstetrics and Biotechnology of Reproduction at the Veterinary School of the Instituto de Ciencias Basicas y Aplicadas, Universidad Nacional de Villa Maria in Cordoba, Argentina.