Mileutis' Imilac demonstrated as an antibiotic alternative for dairy cows
A recent paper published in the Journal of Dairy Science on Israeli-based biopharmaceutical company, Mileutis' Imilac therapy provides results that support the use of its bovine casein hydrolysate (bCNH) treatment as an effective and safe alternative to antibiotics for mastitis, the reduction of Somatic Cell Counts, and milk enhancement in dairy cows.
Laura Herschleb announced as World Dairy Expo general manager
World Dairy Expo has introduced Laura Herschleb as its general manager. Herschleb is a former member of the Badger Dairy Club and spent 5 years as the Dairy Cattle Show Manager. Beyond her time at World Dairy Expo , Herschleb has held roles with Alltech and Compeer Financial. The 55th World Dairy Expo will take place in Madison, Wisconsin in the US from 2-7 October 2022.
New book reviews the nutritional value of milk
To emphasise the nutritional benefits of milk, a new book with collated research from around the globe aims to demonstrate how the nutritional and functional properties of milk and dairy products can be optimised as part of a balanced diet. 'Understanding and improving the functional and nutritional properties of milk' features contributions from over 40 experts in dairy science and includes chapters on the functional and nutritional properties of proteins, lipids, carbohydrates and salts. Copies can be obtained from Burleigh Dodds Science Publishing Limited in print and digital formats.
Arla Foods suspends operations in Russia and aids Ukrainians
Arla Foods is suspending its business operations in Russia, covering both its local operations and imports. Meanwhile, the company is working with humanitarian organisations to provide food aid in the form of dairy products to Ukraine, and the cooperative donated €1 million to the Red Cross' support efforts.
Dairy Farmers of Canada sets emissions target by 2050
Dairy Farmers of Canada aims to reach net-zero greenhouse gas emissions from farm-level dairy production by 2050, with a milestone in 2030. Reaching "zero" will be done through emissions reduction and greenhouse gas removal offsets. Other strategies will include qualitative targets related to soil and land, water, biodiversity, waste, and energy.
Nestlé announces new research institute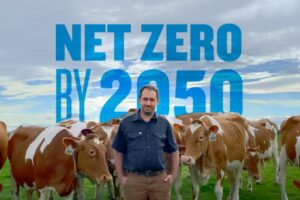 To translate novel agricultural science into concrete applications and to identify the most promising agricultural technologies, Nestlé has announced the creation of the Nestlé Institute of Agricultural Sciences. The institute will focus on the areas of plant science, dairy livestock, and agricultural systems science. In close collaboration with internal and external partners, it will assess and combine science-based solutions to improve the nutritional and sensorial qualities and the environmental impact of agricultural raw materials.
VetPartners launches new award for dairy farmers
VetPartners has launched the VetPartners Farming Awards aimed at recognising achievements made by farmers across the UK when it comes to improving the sustainability of their systems while prioritising animal health and productivity. The dairy award winner will be selected at DairyTech in April, with anyone at the event being able to hear more about the shortlisted farms and cast their vote for the 'VetPartners Sustainable Dairy Farmer of the Year'. The shortlisted dairy farmers are Paul Herron (Harton Lodge Farm, Yorkshire), E. Gill (Cockshotts Farm, Clitheroe) and Marcus and Sam Hunt (Buckwell Lodge, Leicestershire).
UK: RABI announces storm response fund for farmers
Following the impact of recent storms, RABI has announced the availability of emergency grants of £1,000 to provide financial support to those severely affected. Grants can be accessed across the farming community by calling RABI's 24/7 helpline on 0800 188 4444.
Lallemand Animal Nutrition launches Forward with Fibre guide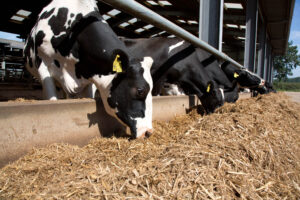 Lallemand Animal Nutrition is launching a new guide to help farmers harness the full potential of fibre from forage. The Forward with Fibre guide sets out step-by-step advice for dairy and beef farmers to improve on-farm efficiency and make savings, through making better use of fibre at every stage within its on-farm cycle. This begins with maximising fibre potential when the crop is in the ground and extends right through to improving the value of the fibre in the manure.
Lely reports over €600 million turnover in 2021
Lely reported its 2021 annual results with a total of €611 million turnover, compared to €615 million in 2020, which was a record performance. This, says the company, demonstrates Lely's resilience and agility in challenging circumstances. Covid-19 continued to impact the business' operations. In addition, the global component shortages resulted in additional challenging circumstances. The company noted that it invested 7% of its turnover into Research & Development.
DSM's Sustell receives independent ISO certification
Royal DSM has achieved International Organisation Standard (ISO) lifecycle assessment assurance by DNV for its intelligent sustainability service, Sustell, which measures the environmental footprint of animal protein production.
Hamlet Protein featured in global thought leaders' series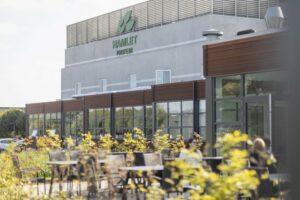 Hamlet Protein is being featured in the 50 Global Leaders Series which is a series of documentary films broadcast by Reuters showing how industries are set to evolve in a rapidly changing landscape. The company represents the animal nutrition industry in the segment 'Global food security – the evolution of livestock nutrition management' and explores how the company can contribute to feeding a growing world population.
Devenish partners with Perstorp to launch SmartMoisture technology
Devenish has partnered with speciality chemicals company, Perstorp, to launch moisture management product, SmartMoisture. This new patented technology has been developed to help animal feed mills to improve milling efficiency, prevent loss of volume, and reduce energy consumption and wastage during the milling process. Trials have shown that up to 3% moisture can be reintroduced into feed using SmartMoisture in pelleted feed and up to 4% in extruded feed, with no adverse impact on either animal performance or product quality.
Evonik strengthens methionine production hub in the US
Evonik will build a methyl mercaptan plant at its site in Mobile, Alabama, in the US. Methyl mercaptan is an intermediate in the production of MetAmino (DL-methionine) and is currently sourced from third parties. The plant is scheduled to come on stream in the second half of 2024, and the investment budget of the project is about €150 million over 3 years. The investment is also a building block of the division's sustainability strategy and will reduce the carbon footprint of DL-methionine from Mobile by about 7%.