DeLaval launches 3 innovative teat disinfectants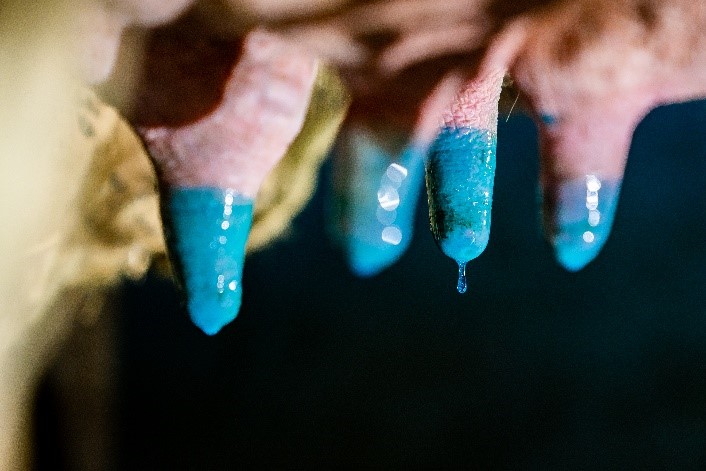 DeLaval has launched 3 new glycolic acid-based teat disinfectants to the European market. The disinfectants are OceanBlu spray, OceanBlu pro and OceanBlu barrier. The range offers skin conditioning properties with emollients like glycerin and sorbitol and contain the patented GlyTec technology. OceanBlu spray is a fast-acting disinfectant that can be sprayed before and after milking, and can also be foamed pre-milking during the udder preparation routine. OceanBlu pro is a teat dip, specifically designed for conventional milking. OceanBlu barrier is a teat dip that forms a flexible barrier around the teat, protecting the herd from environmental mastitis-causing pathogens between milking.
CRV HerdOptimizer now available worldwide
HerdOptimizer, CRV's genomic testing program which allows dairy producers to take a tissue sample from their cows and youngstock and submit for analysis, is now available worldwide to support dairy farmers in making breeding decisions. CRV HerdOptimizer is a revolutionary genetic management program that combines genomic testing with customised breeding goals, trait selection, and breeding recommendations to deliver improvement in the herd. CRV derives the genomic breeding values on either the Dutch/Flemish (NVI) or US (TPI) base.
Alltech and Emirates Food Industries partner in the Middle East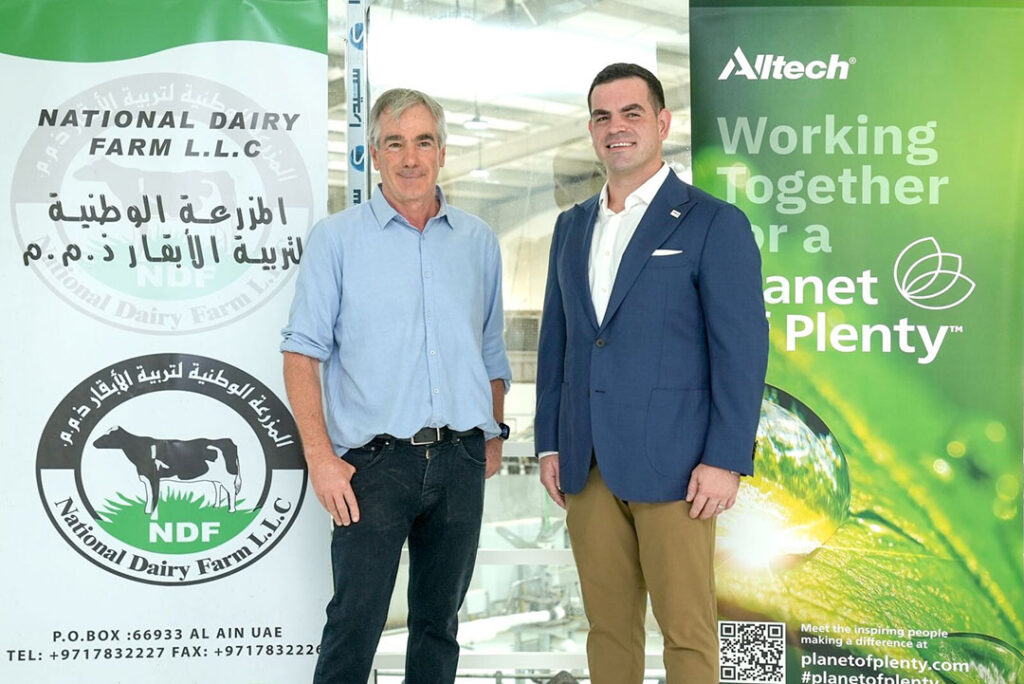 National Dairy Farms and Masakin Dairy Farms are 2 companies owned by Emirates Food Industries and known for their flagship milk brand Hayatna. The 2 dairy giants are now embarking on a transformative journey to measure and mitigate their carbon footprints. Alltech, through a Planet of Plenty partnership, is partnering with them to bring carbon footprint benchmarking and methane-reducing technologies to the Middle East Alltech E-CO2. The dairies will also utilise nutritional technologies from Alltech that help lower methane emissions and enhance farm profitability by increasing feed efficiency and milk production.
Arla Foods Ingredients invests for growth in Latin America
Arla Foods Ingredients has enhanced its Porteña facility in Argentina to cater to the growing demand for quality whey ingredients globally, especially in Latin America. A notable upgrade is a new drying tower, which increases whey permeate powder capacity and paves the way for infant-formula-grade protein production. Upon finalising financial agreements, RELCO will lead the tower's construction, aiming for a 2026 finish.
The Alltech ONE World Tour will bring agriculture leaders to Dubai
Alltech will bring the ideas and inspiration of its annual ONE Conference to Dubai at the Alltech ONE World Tour where changemakers and thought leaders examine regional and local market trends in agriculture, business, health and nutrition. The conference, which takes place from 27-28 November at the Le Méridien Dubai Hotel & Conference Centre in Dubai, will explore species-specific nutrition and production topics in greater detail through 2 dedicated breakout sessions, one focused on dairy and the other on poultry, as well as an interactive panel discussion featuring industry experts.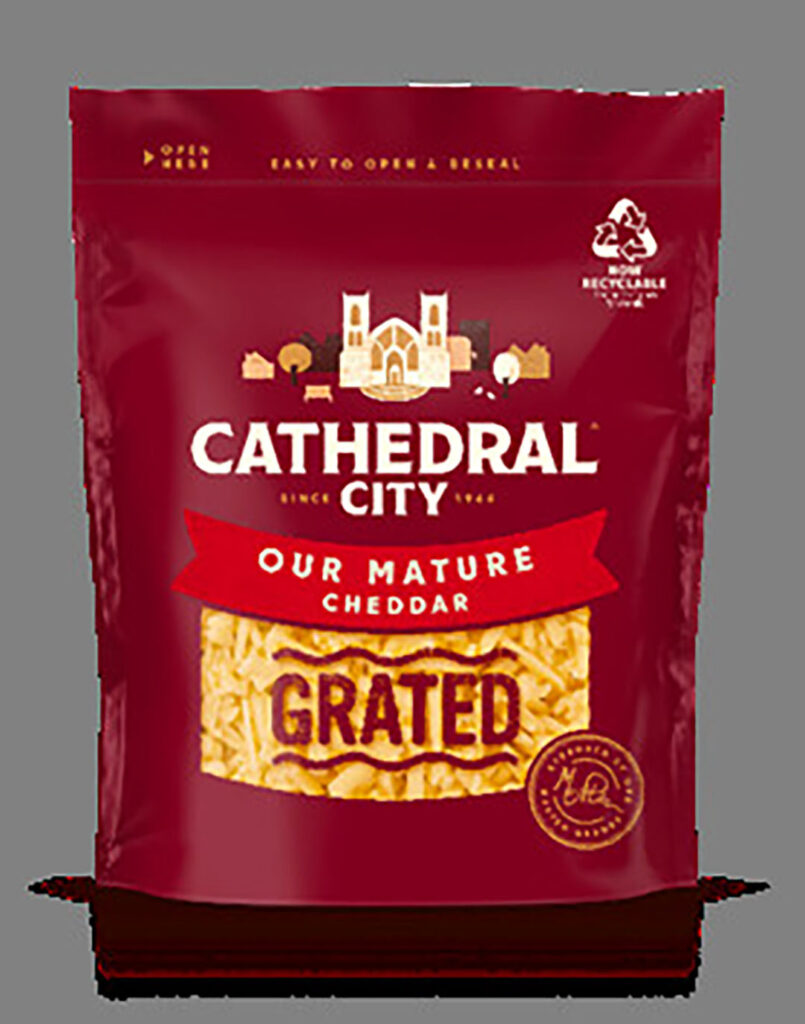 Amcor and Saputo Dairy UK win 'Flexible Plastic Pack of the Year'
Packaging solutions company Amcor in collaboration with British food brands company Saputo Dairy UK, have been awarded 'Flexible Plastic Pack of the Year' at the UK Packaging Awards 2023. The companies have been recognised for developing a new, recycle-ready grated cheese packaging for cheese brand Cathedral City. Utilising Amcor's AmPrima recycle-ready packaging, the flowpack for grated cheese, which provides a 47% reduction in carbon footprint compared to its previous packaging, meets consumers' demands for product freshness, convenience and improved sustainability.
Alltech shares results of first global sustainability insights survey
Alltech conducted a global, industry-wide survey to gather insights on the issues that matter most to the agri-food value chain and its stakeholders. The Alltech Sustainability Insights report show that agri-food leaders worldwide believe the industry can work together to create a better, more sustainable food system.
MSD Animal Health hosts UK dairy roadshow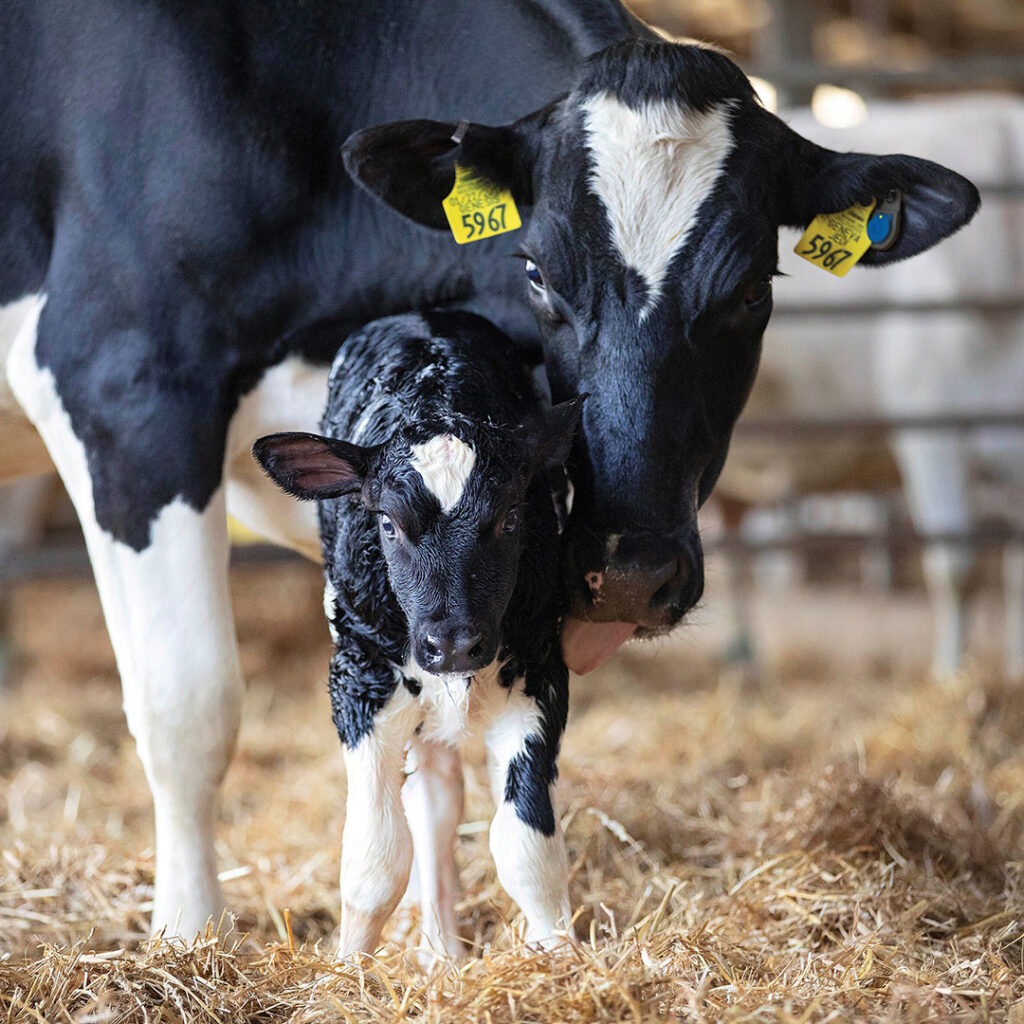 MSD Animal Health UK is hosting a series of roadshows to discuss how the latest herd monitoring technologies, herd health protocols and pharmaceutical products can be used to keep dairy herds healthy at every stage in their lifecycle. The roadshow, which runs from 8 November to 6 December, is visiting locations throughout England, Wales and Scotland. Presenters will include experts in herd monitoring as well as an MSD Animal Health veterinary advisor, plus farmers who will share their own experiences of how they've used MSD Animal Health's SenseHub herd monitoring system to monitor and improve the health, fertility and performance of their own herds.
Promising pilot test to reduce enteric methane emissions from dairy cows
The Bel Group, APBO (Bel's Milk Producers Association in the West of France) and dsm-firmenich, in partnership with Institut de l'Elevage (Idele), the French institute for livestock breeding, have announced the results of a pilot project aimed at reducing methane emissions from dairy cows. Conducted during winter across 5 dairy farms in western France from January to March 2023, Bovaer was added at a rate of around a quarter teaspoon a day to the diet of dairy cows. The trial revealed that under optimal conditions, Bovaer reduced enteric methane emissions between 29% and 42%.
Cattle Information Service invests in new laboratory
Over £4.7 million has been invested in creating a new 1,557 sqm state-of-the-art laboratory for the Cattle Information Service (CIS), located at the new headquarters of Holstein UK Group in Telford. Investment has seen all testing machines upgraded to new-generation technology with dedicated areas for testing milk samples, blood tests and tissue samples.
ILDEX Philippines 2024 – the 2nd International Livestock Show in Manila/Philippines
Organised by VNU Exhibitions Asia Pacific, ILDEX Philippines 2024 – the 2nd International Livestock, Dairy, Meat Processing and Aquaculture Exposition – will open its doors from 28-30 August, 2024, in co-location with the Philippines Poultry Show. ILDEX Philippines 2024 includes all groups of livestock management and meat processing. The show will occupy 6,000 sqm at SMX Convention Center in Manila, where organisers expect 180 exhibitors and 5,000 trade visitors.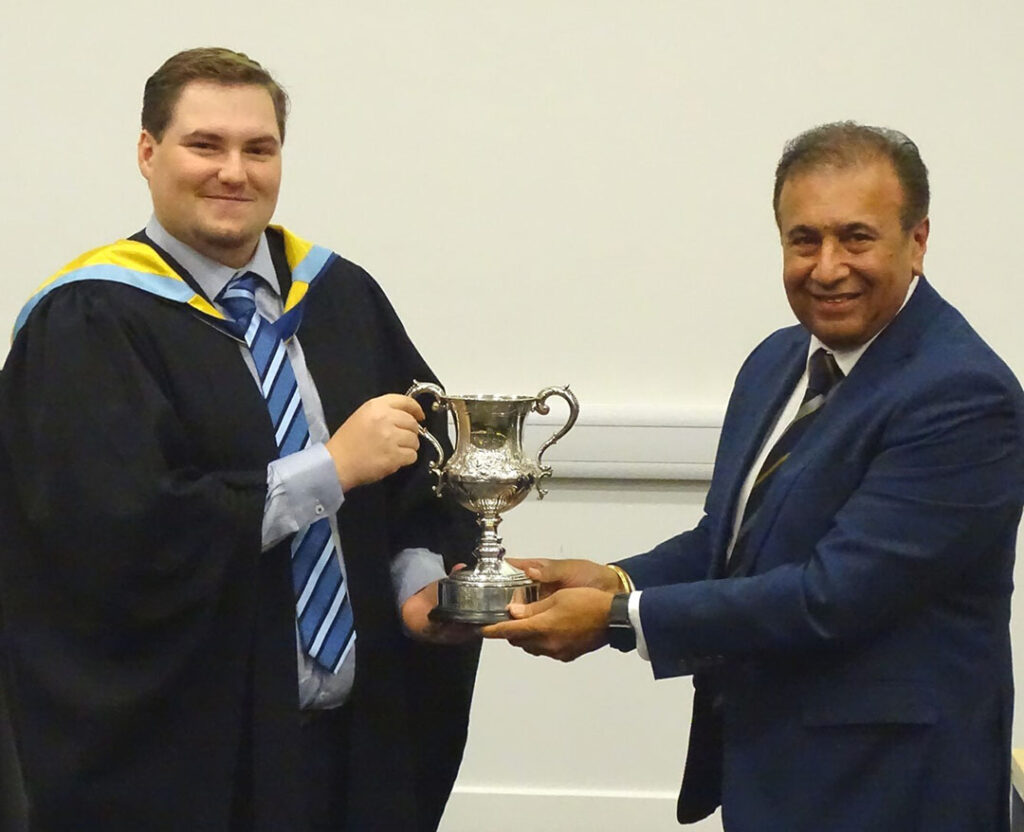 Connor Behrendt wins Nick Bird Award
Connor Behrendt from Shropshire in the UK as won the 2023 Nick Bird Award at Harper Adams University for his dissertation on the possibility of using a 3D camera to automatically predict the BCS (Body Condition Scoring) of dairy cows, using machine learning. The study achieved an acceptable level of prediction accuracy to improve farmer decision-making without the need to undertake manual body condition scoring.
Quebec Holstein Youth wins the 2023 Merle Howard Award
Savannah Crack was named the 19th Merle Howard Award winner at the 56th World Dairy Expo held in October. Crack joined 4-H early in life and as her 4-H career took off, she competed in the Royal Winter Fair's TD Canadian 4-H Dairy Classic. The Richmond, Quebec native was also selected to attend Holstein Quebec's Ecole de Preparation, a 3-day programme and became just one of 6 Canadians to attend the European Young Breeders School held in Belgium. She is a 4-time champion at major showmanship competitions on both sides of the Canadian and US border. When it comes to World Dairy Expo, Crack has been attending youth competitions for 8 years and is a 2-time showmanship winner having topped the Junior Showmanship Contest in 2015. The very next year, this Quebec native repeated that feat by winning the Intermediate Showmanship competition on the colored shavings.
Evonik appoints Dr Dirk Hoehler as head of the amino acids business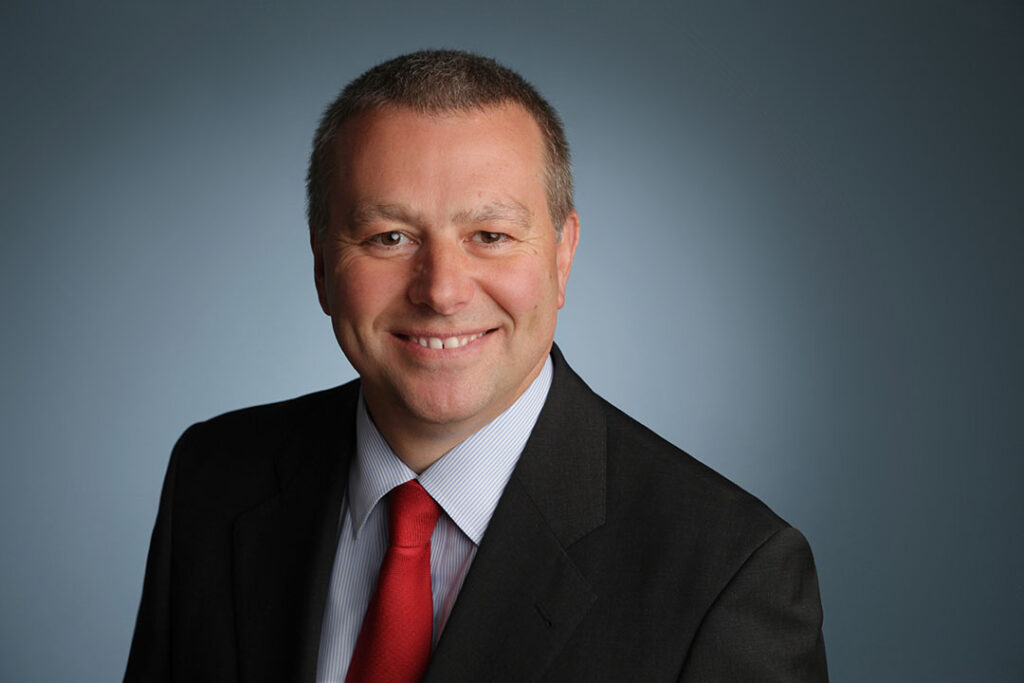 Evonik has appointed Dr Dirk Hoehler as head of its Essential Nutrition product line, under which Evonik is consolidating its amino acids portfolio. Hoehler takes over from Dr Jan-Olaf Barth, who has been promoted to head of the company's High Performance Polymers business. Hoehler will focus on sustainability, efficiency, and cost leadership, and will continue to implement the global methionine asset strategy.