Hryhoriy Tkachenko, 55, is the owner of Naporivske Farm, situated in Lukashivka village, about 20km from Chernihiv and 150km northeast of Kyiv.
On March 8 Russian soldiers shelled Hryhoriy's farm killing cows and damaging sheds and farm machinery but the next day they came and occupied the farm.
Hryhoriy and his family had only minutes to escape following a telephone warning from Ukrainian soldiers that had been defending the local village. It wasn't until March 30 that Hryhoriy could return to his farm and investigate the real damage done after the Russians had been driven out of the area by Ukrainian forces.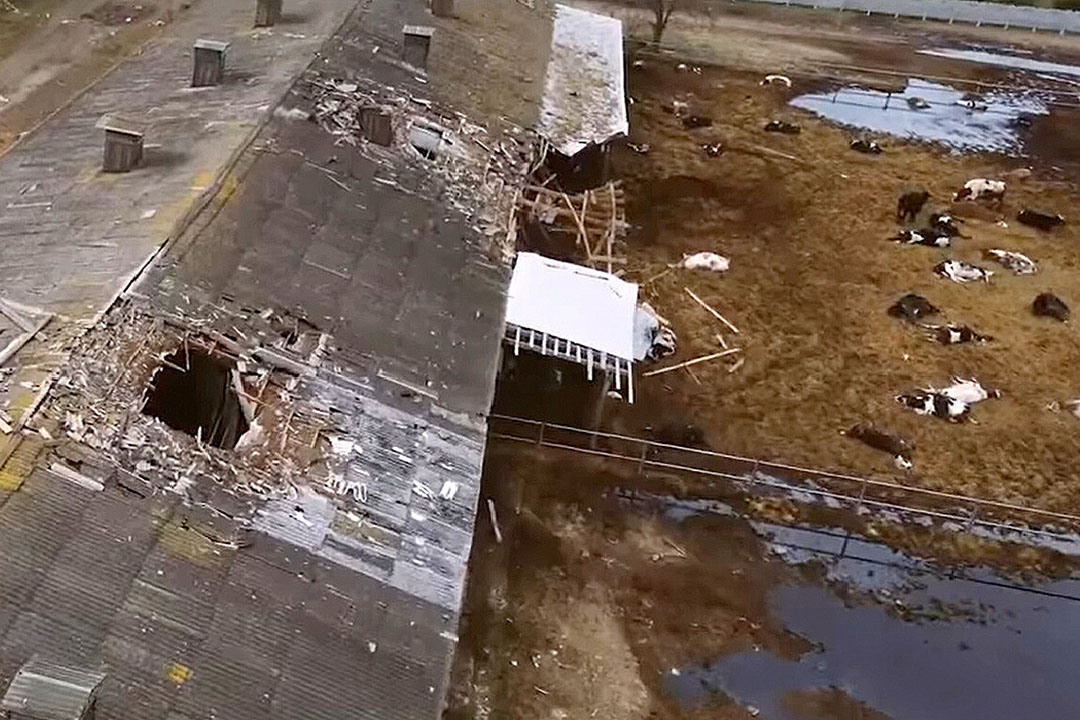 Cows & calves shot for fun
To his despair, 110 dairy cows and calves had been killed during the shelling and occupation of his farm. Many of them had been shot for fun by the Russians who then barbecued the meat at a local historic church they later destroyed.
From small beginnings with only 3 cows, Hryhoriy built up Naporivske Farm with his wife Valentyna and their 4 children. It was a small backyard farm, typical of many in Ukraine, that expanded extensively thanks to the hard work of the family.
No machinery – doing work manually
In 2002 they started growing crops on 6 hectares of owned land, having just $300 of capital, no machinery and carrying out most of the work, including fertilisation and spraying the crops, manually.
The business was registered in 2005 and before the Russians occupied the farm it had grown to over 1,500 hectares of land and a productive dairy herd of 326 cows.
Pre-invasion the future was bright
Hryhoriy says: "We started our farm with Simmental cows but we've been undergoing so called 'Holsteinisation' with the help of high-quality Canadian Holstein semen.
"Thanks to improvements in genetics, reproduction technology, feeding, milking and housing, and with the support of the Association of Milk Producers in Ukraine, our farm was confidently increasing its productivity levels.
"In 2021 we were achieving over 6,000kg of milk per cow per year and were planning to reach at least 7,000kg by the end of 2022. We were sending about 3 tonnes of milk per day at €0.30 per kg to our local processor Kulykivske Milk, which is situated 20km from us in Kulykivka town."
Hryhoriy employed 30 full-time staff and extra seasonal workers on the farm to help with the cows and the crops, which also included potatoes and strawberries.
He had invested heavily on the farm and in 2016 switched from a tie-stall housing system for the cows to free-stall and designed and installed a new DeLaval milking parlour. Last autumn, he completed a new grain drying complex, most of which have now been destroyed.
During the initial stages of the war Hryhoriy and his team continued milking the cows, until the farm was occupied, although the processing plant could not collect the milk due to intense shelling in the area. Hryhoriy adds: "We distributed milk to the local villages, and some milk was distributed by the Red Cross to orphanages and hospitals in Chernihiv."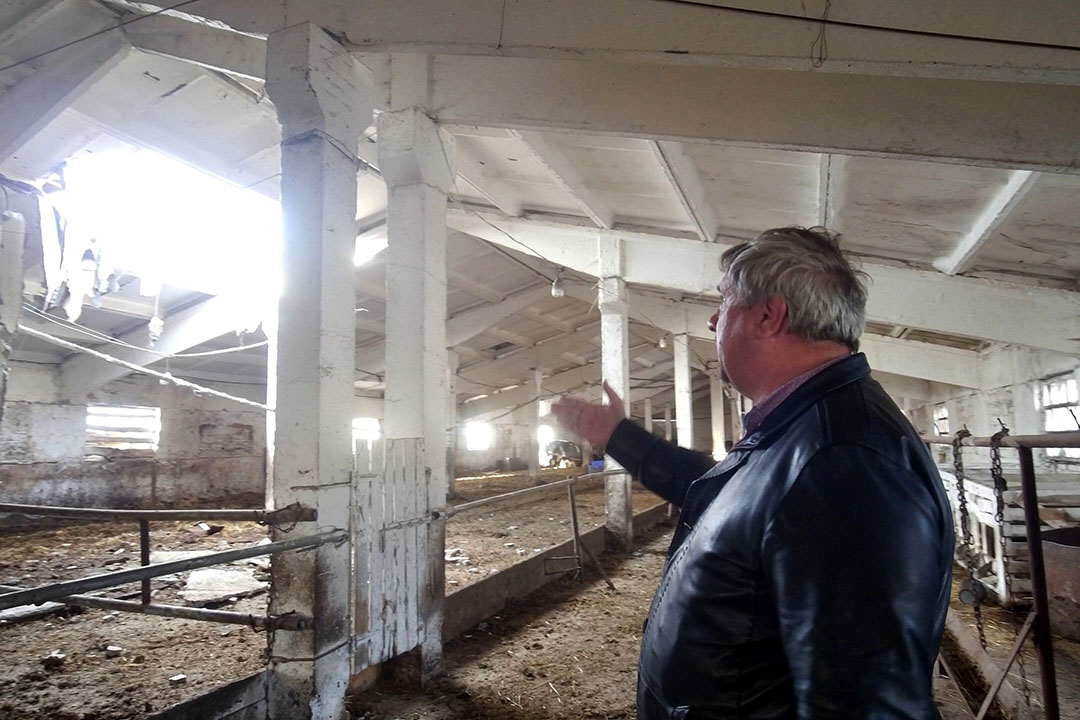 Russians invaded dairy farm
"At 6.30pm on March 8, the Russians fired over 30 shells at our dairy farm from a rocket launcher. This aimed shelling destroyed our farm warehouses, damaged roofs, destroyed the milking block, parlour, and the milk-cooling tank. They killed many cows and burnt the machinery.
"At the time our workers were at the farm and they miraculously survived. Since then we could not operate. The next morning at 9am the occupants entered our village, and then invaded the farm.
"With only minutes to spare I was warned by Ukrainian soldiers that were defending our village, who called me and only managed to say 'run!' before the connection was broken.
"We rushed to the car and managed to escape. Otherwise, the Russians would definitely have killed us," he says.
"Our village was under occupation for almost a month, until March 30. During that time there were about 500 Russian soldiers in our village and almost a 1,000 in the neighbouring village of Ivanivka.
"I can't call Russian soldiers humans. They are creatures for me, orks, as they terrorised and beat people in the village. They regularly took some men out of hiding, fired shots over their heads, and then repeated for their entertainment.
"Around 50 houses of the 150 in the village have been destroyed and 12 of our villagers were killed by the Russians," he states.
In all the regions of hostilities the Russians bomb farms and machinery. These are civilian, not military objects.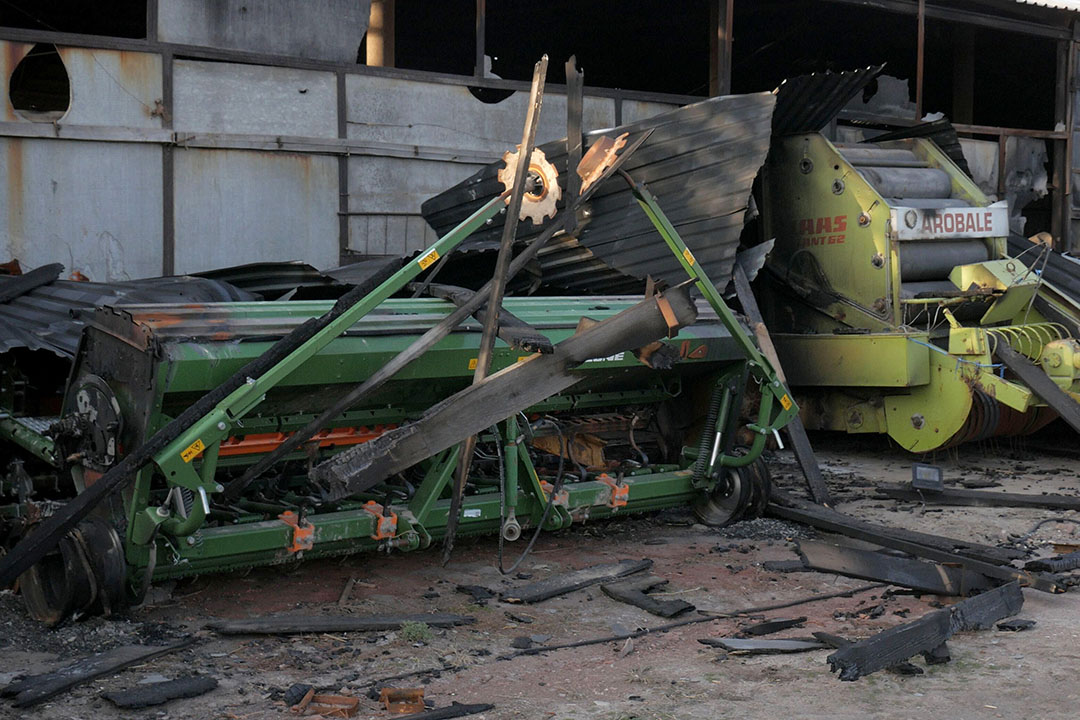 Aim to destroy food security
Hryhoriy says the Russians continue to bomb and mine farms because they know Ukraine is the breadbasket of Europe and they want to destroy the food chain.
He says: "On my farm the Russians killed cows that survived the shelling. Some were shot for fun because they were mooing too loudly with hunger. They even killed some to eat on the barbecue. In total, we lost 110 cows and calves.
"In all the regions of hostilities the Russians bomb farms and machinery. These are civilian, not military objects. There is no doubt they do this on purpose. They know well that Ukraine is an agrarian country, where the share of agriculture in GDP is up to 15%. That is why they are deliberately destroying the bases of our food security and economics."
Hryhoriy and his staff are starting to rebuild the farm and since April 20 have been trying to plant crops in the fields. However, his land is full of mines left by the Russians and de-mining takes a long time.
He adds: "We still hope to sow some crops, though our machinery is mostly all destroyed. Shrapnel and direct fire damaged our fuel tanks, so we lack diesel. Luckily, almost all our staff survived, and we have to take care of them and give them jobs.
"We couldn't remove the dead animals from the farm until April 10, when a plot in the outskirts of the village was de-mined and we received the permission of our local administration and veterinary service to bury the corpses there.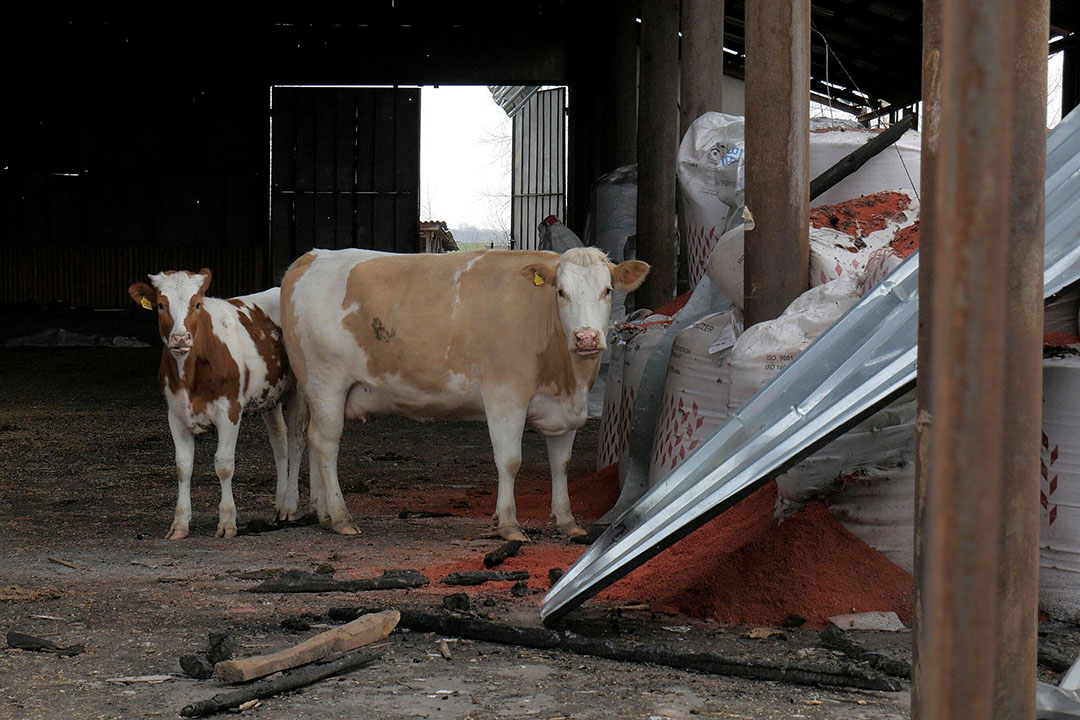 DeLaval helps with milking parlour
"Currently we are repairing the farm buildings, and the DeLaval service team is helping us repair the milking parlour. We have gathered the cows that ran away from the farm during shelling and hope to restart milking some cows in 3 weeks' time."
As there are no formal compensation systems set up to rebuild farms in Ukraine just yet, Hryhoriy is relying on outside help to get the farm up and running again.
"We received a StarLink system from our colleague Kees Huizinga, of Kischenzi Farm, a member of Association of Milk Producers and Ukrainian Agri Council.
"Thanks to that, we placed an internet connection in the building that now substitutes for our farm-office, though there is still no cell connection and problems with electricity. Our neighbouring farms also helped us with fuel for the diesel generator.
"We have a long way before us to restore, but we believe in the victory of Ukraine, and we are not going to quit our agrarian business or stop the farm," he says.
Kyiv, Kharkiv and Chernihiv regions were in the top 3 dairy regions of Ukraine, that together supplied 30% of total industrial milk to processing in 2021.
The Association of Milk Producers together with the Pig Producers of Ukraine and Ukrainian Agri Council, under approval and support of Ministry of Agriculture and Food and State Service of Ukraine, started a special project Marshall Plan for Livestock of Ukraine.
Together they are gathering and supplying farms with humanitarian veterinarian medicine and instruments, feed ingredients and milking hygiene aids needed for the next few months.