Extending to 18,000 sqm, the new complex at DeLaval's Hamra Farm in Sweden will include new barns, 4 new DeLaval VMS V300 automatic milking robots, as well as other digital technology to improve animal health, quality and efficiency.
A focus on animal welfare
As well as being a commercial dairy farm, Hamra Farm has always been used as a test unit for the company's latest innovations focusing heavily on animal welfare.
Today there are around 250 cows on the farm producing an average of 12,200 kg of milk per cow per year, and with this new investment, they hope to more than double the herd size to 550 cows.
Johan Bjurevall, managing director at Hamra Farm, says: "We have always had a big focus on our animals and their well-being. That is part of our philosophy: good animal husbandry and long-term planning often result in good yields.
"We are incredibly happy with the new possibilities the investment gives us, to be part of planning and building such a modern farm with a long-term focus is fantastic.
"We have worked with the planning and preparation for the build for a long period now. The new barns will house 550 dairy cows and 500 young stock of the breeds SRB (Swedish Red and White breed) and Holstein. We currently have a good mix of these 2 breeds, and it has been successful for us for many years," he added.
Located only 30 minutes from Stockholm, Hamra Farm manages 2,800 ha of land, 1,000 of which is arable land growing winter wheat, barley, and corn to feed the herd.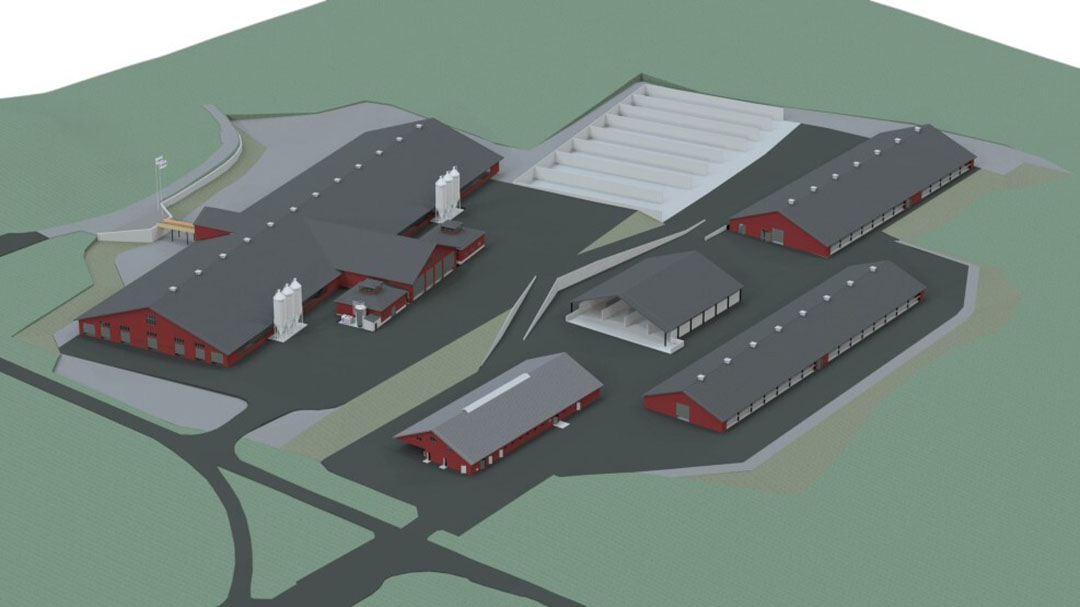 Innovative solutions in sustainable dairy
A number of various pieces of DeLaval equipment have been tested on Hamra Farm over the years, which also acts as a demonstration farm for customers.
"That makes our job incredibly fun and exciting, but it also requires more planning now during our building project," Bjurevall says.
Although the financial details of how much the new complex is costing have not been announced by the company, DeLaval said the investment will "continue the development of modern and sustainable milk production".
DeLaval president and CEO, Paul Lofgren, adds: "To continuously find new and innovative solutions for more sustainable milk production with a high focus on animal health is something we really believe in and that drives us at DeLaval.
"We can achieve that with the help of automatic solutions, more digital systems that, for example, give the farmer important information at the right time, and good animal knowledge and advice.
"We will see even more of that when the rebuild of Hamra Farm is complete. It is a big day for us, and to eventually be able to show this amazing facility makes us extremely happy and proud. The plan is to have the first animals move in at the beginning of 2024," he said.