In West Gippsland, scientists are aiming for the world's first carbon-neutral dairy farm. In Agriculture Victoria's Ellinbank Smartfarm, 99.8 kW of solar is coupled with a 100 kWh battery that provides 40% of the farm's electricity needs.
"We plan to add a further 400–600 kW of solar and 200 kWh of battery storage to produce more energy than the farm needs to offset the greenhouse gases produced by the cows," research director, Professor Joe Jacobs, explains. The idea of the project is to fast-track innovative technologies in a research environment that can be accessed by the dairy industry.
Solar as a cost-effective solution
But some Australian dairy farmers have already taken the plunge. Justin Telford, who runs Mundoolun Dairying in the Australian Mount Schank district with his brother Travis and parents Trevor and Lynn, says in a Rabobank client story that their power bills became an increasingly significant spend. They researched options to help bring their costs down, and solar emerged as the most cost-effective solution.
Justin focused on online research and talked to dairy farmers from other regions. "We spent about 4 months crunching the numbers and looked into using wind energy, which didn't prove viable. We were also wary of the door-to-door type salespeople trying to flog solar options, so we took the time to find the right company that aligned with our business and personality," Justin says in the story.
Projected target
The Telford family eventually found CommPower Industrial. They provided a whole service – sourcing inputs, installation and follow-up support. The Telfords installed their first system in 2018 – a 100 kW roof panel system, intended to pay itself off in 26 months. After just 12 months they were only AU$ 1,500 (US$ 1,079) off their projected target. The system had paid for itself by not long after.
The family followed up with a second similar system 18 months later, which was also successful. "Our electricity spend was about AU$ 600,000 (US$ 431,550), which is out of control. Now with the 2 systems alone we save about AU$ 100,000 (US$ 71,930) a year," Justin points out.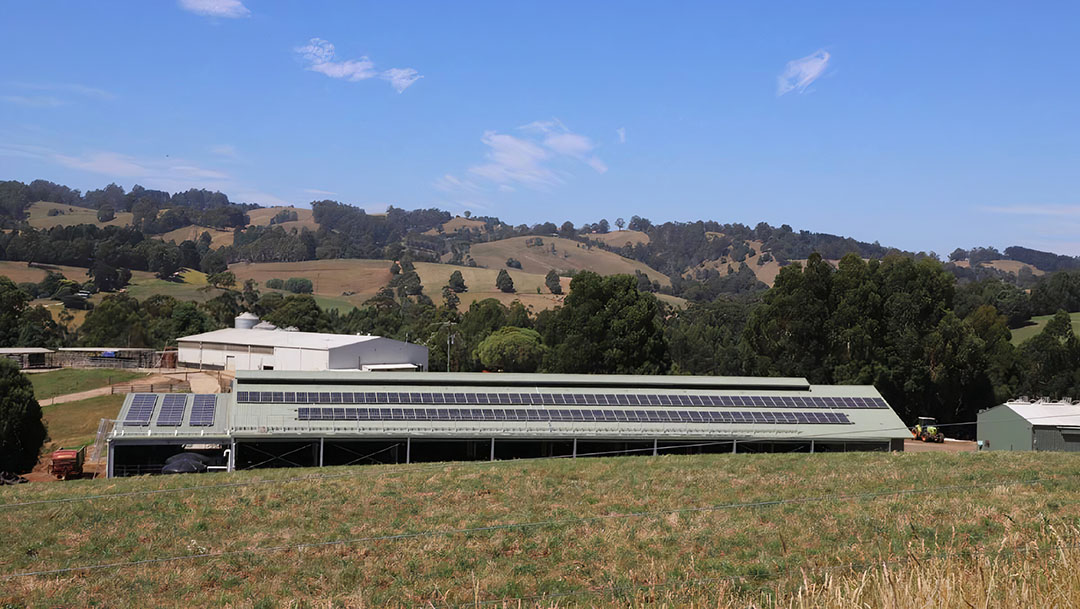 Brett and Jodie Loughridge were also looking to cut costs and gain a more reliable power supply for their farm in Poowong, where they milk 630 cows. In partnership with Brett's parents, Bill and Faye, they decided to look at the possibility of a solar system, they told the Burra Foods Community Report. "We didn't know much about it," Brett says in the report. "We had a bloke come on board and he pretty much went through all the different companies and options."
The family installed 65 kW of panels on the roof of the dairy and the machinery shed, as well as a Hitachi lead-acid battery system. "Even during winter and the shorter days there was enough sunlight to fully recharge the battery," Brett says. He expects to get a return on investment within 6 years.
Financially sustainable business
Owners Leo and Sue Cleary of Hastings Park wanted to ensure a more financially sustainable business. Hastings Park is one of 28 certified a2 Milk dairy farms across Australia selected to produce only the A2 protein. With nearly 120 ha of mainly irrigated dairy pasture, Hastings Park is a highly productive dairy farm with a herd of 350 cows. It is located on the New South Wales Mid North Coast and produces up to 2.8 million litres of milk annually.
The Clearys were eligible to apply for an a2 Milk Sustainable Agriculture Landcare Grant to fund a project to reduce electricity costs by installing a solar power system in the dairy. They received AU$ 40,000 (US$ 28,779) in funding.
With the addition of a solar power system in the dairy, the Clearys aimed to reduce their electricity costs. Installation of the solar panels resulted in a 12-15% saving on utility costs. Leo Cleary: "At a time when other costs – especially purchased feed – have increased greatly, the savings we're seeing are a big help."
Reduced electricity consumption
Bruce and Christine Lindsay, who run a dairy farm in northern Victoria, were paying electricity bills of AUS$ 2,000 (US$ 1,439) per month. They, too, saw solar as a great opportunity to eliminate a portion of these continuing costs. They funded their solar system via a leasing option from the company Solar Panel Options.
They required 213 solar panels, which were placed on the roof of the dairy and amounted to a 70 kW system. A north and north-west facing system has allowed the Lindsays to reduce their hot water costs and has smashed their afternoon milking costs. Since installation, the system has saved Bruce and Christine around AU$ 45,000 (US$ 32,377) over the first 2 years. Bruce Lindsay says that the solar system has reduced their electricity consumption by over 70%.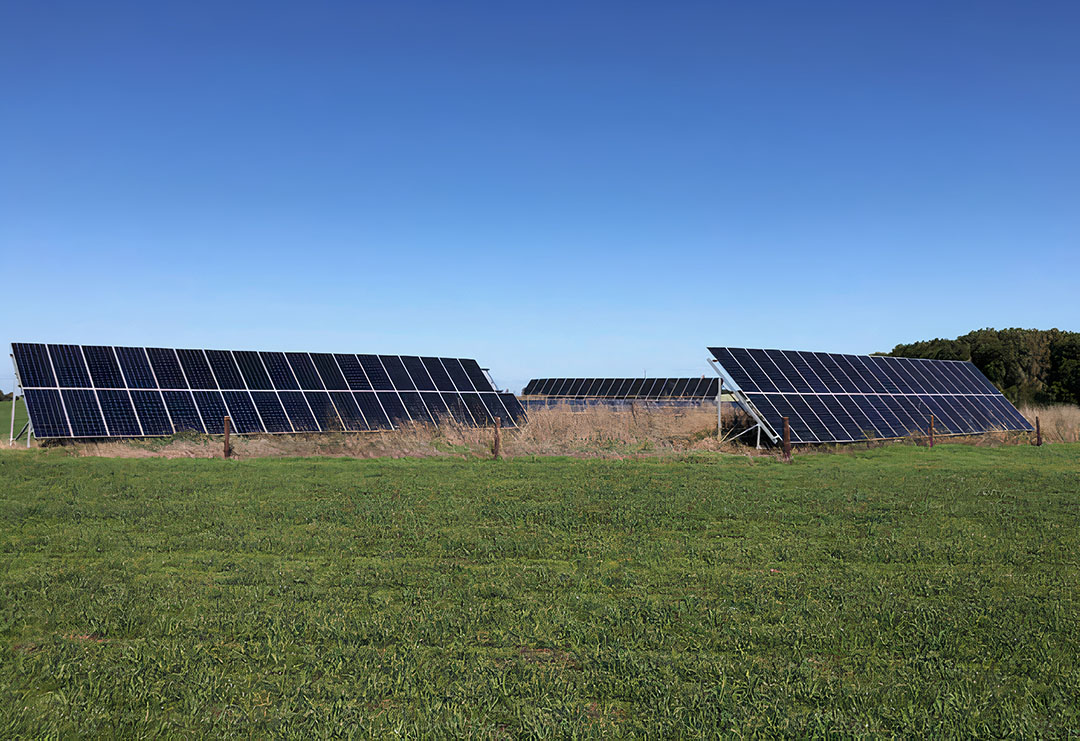 Dairy farmers Kay and John Smith run a robot dairy currently milking 110 cows off a milking platform of 100 ha on the New South Wales Mid North Coast. They decided some years ago to build off-grid. The dairy shed is covered in 100 kW of solar panels, and a solar room is full of batteries and inverters.
The system can store enough energy from one day to the next with minimal generator use. A back-up diesel generator is capable of recharging the batteries while, at the same time, taking over the supply of power to the dairy. Even in cloudy weather, the generator is only operating for about an hour a day.
Installing the solar system and additional equipment was 2.2 times the cost of installing mains electricity, but they project the system should pay for itself in 4 years. An advantage of their solar system is consistency in power.
Suitable sites on the ground
According to Dairy Australia, most solar systems are installed on roofs. The weight of the panels and the strength of the roof and its frame need to be taken into consideration. Roofs can get very hot in summer, especially when made from iron. "Anodised aluminium PV frames could help dissipate heat," Dairy Australia says. "With the extra space available on farms, there may be suitable sites on the ground to set up the arrays to maximise insolation and efficiency. Ground systems would need to be fenced off from cattle and be sited where there is no risk of damage from machinery."
Dairy Australia explains that current feed-in tariffs of electricity providers in Australia are much lower than the price of electricity, so it might be most effective to have a solar system that displaces the use of grid electricity rather than create surplus energy that is sold to the grid and bought back at much higher prices.