New technology saves labour on dairy farms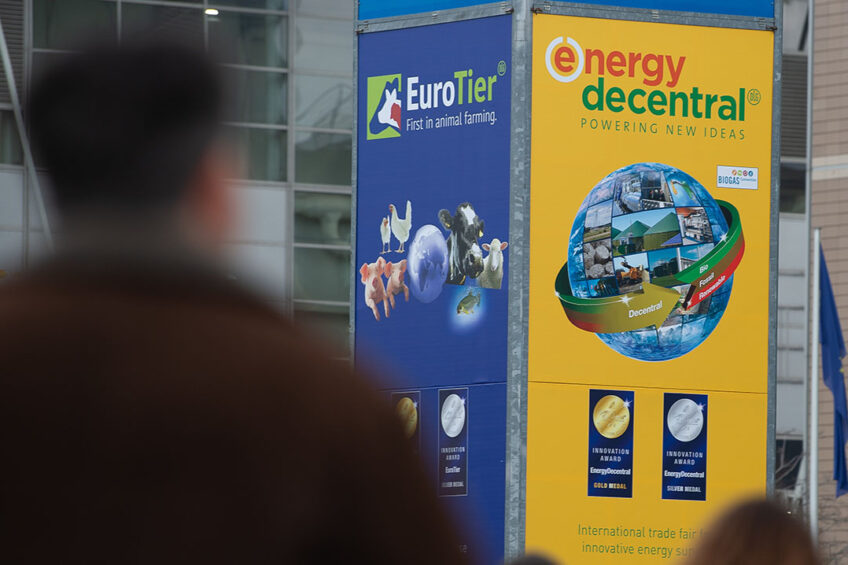 Germany's big EuroTier show has just ended in Hanover and has left many impressions on the 155,000 visitors on how they can improve their own farm efficiencies with some bright ideas. Here is a selection of them.
It is no secret there is a worldwide shortage of labour on dairy farms and farmers are looking more to invest in new technology that could help address this. EuroTier left a number of impressions on the 155,000 visitors on how they could improve their own farm efficiencies and labour issues. A total 2,526 exhibitors from 62 countries exhibited modern animal production solutions in over 260,000 square metres of space. Whether it was new machinery or tweaks to existing models, latest software to help farmers manage their animals virtually, or new developments in feed supplements, EuroTier had it all. However, while some technology never makes it to production stage, other innovations come at a price that not every farm can afford. It was, however, apparent at this EuroTier that there was new technology and ideas to suit both large and small farms to help them in the future.
New 'boomerang' cubicle hits the market
One of the more distinguishable cubicle designs at EuroTier was the Boomerang Supercomfort model from Italian manufacturer Rota Guido. At first glance it's impossible to figure out how this cubicle actually stands on its own but on closer inspection it really is a clever design. Made out of strong 3 inch steel, each Boomerang cubicle is fixed to the ground by a supporting anchor but with flexible movement to allow adjustments for cow sizes. A training tube acting as a flexible headrail is hung from supports also anchored to the ground, along with a front rail, to prevent the cow from going too far forward in the cubicle. The Italians say this novel design offers the cows more freedom to lie down and rise yet keep them within their own cubicle area. It also gives the cows more visibility. Cost of this system is around € 100 per cow space.
Housing calves outdoors in small groups
The new CalfOTel Hybrid calf pens allow calves to be housed outdoors either individually or in small groups from one day old to 3 months old. Dutch company VDK Products has developed the CalfOTel Hybrid which houses the calves in a multiple occupancy hutch made of fibreglass reinforced polyester with a smooth inner coating. The hutch can be divided with partitions to suit calf numbers and is very easily cleaned and disinfected. The opening door at the front allows for easy access and visibility of the animals to the farmer. It's overall shape and adjustability provides a good microclimate in all weather conditions for the young calves. The CalfOTel Hybrid is available from January 2019 and costs € 3,500 for the 4 calf model.
World's most expensive cow mattress
If Carlsberg did cow mattresses they probably would make something like the new luxurious example just launched by Cowhouse International in the Netherlands. The Dutch Mountain mattress is potentially the most expensive one in the world at a whopping € 325 per cow but the manufacturer claims it offers the best comfort to the animal. Essentially, it is a unique piece of foam developed and manufactured by the company, which is 14cm thick at the front sloping down to 10cm at the rear. It is designed to adapt to the shape of the cow and follow all her movements. The foam is completely enveloped by a 1mm thick waterproof rubber membrane and is then covered by an 8mm thick Polypropylene 3D topcover. Cows lie comfortably for longer periods of time without pain resulting in higher health and more milk production. Intensive testing has already been carried out on this mattress which comes with a 3 year warranty and it should last ten to 15 years.
Home cheese production made easy
Producing home-made cheese is becoming popular across the world on dairy farms thanks to systems such as the new MP Cheese Pasteuriser from Greek company Milkplan. Made from stainless steel the system is for use on farms that want to produce cheese and in smaller food processing companies. Milk pasteurising and coagulation processes happen in the same tank thus saving equipment cost, space and user's time. Both the agitation paddle and the cutters can also be removed for easier cleaning. The system on display incorporated the main pasteuriser unit with a 200 litre capacity, a control panel and a cooling unit, together costing around € 10,000. However, larger sizes of 300 litres to 1,000 litres are also available.
New mobile milk feeder saves time
Feeding high numbers of calves can be a real pain but a new mobile unit that can feed up to 50 calves at once should help. German company Patura introduced its mobile milk express unit developed especially for large herds wanting to feed a lot of calves. This unit can be transported all around the farm and placed either indoors in pens or outdoors in the fields. The tank holds 500 litres of milk that is mixed within 3 to 5 minutes with the onboard Honda four-stroke pump. The unit on display had 30 teats and therefore could feed 30 calves, but this can be increased to 50 if the farmer requires it. There is also a 5 metre dispensing nozzle at the rear of the feeder should the operator prefer to feed calves in single pens, dispensing the milk from the large tank. A float level indicates the quantity of milk remaining inside the tank. A self-cleaning programme is used to completely clean the unit with clean water inside 3 minutes. This complete unit with 30 teats costs in the region of € 7,000.
Cleaning calf pens made easy by lift and tilt
Technology that mimics nature's maximum vacuum level
Czech company Calf35 showcased its technology for use in the milking parlour. The technology delivers a controlled introduction of positive air to close the liner at the correct pressure in the variable milking conditions, whereby maintaining a consistent pressure differential at all times: just like a calf. In other words, the pressure and vacuum (35-36kPa) employed in the Calf35 system emulate a suckling calf. Unlike conventional vacuum pulsation systems, which rely on dual purpose milk lines, which use vacuum to both remove milk and close the liner. This in turn can deliver variable results.