According to a recent USDA report, the country has about 10,000 dairies in the country with about 80% having fewer than 500 cows. However, in reference to total number of cows, about an equal number are on dairies with herd size above and below 500 cows.
As a general trend in the country's industry, smaller dairies lean more towards grazing and larger dairies towards more purchased compound feed. In Argentina's dairy sector, pastoral, semi-pastoral, and stabled/indoor systems are in place. However, the most common is the semi-pastoral or mixed production system, this system utilises grazing when available and also supplements with compound feed.
Protests and new law
The financial situation of Argentine dairies has deteriorated in recent months. The report added that the current negative margins, especially for smaller producers, have led to continued protest by local dairy organisations who demand that current price controls be updated or abandoned. Price controls were recently extended until mid-June of 2021, but there were some dairy products that were removed from the price control list, which includes: infant formula, grated cheese, cream cheese, dulce de leche, butter and margarine, yogurt, desserts and puddings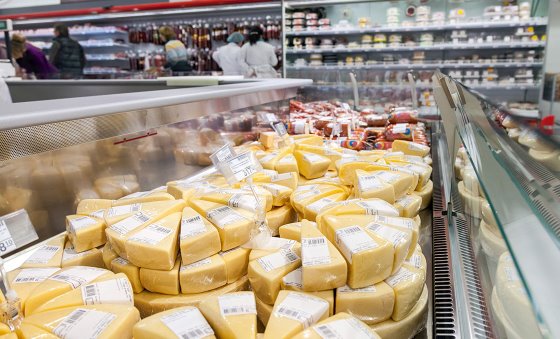 A new law will be put in place, as the Argentinian government wants to increase the diversity of food products on supermarket shelves. By doing so, a certain percentage of shelf space will be allocated to products produced by small and mid-size businesses. This means that a limited amount of space can be assigned to products from a single company. The effects of this law, which is beginning to be implemented in May 2021, are uncertain, but it could lead some small dairy processors to devote more production to the formal market. In the short run, supermarket chains are scrambling to diversify their suppliers to comply with the new law, the report states.
Consumption and trade
Fluid milk domestic consumption is estimated at 1,800,000 tons, up 50,000 tons over USDA official and 9.4% over 2019 levels. Increased fluid milk consumption was driven by the Covid-19 pandemic consumption patterns.
Brazilian demand for Argentinian dairy products remains strong (particularly non-fat dry milk exports), while major whole milk powder markets for the country are Algeria and Brazil in recent years and increased exports to Algeria were the primary driver of higher 2020 exports. Brazil is the largest market for Argentina's non-fat dry milk exports. In 2020, China had a significant purchase.
On 15 October 2020 Argentina was once more allowed access to the dairy market in South Korea, a market it last exported to in 2016, when sanitary authorities blocked imports. Argentina will be permitted to export butter, cheese, whey, powdered milk, and cream. Prior to 2016, Argentina shipped limited quantities of fluid milk and cheese to South Korea.
In 2019, La Seremísima was the most popular dairy brand in Argentina, followed by Ilolay, according to Statista. In the same year La Serenísima was the dairy brand that was purchased most frequently in Argentina, with its products bought an average of 13.7 times per household in a year. Ilolay was the second most frequently purchased brand in the Latin American country, with products bought close to 7 times per household.
According to a study by OCLA, a dairy industry organisation, 25.3% of dairy production in Argentina went into export channels in 2020. The top-5 destinations for Argentine dairy products are Brazil, Algeria, Russia, Chile, and China.
Sustainability
It was announced in July 2020 that IFC, a member of the World Bank Group, would provide a US$ 100 million loan to support the expansion plan in the dairy sector of Adecoagro, a leading agribusiness company in Argentina. According to the IFC, it will aid in fostering an innovative, sustainable approach to developing the dairy industry, an important component of the agribusiness sector in Argentina, which is a key economic driver for the country, accounting for 63% of its total exports.
The US$ 100 million financing package consists of a US$ 57.25 million loan on IFC's own account, including a US$ 17.8 million IFC Green Loan tranche that will fund wastewater treatment and climate-friendly projects, representing the first IFC Green Loan in the real sector in Argentina and the first IFC Green Loan in the dairy and animal protein sector globally.
With this backing, it will enable to frame a sustainable approach to better develop the dairy industry.
The funding will assist Adecoagro to offer financing for the acquisition and efficiency improvement of 2 dairy processing facilities. In addition, there will be a construction of 2 dairy free-stalls to increase milk production.
Future dairy sector
Argentina is a strong net exporter of dairy products, importing only limited quantities of dairy products from neighbouring countries. It has been indicated that limited imports are projected to continue at minimal levels due to the difficult economic situation in Argentina.
Price increases seen recently could lead to a return to profitability for medium to large sized dairies if it continues on the same path. Small dairies continue to struggle, leading to increased consolidation. MY 2021 dry whole milk exports are projected at 160,000 tons, up 8% over MY 2020 levels. Cheese and butter exports are projected to decline slightly, says the USDA report.
Also see: Argentina's official report on climate change (Second Nationally Determined Contribution on Climate Change)