Nestlé Germany will support the Frese family-run dairy farm, which belongs to cooperative Hochwald Foods GmbH. The farm aims to be a role model for the cooperative's other 2,800 dairy farms. In this pilot project, Nestlé will work with the derivative supplier Hochwald Foods, the University of Nürtingen-Geislingen, and other project partners.
The project began in October 2021 and will run to December 2024, with the aim to get the farm to net-zero emissions. The goal, Nestlé says, is to identify levers to reach net-zero via reduction and removal of greenhouse gases, but also include the cost side for a farmer, for e.g., what does each lever cost? What are the GHG reduction benefits? In other words, "we are counting on the combination of reducing as many emissions as possible and at the same time removing as many emissions as possible," says Corinna Weinmiller, sustainability manager at Nestlé Germany.
Why Germany?
This is the first net-zero farm project in Germany for Nestlé, since milk is an important raw material for Nestlé and more than a third of its global emission footprint comes from dairy/meat ingredients (dairy & livestock). The company says that it sources significant quantities of milk from large German dairies and wants to take a positive lead in Germany. For this reason, it has chosen to closely collaborate with its largest suppliers, like Hochwald Foods, to gain joint knowledge and work out ways how to massively reduce greenhouse gases and therefore the footprint of dairy raw materials.
What will be looked at on-farm to reduce emissions?
Herd management (for increased animal productivity)
Feed production
Energy use
Nutrition and feed additives (rumen modification & nutrition)
Manure management
How will emissions be removed?
Regenerative agriculture methods (keep soils covered – living roots in the ground, diversify crop rotation, minimum tillage, reduced use of synthetic pesticides, integrated pest management & biocontrol, increase usage of organic fertilisers versus synthetic fertilisers)
Planting trees, hedgerows, increase area of natural habitats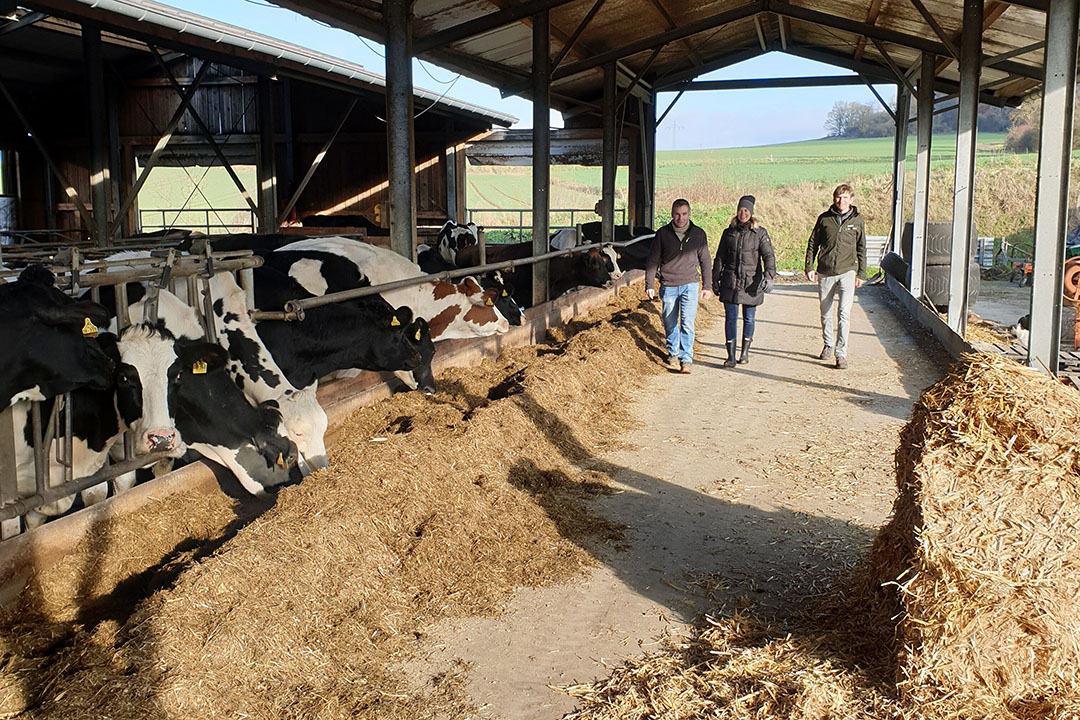 At dairy farm level
Weinmiller says that by working with Hochwald as well as the University of Nürtingen-Geislingen, the collaboration is with very experienced partners with whom "we can lead the joint project to success". Furthermore, the company will consult experts and other project partners on particularly challenging issues, such as the Thünen Institute of Farm Economics or the Bodensee Stiftung (Lake Constance Foundation). Weinmiller adds that "the challenge is big, but we all have the goal to support our farmers in the best possible way and to provide them with a good basis for greenhouse gas reduction at farm level."
The key learnings from this project should consequently be adapted to all Hochwald farmers and show a significant reduction of emissions for the derivates of Hochwald. The aim is to ultimately provide farmers with more knowledge on how to reduce greenhouse gases on their farms, how much it will cost them and the time it will take.
In addition to this, they want to show the possibilities of CO2 storage through regenerative agricultural practices and natural climate solutions (such as hedges, bushes, trees). Both levers (reduction and removal) will become more important for dairy farmers worldwide. "Of course, this will also help us to reach our global Nestlé 2050 target of net-zero," says Weinmiller.