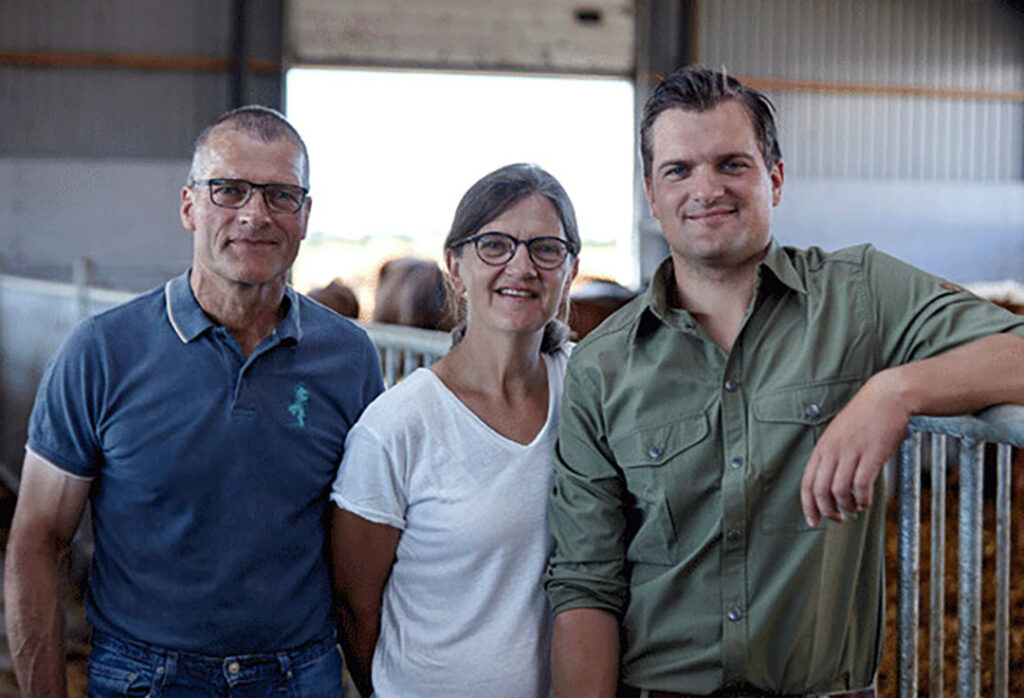 This Danish farm, Møllergaarden, with its 210 red dairy cows, is run by the Nielsen family, consisting of Henning, his wife Charlotte and son Andreas. The farm has an adjoining piece of land of approximately 230 hectares and is located in Kirke Hyllinge, which is about 60 km west of Copenhagen.
"I received an agricultural education in the 1980s and came home to the family farm where I am the 5th generation and my son, Andreas, the 6th generation. I joined a company with my father to run the farm. At that time, my father ran the 32-hectare farm with 29 dairy cows. In the following years, we bought more cows and more land," says Henning Nielsen.
"Already in 1995, I decided to switch to organic milk production, because I didn't like spraying the fields with plant protection agents," said Henning, adding that his son completed his agricultural economics education at Dalum Landbrugsskole a few years ago and returned home where he began the generational change. He is now co-owner of the farm.
Today, the family farms 230 hectares, of which 150 hectares is owned by them, while together with a neighbour, they farm another 170 hectares, so the total area is just over 400 hectares. Some of the fields are not that far from Roskilde Fjord, and every spring they have some challenges with large flocks of geese and black birds, which destroy the newly sown fields.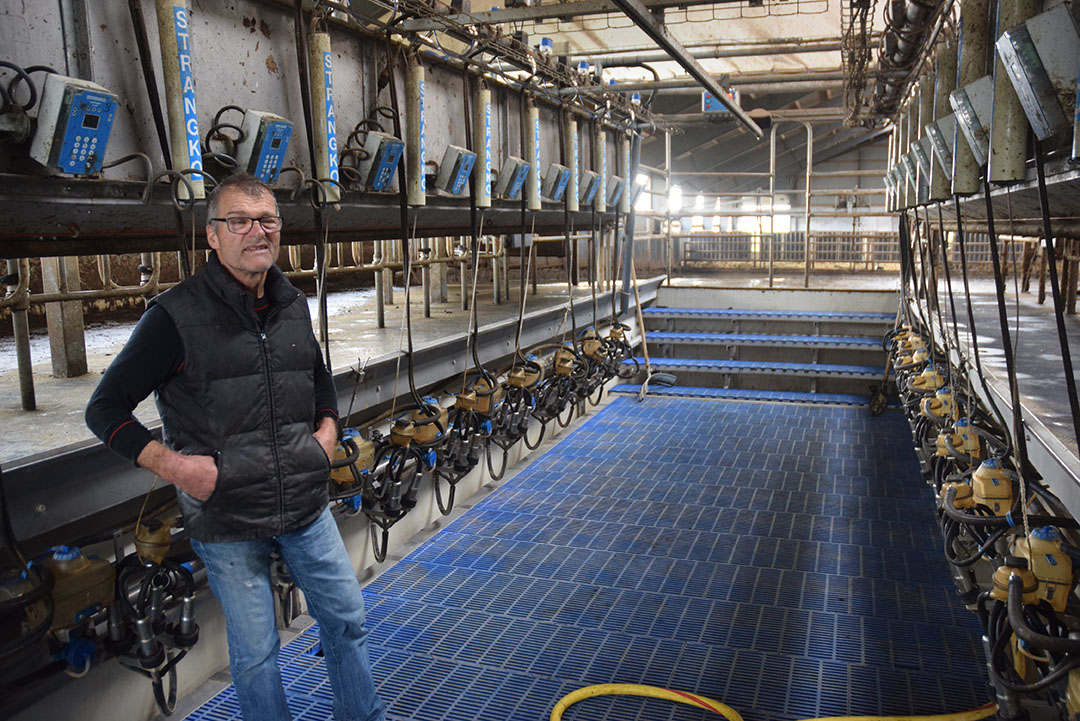 On grass for 7 and a half months
The herd's cows and heifers are out in the pasture for a minimum of 7.5 months a year. It is a legal requirement when you are an organic milk producer. The herd is housed in detached stables where there is good ventilation and light. The bedding is sand, which is gentler on the cows than concrete floors with straw.
Milking takes place twice a day and for 200 dairy cows takes about 2 hours in a Strangko brand milking parlour with 2 x 12 places where the cows go in and out at the same time. Average yield in the herd is just under 10,000 kg of milk per year with 4.3% fat and 3.4% protein. Each cow has an average of 3 calves before slaughtering.
From the milking parlour the milk is pumped to the farm's cooling system and Arla Food's refrigerated tanker truck collects approximately 5,000 kg daily, which is transported to the Arla dairy in Slagelse, approximately 60 km south of the farm.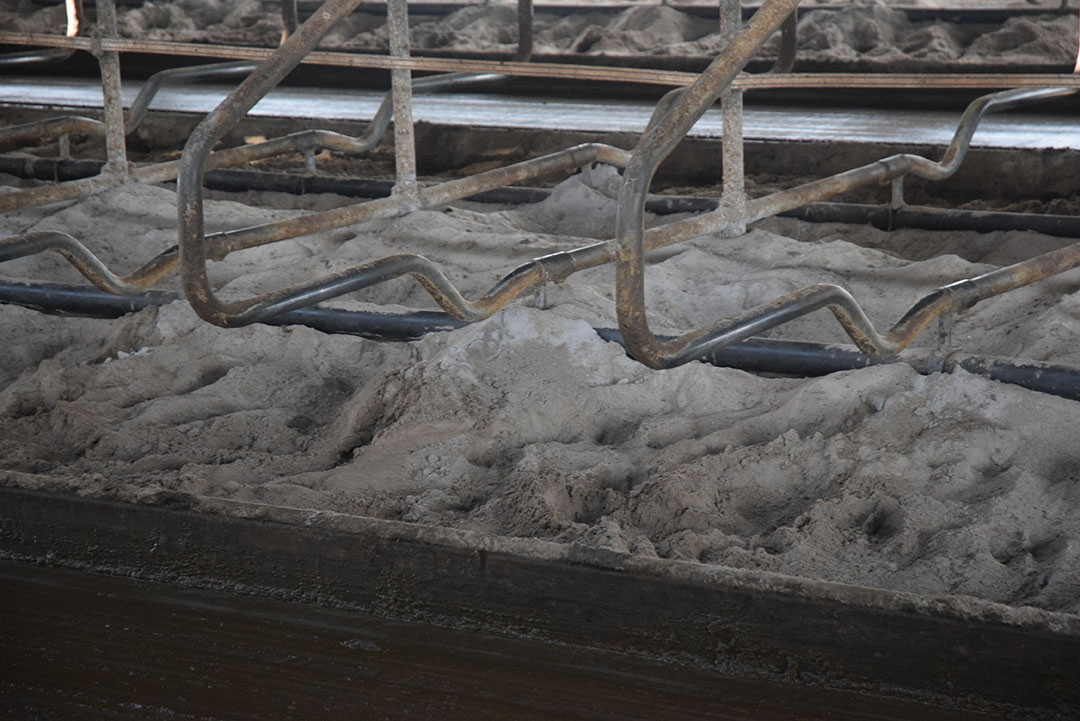 "Our cell numbers are around 250,000 to 300,000. It is a bit too high, but that is because we avoid treating mastitis. If we suspect that a cow has mastitis, the cow is milked separately so that the milk does not mix with the other milk in the herd. It is the price that we do not treat the animals for mastitis, that the cell count is a little high, but it is a question of finances."
"The cooperation with the neighbour suits our dairy cows well. The neighbour has a crop rotation with sugar beets, rapeseed, barley, horse beans and peas and it is part of our own 3-year crop rotation with approximately 175 hectares of grass, around half of which is grazed by the cows in paddocks of up to 5 hectares," he says.
The rest of the grass is used for the farm's own production of silage. "We harvest 4 times a year in the grasslands, and here it is mostly red and white clover and ryegrass. All the grass is swathed and finely chopped by a machine station, after which it is driven home to the farm and silaged in large level silos.
Roughage
"We mix the roughage ourselves," says Henning, adding that the grass silage is collected from one of the level silos and poured into a large feed wagon with room for 12 tonnes of feed. In this, about 1,300 kg of cereal crops and about 8,000 kg of grass silage are mixed, as well as roughly of 150 kg of a concentrated feed mixture of rapeseed and soybean meal. This gives just under 10 tonnes, which Henning says is the daily consumption for the entire herd, which is also fed according to appetite.
The feed is taken to the feed shed immediately after milking in the morning once a day. When the cows come in from summer grazing to the barn, they are given about 1 tonne of wholeseed for the first month after which they are fed with grass silage. The difference between summer feeding, when the cows are on grass, and winter feeding is approximately 1 tonne.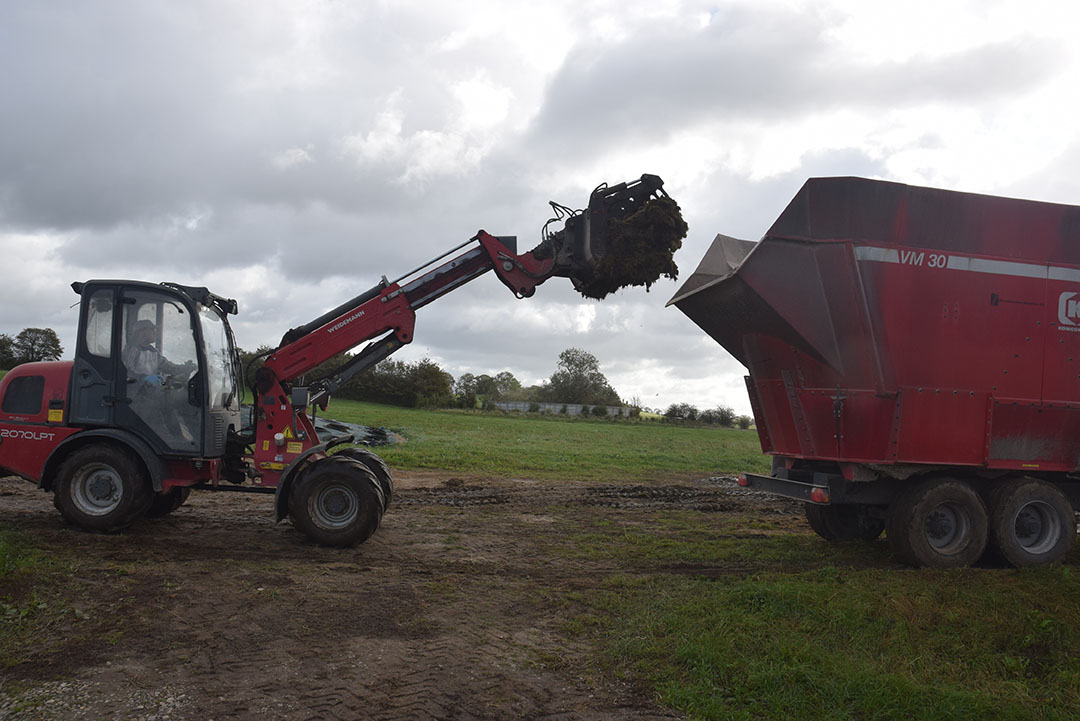 Møllergården collaborates with the Agricultural Advisory Company VKST in Nykøbing Falster around a wide range of disciplines. It is Andreas who takes care of this collaboration, where a large part of the work takes place via a computer. VKST's consultants also help Andreas with the preparation of cultivation plans, crop rotation and fertiliser plans, etc.
Breeding work
Regarding the breeding work, there is cooperation with the cattle breeding association Viking Denmark, combining all local cattle breeding associations in the country, which was established in 1936 when farmers began to join together in cattle breeding associations to promote and improve the breeding work with cattle. Viking Denmark's most important task is to supply semen from bulls with high economic value to cattle farmers in the country, and the company has a nationwide insemination and advisory service.
"We are very happy about the collaboration with Viking and continuously test the genes of all our selected calves, after which we find the best bulls that fit into our operation here on the farm," says Henning. "In our breeding work, we use 1/3 of the calves ourselves, and we breed in such a way that in the third part we use for breeding, we use sex-sorted bull semen. We are currently considering crossbreeding our red cows with semen from black coloured Holstein bulls to achieve an advantage of crossbreeding in terms of higher performance and a more robust cow. The remaining 2/3 of the calves are sold for fattening to a neighbours. We get up to DKK1,000 for such a calf."
Future
"As a farmer today, there are many rules we have to comply with, especially when you are an organic milk producer. That is why it is important to have good advice and fortunately we have skilled people both in Arla Foods and in VSKT to help us on a daily basis," states Henning, adding that it is a challenge to get qualified labour in the Danish agriculture sector. "Here on the farm, for example, we have not been able to fill a position to help with feeding and milking. We have had to hire a young man from Ukraine. It is excellent, but in the beginning there are language problems."
Regarding the finances of the herd, Henning says that the milk price is acceptable at the moment. Last year, however, the price was approximately DKK 1 higher per kg of milk. "On a daily basis, we live with increasing costs for energy, feed and interest. Therefore, together with my son, I am considering investing in renewable energy in the form of solar cells and wind energy," said Henning.