Gareth Baird from Carnrassie Farm on the north edge of Carrickfergus wanted to add value to the family's dairy farm and has already been bottling his own milk for over a year now. Doorstep milk deliveries have almost disappeared in many countries and plastic containers are the most common vessel now used to sell milk in supermarkets.
Gareth not only wanted to add value to his milk, but also cut down on the amount of plastic being used, therefore helping the environment and reducing carbon emissions by reusing the glass bottles.
The Bairds milk around 150 cows normally supplying their milk to Glanbia Cheese, but ever since completing an agriculture course at Greenmount College, Gareth had ambitions to start his own milk round. It looks like that bold step has paid off as Gareth, 22, is currently delivering a total of 1,600 1-litre bottles of milk a week on Monday and Thursday evenings.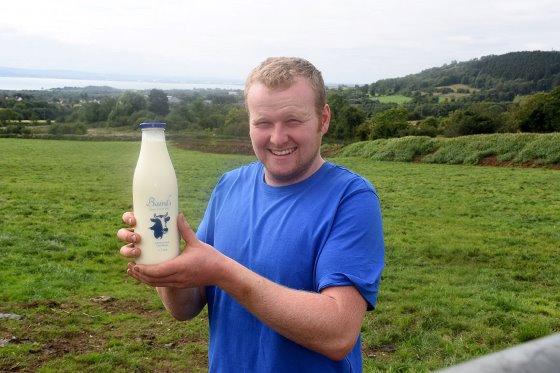 The milk round extends about 8km/5 miles from the farm taking in Carrickfergus households, but now the entrepreneur wants to extend the catchment area.
"We needed to boost the farm's income to justify me coming come from college to farm full-time," says Gareth. "Increasing cow numbers was not an option here so we had to find an alternative. Although I'm the third generation here I'm the first one to work full-time on the farm as my father and grandfather also worked in other jobs as well as farming.
Ensuring repeat grass growth is essential
Managing grasslands can be a complex task for dairy farmers. Some farmers opt to keep cows out all year round and take advantage of the cow being able to feed herself and dispose of her own manure, reducing the overall costs of production. Read more…
"I've always thought about bottling our own milk and after a great deal of research we decided to start up the new side of the business in July last year. This meant setting up a pasteuriser and a bottling plant, washer and steriliser. It also meant obtaining all the correct hygiene certificates to get started," he adds.
The herd of predominately Fleckvieh cows has an average yield of 7,500 litres per cow per year at 4.35% butterfat and 3.35% protein. Grass is plentiful on the farm's 115 acres, which are all in one block, as it's located close to the east coast in a superb grass-growing area.
"We have some Friesian cows in the herd, too, but we are are switching to the Fleckvieh breed," adds Gareth. "I find the Fleckvieh is more suited to the grazing, is hardier and produces better quality milk."
The Bairds sourced their own specially labelled 1-litre sized glass bottles to increase the sustainability of the enterprise and eliminate the use of the typical plastic container that milk is normally supplied in.
Even though Northern Ireland was well into the Covid-19 era, Gareth and his family went ahead and launched Baird's Fresh Farm Milk in July 2020 with a soft launch on social media.
"The response we received from Facebook when we launched was totally overwhelming," Gareth says. "Our goal was to go out with 30 bottles on that first night's delivery, but the response was so good we delivered 120 bottles that night. Following a deluge of requests for milk on Facebook and word of mouth advertising we had to stop taking orders to try and sort out the deliveries within Carrickfergus first."
Baird's Farm Fresh Milk is pasteurised, not homogenised, which leaves it really creamy and delicious, especially on cereals and in tea and coffee. The family uses a pasteuriser with a capacity of 500 litres to batch process the milk. Deliveries are on Monday and Thursday evenings and that means it's all systems go for Gareth, who relies heavily on family members to help get the milk to the doorsteps.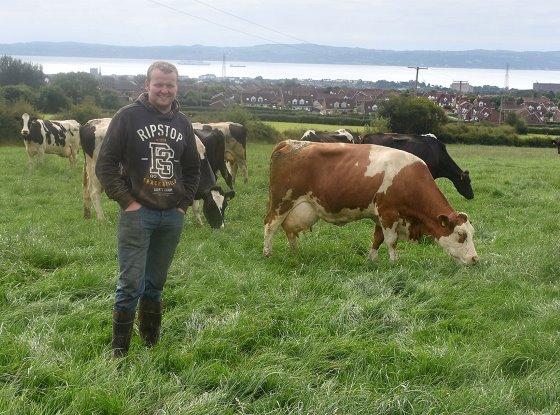 "At the moment we have 4 vehicles out delivering milk on the 2 nights," said Gareth. "It is great family members want to help out. We hope to streamline deliveries later on and have 3 branded vehicles out for 4 hours each per night."
Glass bottles
With Carrickfergus deliveries fairly well optimised, Gareth is now ready to take on new customers in neighbouring areas.
"We are the only people delivering milk in Carrickfergus and are now opening up the order books again so customers in the neighbouring areas such as Whitehead can receive milk too," he says.
It's only whole milk in blue top glass bottles that is currently for sale at £1.20 per litre from the Bairds, but there are plans in place later on this year to build a new processing facility that can separate the milk.
"We are planning to build a completely new dairy unit and processing plant on a green field site here on the farm," Gareth states. "I hope to have the processing unit built first by January 2022. A new separator will be installed which will let us produce skimmed milk and creams.
"There are also plans to add a new dairy unit beside the processing plant with a 20-point swing over the parlour which should reduce milking times down to just over 1 hour. Right now we use a 6-point parlour with no ACRs installed in the 70s and it can take almost 4 hours each milking. A new parlour will save us a lot of time milking and give us more time to process and deliver."
Gareth says that the overall goal is to build a good delivery round. "Therefore, we need to invest in infrastructure now to achieve that goal," adds Gareth.