Milk prices are also on the rise and are at an all-time high in the EU and Brazil.
Fortunately, forage continues to constitute an increasing part of dairy cow feed and usually within the control of the dairy producer. So, the question we need to ask is, do commodity prices really affect the dairy industry?
Although agronomy inputs have increased, prices appear to be coming down and recent sanctions on Russia do not seem to be affecting fertiliser exports, energy consumption in the manufacturing process is expected to impact prices on fertilisers for quite some time.
So, while this may be just a passing phase, can anything be done to buffer the impact of these challenges?
Our hypothesis is: Yes!
The question is: What?
When managing silage, it is important to realise that from field to feeding more than 50 % of dry matter can be lost (Figure 1).
Figure 1 – Silage dry matter losses from the field to feeding according to McDonald (1991).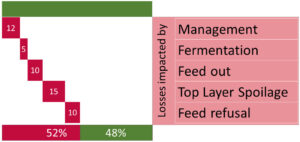 That is a big number! And even though, the losses have been quantified, it still remains a challenge to lower the losses, as often they are difficult to "see with the naked eye". However, when looking at McDonald (1991) output, there are 2 areas that could be easily addressed with a good silage inoculant with focus on top layer spoilage and feed out management.
Do you know your dry matter sinks?
Most dairy producers will know by experience to take shrink and waste into consideration – and rightly so as growing surplus forage is much less of an expense than running short of inventory which can force the external sourcing of silage. This is especially painful if you must wait 1-2 months to access new silage.
It is often said – and surely confirmed in scientific trials – that an effective silage inoculant pays for itself because of controlled fermentation.
Looking at the benefit over cost ratio (BCR) of using an effective silage inoculant on the 2020 numbers, for 35 USD$/t of corn silage an effective inoculant represented about 4 % of the total cost of producing silage. The BCR was around 10!
In 2023 it still pays for itself with the reduction in shrink. And if you have other challenges during feeding, or inventories are running low, the early opening feature of certain effective inoculants truly brings a benefit to the silage toolbox.
With 70USD$/t of corn silage, the best possible investment is now down to 2.5% of total costs of making silage, even with an increase on inoculant prices, and BCR is now above 16!
Miracles don't happen
Wine production is a good parallel to silage making. It is said that 80-90% of a good wine is the result of good management. And natural fermented wine can yield excellent results. However, on a global scale spontaneous/natural fermented wine makes up less than 5% of total production.
Why is this so? Well relying on nature to bring a predictable result from an invested 80-90% of effort is likely a bit of risk when catering for sceptical consumers.
Spontaneous fermentation in silage will occur by default if you ensure that the forage is stored as anaerobic, and as long as you accept that attention to silage management IS a very critical foundation for obtaining good quality. However, there is a limit to how much you can control if fermentation is left to the varying epiphytic flora in the forage.
Dairy cows are also "sceptical consumers" and "you get what you eat" really does apply to them. In many ways there should be greater interest in taking control of the fermentation to ensure that the >95% of invested capital and effort brings the desired result: high quality forage with as much dry matter preserved from field to feeding.
As with wine however, no miracles occur from adding a silage inoculant if everything else is not in place. The take home message remains: If management is not top notch, adding a silage additive is a waste of money. Take control of your dairy economics by paying attention to details during those few days of silage making. Adding an effective silage inoculant will make good things better. A few days effort equals a full year of benefits.