Automatic milking systems milk about one 
quarter of the cows in leading dairy countries Denmark and the Netherlands; according to a number of milking machine manufacturers, by 2025 this will be half in north west Europe. Jan Dirk van Mourik, senior product manager milking and cooling at Lely: "The Netherlands and Denmark are leading in the number of milking robots. The Danes have larger farms than the Dutch and the labour supply is low, enabling automation to develop rapidly. Also in England, France and Germany the number of robots is growing steadily."
When farms are newly constructed approximately half of the entrepreneurs choose to purchase milking robots and 52% a conventional milking parlour. Side-by-side parlours and herringbone parlours are most popular. In Australia, New Zealand, China, Russia and the US milking with robots is not very popular yet due to cheap labour and scale (many companies have more than 1000 cows), with 1-5% of the cows being milked in a robot there, estimates Van Mourik. It is highly probable that robot arms will make their way to these stables in the coming years.
Labour bottleneck
Milking machine suppliers expect automation of milking to continue. They refer to the necessity to produce more efficiently, the rising labour costs and the availability of milkers as 
the main reasons. Van Mourik: "In the US cattle farmers are currently still milking with cheap workers, often of Mexican origin. But when the economy recovers, the costs per hour will increase. Especially when these people have appealing job alternatives with normal work hours. The same applies to Europe."
Ruud Schlenter, business unit manager at SAC Nederland and Harm Ypma, manager marketing & sales Netherlands and Belgium at GEA Farm Technologies, also expect rising labour costs to speed up the automation of milking. Furthermore the availability of milkers plays a role in the choice of a milking system. Van Mourik foresees problems: "The availability of suitable labour is in many countries even worse than it is in the Netherlands. Also people are willing to work irregular hours on a dairy farm with below average income, leaving the quality of labour something to be desired." According to Harm Wemmenhove, researcher at Wageningen UR Livestock Research, the consideration 'what does labour cost and what does automation cost' is more and more involved. "Milking in a conventional parlour is increasingly becoming a continuous process. A stable which runs more hours becomes financially viable sooner. When milking is no longer subject to fixed hours, labour at a fair price is easier found. But when labour takes too much time, a larger group of farmers will automate milking using robots and robot arms."
More automatic arms
Apart from the increasing sales of box milking robots a few manufacturers of milking machines have high expectations for an accelerated development of the usage of robot arms in conventional milking parlours. In 2010 DeLaval was the first to introduce robot arms in a carousel parlour (AMR). GEA is working on the DairyProQ, a similar system to the one seen at EuroTier in 2012. These systems are currently only running in carousel parlours and are only financially viable for farms with a minimum of 400 to 500 cows. For the longer term it is expected that via further development, capacity increase and cost reductions these robot arms will be applicable in more types of milking parlours. "A few years from now these systems will be a realistic option for farms with 200-250 cows," says André de Leeuw, solution manager VMS & Herd Navigator at DeLaval. Ypma expects robot arms to also lighten the work load in herringbone milking parlours and side-by-side milking parlours. De Leeuw sees application of robot arms in the mentioned parlours as a major challenge in terms of technique and costs, as a camera plus attachment is needed in each milking stall.
"Automatic arms may be more popular than box milking robots in five to ten years' time", says Ypma. "In New Zealand, Australia and Ireland farmers are accustomed to combining conventional milking with outdoor grazing. Due to the often long distances between pastures and stable, automatic milking in boxes is not ideal there. We believe in a broad global application of (semi) automatic robot arms in conventional milking parlours and commit to this." Recently the first DairyProQ was installed in Germany in a 40 stands external milker which rotates 24 hours per day.
Schlenter of SAC certainly sees possibilities for their industrial robot arm in conventional stables. "China already has farms with 60,000 cows, but also many farms with more than 1,000 cows. Box milking robots are too expensive and not very practical with numbers like these. This offers opportunities for robot arms, enabling lighter work for employees in large carousel parlours." SAC will remain very active in its quest for practical solutions to milk cows with a milking robot in the field.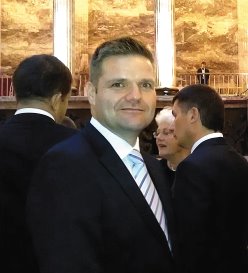 Profile
Name: René Meyer Johannsen (45)
Company: SAC
Position: CEO
'The robot will come to the cow'
SAC foresees that robotisation of milking will progress strongly in Europe. In other regions this will happen to a limited extent.
Danish milking machine manufacturer SA Christensen & co, SAC was founded 75 years ago. It makes an annual profit of €700,000 out of a €40 million turnover. CEO René Meyer Johannsen is optimistic about the future, especially as the demand from China is gaining ground and SAC plays a very strong role in that market.


How will cows be milked around the year 2025?
"Robotisation continues. Technology will gain in reliability and speed; in addition, costs to purchase and maintain will halve over the coming 
decade. In north west Europe half of the cattle will be milked robotically by then. I foresee robots will eventually come to the cow, milking cows in the stable or field. This requires a lot of investigation, especially 
concerning safety and high-quality legislation."

And elsewhere in the world?
"There robotisation will be less progressive and not as fast. In North America labour will remain widely available and relatively cheap. Over there 20-25% of cattle will see a robot by 2025; in China this will be less than 5%, as in New Zealand. In South America robots will milk 15-20% of the cows in Argentina and Brazil, as labour will become expensive there. In other countries percentages are negligibly small."

There is no robot yet in your carousel parlour. When will it arrive?
Grinning: "I am not answering a question about that, but we are working on it."


Where will SAC be five years from now?
"Take into account where we have come from. We are a full-liner, delivering carousels, milking robots and standard milking parlours. We have been working on automatic milking for fifteen years. Our slogan reflects our focus, we strictly comply with that: for the cow, the milker and the milk. We are close to our suppliers and will not produce other products.
Five years ago we owned two organisations that divided sales markets on a global scale: Denmark and the Netherlands. We currently own seven organisations; we also deliver from and to Russia, France, Sweden, Spain and China. So each year we add one, and we will steadily continue this pace towards a revenue of €50 million."

How do you plan to win the battle with the major players?
"By our focus on cow and milker. In terms of reliability and 
service-friendliness our industrial arm stands at lonely heights and our self-learning scanner works faster than all other brands. Lely has a lot of technical expertise and its product is of very good quality. However, it lacks knowledge of cows. The DeLaval milking robot demands too much maintenance. GEA's robot has a construction problem. Our industrial arm is winning on all fronts. Boumatic connects cows from the rear side; every cattle farmer knows this is asking for trouble."