High tech in a low cost barn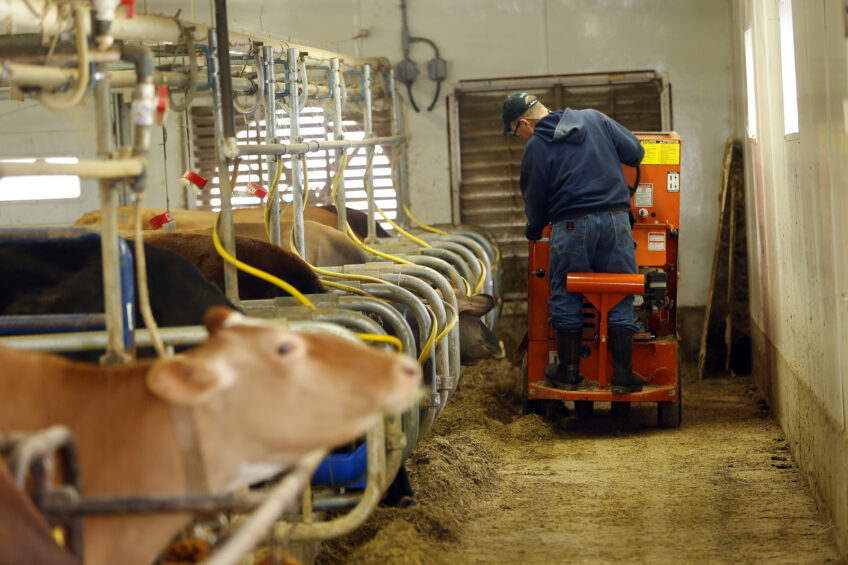 Randy Hallet milks about eighty cows in a stanchion barn. He invests in growth and a feeding and a milking robot. At least, if the government allows it.
Grey appears to be the new red in the Northeast of the dairy state Wisconsin. Almost all of the red painted timber planks of the characteristic stanchion barns have been replaced by low-maintenance grey trapezoidal sheets. Also at Randy Hallet's. In 1991 he gave up his job as a truck driver – "I have seen almost all the states in the US"- and bought a bankrupt farm with forty cows to spend more time with his wife.
"During the start-up of my company I told the director of the bank I would only ask for money this once. With forty cows I will be able to reach my old age, will I not? He smiled pityingly and kept silent. Within a decade I turned up on his doorstep." That was concerning the first expansion to sixty cows. Ten years later he extended his barn, group housing for the young cattle. The old young cattle cubicles became space for dairy cattle, enabling him to place 78 dairy cows. "The consumer likes tether barns, associates it with animal welfare. Well, welfare is much higher among freely walking young cattle. It is also a lot less work," the cheery American analyses.
Automation and ease of labour are important topics for Randy Hallet. Data registration improves the results, also in the flat barn.
High tech future in dairy farming
Hallet's barn is spotless. Cows are lying on freshly chopped straw and around 9:30 in the morning all work is done. Hallet runs the farm with one permanent employee who steps in for 6 hours per day. Both start at 3:30 in the morning. "When our son was born 22 years ago my wife kept her job as an accountant. I started milking early, so I could take care of him when she would leave at 6:30. This working rhythm suited me, so I stuck to it. Of course I do take a few hours rest during the day."
He milks with 6 machines with automatic cluster removal. A guide rail takes them to the cows, using high tech. The milk's yield and conductivity are measured and digitally registered. Inside the miniscule office next to the milk room Hallet takes the laptop and checks the milk yields. "I do this every morning as soon as we are done with the cattle. Oh and tell your photographer that he can log into the barn's network in case he needs internet. It is unsecured, he can get onto it effortlessly." Not long after that it becomes clearer he is not afraid of innovation and modern technique, despite his obsolete barn type. On his laptop he shows a video of the Roboleo, a Canadian milking robot for stanchion barns, and a video of a fully automated feed supply system for stanchion barns.
Hallet's herd is perorming well. The cows are tied year round . Young stock is group housed.
"The feed supply system of Rovibed costs € 39,000 and will be installed here this spring. It saves an hour work per day and it will decrease feeding costs. The machine doses a weighed portion of feed per space." Investing in the milking robot that fixes the cow on her spot, will take longer. "Our Ministry of Agriculture doesn't recognise this robot yet, because it can slide over the stanchion rosters. If it is recognised this year, we will purchase that as well. Otherwise, we will postpone further automation of milking until we can achieve a major step. Such a device would take about five years to earn back. I invest to improve financially, remaining unchanged is insufficient." The poor innovation capacity of the American dairy farming annoys him. "They lag behind Western Europe's capacity to innovate. A maximum of 10% of companies apply modern techniques. Innovation is the way to reduce costs, in terms of labour needs and feed consumption, the two biggest expenses.
Modern techniques often provide a lot more data and this is how you reduce costs." He thinks the investment costs shouldn't be a problem. "This company is self-sufficient and pays half of our family expenses. We don't use one cent of my wife's salary in order to enhance the farm. We put it aside as a future pension provision and next year we will use it to travel for a month."
Automation and ease of labour are important topics for Randy Hallet. Data registration improves the results, also in the flat barn.
Aiming for 9 tonnes of milk
Next spring Hallet will start building. There will be a deep litter barn for twenty dry cows, so the tether barn will only house lactating animals. "A two million pounds (more than 9 tonnes of milk) production will be within reach." When the building will be finished his employee will be fired and his son will enter the company. "Around 2020 a big step will be due: a cubical barn for 150 to 180 cows, with milking robots. This will be Lely's, which have my preference." He does not consider the purchase of land. "With a land price of € 8,000 per hectare that is too risky. There are many farmers stopping in the surrounding area, they would be happy to grow corn for sales."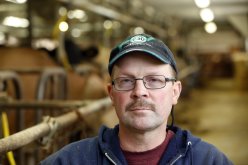 Profile
Name: Randy Hallet (55).
Place: Casco, Wisconsin (US).
Company: 76 dairy cows (14 Holsteins, 60 Jerseys and 2 Guernseys) and 80 young cattle on 30 hectares. This comprises of 14 hectares corn and 16 hectares lucerne. Average production of the cows is 11,265 kilograms milk, with 4.70% fat and 3.35% protein (in 305 days). Hallet carries out the direct management of his entire machine fleet. His strategy is steady growth.