"Large farms to boost Ukraine's dairy sector"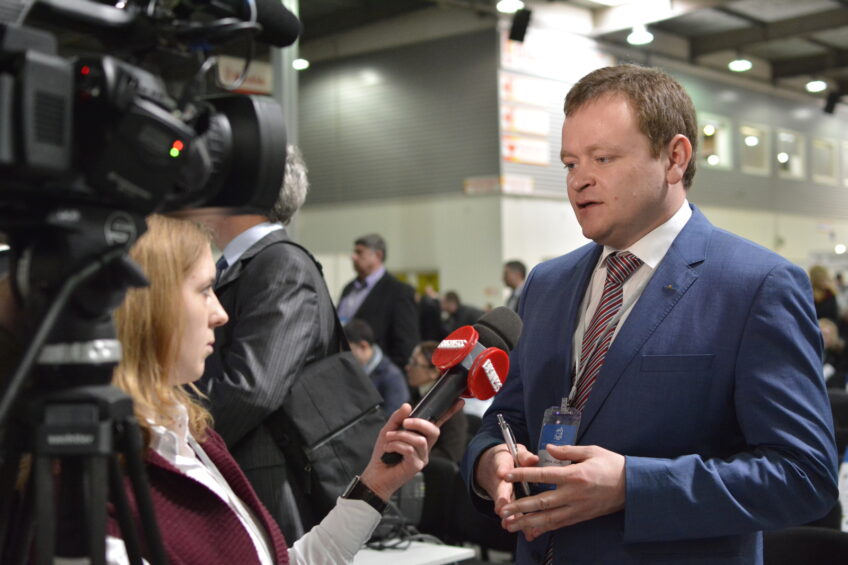 Over the last years, the dairy industry in Ukraine has developed to a great extent. Despite the challenging conditions in the country, dairy farmers are ready to invest more and expand production even more. We talked to Andriy Dykun, president of the Association of Dairy Producers about the recent progress.
Ukraine is actively looking for ways to develop their dairy sector, to become a serious competitor on the European market and even Asia. The Association of Dairy Producers is working hard to help the dairy farmers work towards these goals. Dykun believes in a better future, backed up by the abundance of grain and corn in the Ukraine and the relatively cheap way of producing. But this can only be accomplished by stepping up milk quality throughout the whole chain, larger farms and better financing of farmers.
What is the current situation for dairy farmers in Ukraine?
"The dairy market seems to be the most difficult one, compared to other agricultural sectors in our country. This is because 99% of our markets was concentrated on Russia before it closed its borders as a result of the war. So we lost a lot in a split second and unfortunately, those products that we were exporting to Russia, only fit the Russian market. In addition, we also face problems on the domestic market because we lost Crimea, including the biggest cities on the east and its markets. This leads to less buying power and less demand for dairy products."
Did this lead to massive closure of farms?
"Those farmers who invested in technology around five years ago have a good yield of around 8-10 tonnes per cow. They have an advantage, and even with the low milk prices they will retain a good income. Also importing heifers from the US is cheaper, which will benefit those modern farms as well to develop their stock and to step up production. But our country also has smaller farms with an annual production of 3-4 tonnes per cow. These ineffective farms will face closure in the near future."
But can the large farms produce enough for domestic use?
"We currently have a shortage of high quality raw milk for the domestic market. This is because 70% of the milk is produced in the private sector (very small farms) and the logistics to get the milk from the farm to the processors in often underdeveloped. As a result, quality of milk is compromised during the transportation. This means that these small farms are dropping the whole country's quality level. On the other hand, these large group of smaller farms is also important for the people, as it employs 1-1.5 million Ukrainian citizens. So from a business standpoint, these farms are not want we want. But from an ethical and people standpoint, these farms are important. Certainly now, in times of crisis it means that these farms are a way of surviving the severe conditions. I am positive that the production levels will increase, together with the quality of the product as soon as the economy revives and the employment of the population rises. This will lead to growth of our GDP."
What are the actions taken by the Association of Dairy Producers?
"We have been preparing for downtimes in the Ukrainian sector for a long time. We knew that we will have fluctuating milk prices and we have been aware of the volatile position to be so dependent on Russia. The main thing we do have control on is the costs, so we are working on optimisation of all production processes on the dairy farm and cost reduction. We have established the Consulting Center of Association of Dairy Producers (ADP) for that reason.
This Center has representations in all regions of Ukraine and by using one software tool for all farms (Uniform Agri) we can easily compare the farms with each other. ADP is also an active participant of the Strategy of the Development of Agricultural Sector 2020. We have sent our proposals to the Ukrainian parliament aiming to regulate the market in order to reduce the amount of licenses and regulate breeding. We also have a unique veterinary service for our farmers. It means that we provide our farms with the cheapest and most qualitative veterinary products. Also we have a feed cooperative, which provides our farms with the best feeds for the cheapest price. And now we are planning to build a cooperative processing plant."
And do you see the effects of these efforts?
"Back in the days, we looked at other countries with a production of 8-9 tonnes of milk per cow per year and we wondered how this is possible. Today we have farms in Ukraine that produced the same or even more. The average production for ADP farms is 7.4 tonnes. This indicates that the ADP is not a club, but an organisation that moves the entire industry and serves as an engine. We have also established that the balance of power between producers and processors has completely changed. There is better communication and understanding. However, there are still many challenges. The education level in agricultural science needs to be improved for example. Also the government supports processers to invest in milk quality and to export to European countries, which in turn will break open other export markets for us as well, such as Asia."
What are the strong points of the Ukrainian agricultural 
sector?
"In the Ukraine, each farm has approximately 100-200 hectares of land, compared to an average European farm with only 50 hectares (depending on the country). With big farms (500 – 2,000 cows) we want to be competitive and I think we can be. We also have an abundance of corn and grain to be used in feed, we produce a lot of sunflower (Ukraine is one of the main producers of it). So we have sunflower meal and also soybean meal to include in the feed. And lastly, we have been producing more milk in an effective way. Due to the technological advancements farmers have integrated we can easily produce more than 10-12 tonnes per cow per year.
Some European farmers are not focused on producing the most milk they can (because they had the quota system), but I believe that the more you produce the more income the farmer generates. 
In the Ukraine this is certainly the case, but the lack of finance often hinder these ambitions. Frankly speaking, the war absorbs all the budgets and there isn't opportunity even to give loans, even with high interest rates. But as a country we can certainly be competitive. Look at the position we have on the chicken, grain and oil market. I expect that we can do something similar with the dairy industry in our country. Ukraine is an agricultural focused country."
Do you want to work according the European way of farming?
"No, the European business model doesn't fit Ukraine. We have a lot of small farms (1-3 cows per farm) and this segment is gradually dying. On the other hand, we have farms with 50-100 cows and bigger ones, counting up to 2,000 cows. I believe in bigger farms, run by a manager/director. This is different than European dairy farms, where the farmer is the manager of the farm as well. For our people a farm is not a business, but a place where they can employ people. But, the crisis makes people think differently. Farmers start to think as business men and farm managers. Who wants to keep a dairy herd that is not efficient? In terms of knowledge and management skills I believe we can learn from European farms. But the main difference will be that our farms will be a lot bigger."
Is the relationship with Russia (mainly for cheese) sustainable for the future?
"We produce "Russian cheese", which we have done so since the Soviet era. This product differs from the cheeses that are consumed in Europe. But people of Ukraine, Belarus and Kazakhstan are used to this kind of cheese. Today's situation is that we have lost the Russian market and when or if the market will be opened again is hard to say. It's up to Vladimir Putin and the political vision on the situation in Russia and Ukraine.
So what should we do with that cheese we used to export to Russia? Nothing. Nobody needs it. That is the reason why we have switched to the production of butter and milk powder. And I think we will start to produce Cheddar cheese in the next two years. The situation is similar to the situation of Georgia in 2008, which was dependent on the Russian market. Now, Georgia exports to different countries, thanks to the Russian ban on imports which opened new markets for them. The same will happen with our milk and we have the advantage that our milk is cheaper than the European milk, so we can be a serious competitor on the world market."
How much growth and development do you expect in the next ten years?
"We are an integral part of the world and the Ukrainian dairy industry is also dependent on the world's tendencies. It is clear that sharp falling of oil fuel has influenced dairy prices. We don't have such cheap loans such as in the US, but if we compare Ukraine with Europe we can produce milk in a more cost effective way. But we miss the governmental support in this. I don't expect a sharp increase in domestic production, but our eyes are on new markets. Together with the increasing global demand for dairy we hope that we see more potential for our products and an increase in milk prices. And the crisis in our area had a positive effect on some farms. In 2014, while the war was still going on, we observed an increase of 10% in industrial dairy production. If we can survive in such conditions, our farmers will be the bravest in the world."
What does the Ukrainian dairy sector need to fulfil their growth ambitions?
"For starters we need to improve the education of farmers, milk quality and increase productivity of the cows. During the last ten years we have been examining the experience of European and American countries, as well as Israel, so we can survive only due to effectiveness. We achieve effectiveness due to the private Consulting Center. Today we have 'an army' of professional veterinarians and technologists and I'm sure that in five years European farmers will invite Ukrainian consultants. Recently we use services of foreigners, but now we have our own specialists, so I think they will work in Europe soon, because the knowledge level is the same as in European colleagues, but cost is really lower. That's why I think we will help our European farmers to increase their veterinary efficiency and logistics. So we are competitive because our level of salary is lower, but the level of professionalism is the same.
To conclude, I want to address that Ukraine is interested in new markets and we are actively working in this direction. The aim is that Ukraine will be one of the top 10 exporting dairy countries in the near future."
[([005_rb-image-1767930.jpeg]:inzetmiddel)]
Andriy Dykun
Andriy Dykun (36) is the current president of the Association of Dairy Producers (ADP) in Ukraine. Dykun doesn't own his own dairy farm but is passionate about helping the Ukrainian farmers move forward – to be more competitive and to establish better market conditions for them. He thinks that not owning a dairy farm himself, gives him more time and focus to fully concentrate on being the president of ADP.
New food safety laws in Ukraine
Experts from the Association of Milk Producers of Ukraine (AMP) think that improvements in the quality of dairy products will have a positive impact on consumption and the development of market opportunities. Many people in Ukraine already prefer to pay more for the fresh milk from farmers' markets than packaged and safe milk from supermarkets as they perceive it to be of superior quality. In a press release the Ukrainian Ministry of Agrarian Policy and Food stated: "We believe that the new food safety laws adopted in Ukraine last year as part of the country's commitment to the process of European integration will help diversify exports. The commitment of leading milk processing enterprises to invest in innovative technologies, the development of new products and new market discovery is already visible. These recent efforts from both the public and private sectors will lead to new jobs in rural areas, an improved trade balance, and, most importantly, will provide Ukrainians with safer and higher quality dairy products."