Dairy systems are so organised and regimented now, but there's still a place for a dedicated feeder handling bunk management, says Peter Robinson, cooperative extension specialist in the Department of Animal Science at UC Davis.
"Many won't have the ability to make noteworthy ration changes, as programmes are almost completely electronically controlled and over/unders are captured by the feed management system," he says. "Most are very good at what they do, paying attention and recognising problems, especially when commodity prices are high. They may not always know why they're doing things, but they do know what to do."
Robinson says pre-planned delivery is extremely common in the US, but designated bunk readers still look for abnormalities and make slight adjustments.
"For many operations, reading the bunk is simply judging how much feed is left, then either adding or cutting back quantity. Most feed to a target and use a reduction in pen numbers to arrive at a lower amount. Generally, large dairies remove and weigh uneaten leftovers daily from every pen. Between 0% and 2% is deemed realistic, as it's enough to be reclassified as a feedstuff for mixing back into the rations of dry cows or replacement heifers."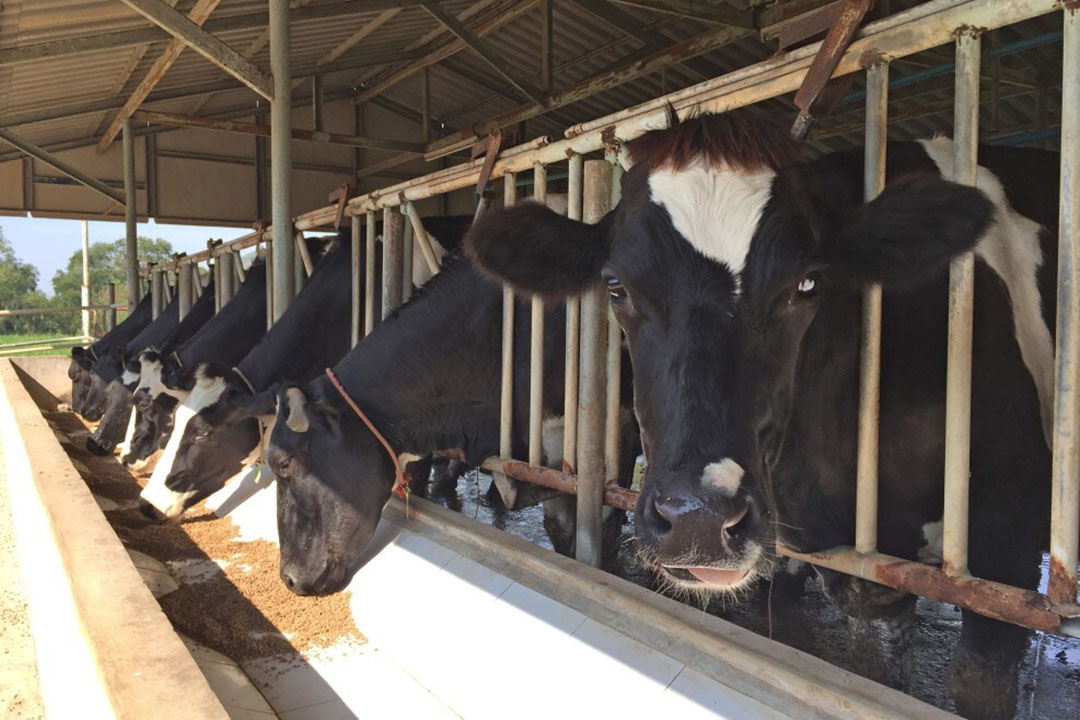 Eyeing the bigger picture
Feeders are expected to make decisions with an eye on potential weather changes, as fluctuations affect intake levels. Whenever substantial quantities are left, or the bunk goes empty hours early, these represent failures, Robinson said.
Extended tasks of this role include monitoring movements in and out of pens. On many large dairies, numbers tend to fluctuate by 10% or more. Most operate with 2 management systems – a herd and a feed record, both listing animal numbers – but Robinson admits that they often don't communicate well. Herd records are normally brought up to date daily, but feed systems often lag behind.
"It's a balancing act," he adds. "Especially when trying to maintain something close to a 1% weigh-out. The margin for error is small and, beyond weather conditions, cow movements from pen to pen invite mistakes. If an outfit is attempting to run a slick bunk, it's even more critical as a potential problem is always being duelled with."
Robinson adds that feed composition also comes into play, but a 1% leftover is where it begins to make a difference.
"With lactating cows, 1% is an interesting figure. Delivered feed can be indistinguishable 4 or 5 hours later. The change is not perceived to be enough to matter. Once we get down to 1%, we really start seeing the distinction. At this point, they've eaten and sorted through everything and don't have any real feed left. The 1% remaining is inedible sticks and stones."
Management
"For milking cows, refusals are a necessity," says Mike Brady, nutritionist for Alpha Dairy Consulting, Visalia, California. "We don't ever want them to go without because we understand that every pound of dry matter they eat delivers 1.5 pounds of milk."
He believes the balance between push-outs and empty bunks comes down to the management level of a farm. Some of the best dairies he's seen operate on a nearly empty philosophy where trucks appear almost at the exact time feed is cleaned up. Others make a 1% push out work, while some opt for a higher 3-5%.
"In general, 3-5% is a decent number for most dairies," Brady states. "It's partly visual. It looks like they won't go hungry, but it's not a complete loss with the prices these days. We don't want to waste it, but if we're too cheap we'll hinder ourselves on the production side by running too tight."
Allowing bunks to run empty for too long also comes with potentially severe consequences.
Rumen damage
"If cows go hungry enough to overeat or 'slug feed', they consume too much, causing it to begin fermenting all at once," Brady says. "A couple of issues occur; first, we need to ask, what was the rate of rumen exit? Was mass lost since they went without feed for too long, causing a reduction in the rumen bacteria population? And second, is the rumen PH affected, pushing it below the desired range where it begins to kill off rumen bacteria?"
The answers to these questions could indicate the loss of the ability of fibre-digesting bacteria to ferment in the production of butterfat. Butterfat suppression and acidosis circumstances can appear, and, in extreme cases, lameness ensues.
Brady says for older heifers, replacements, and dry cows, the strategy returns to the philosophy of the consultant or the farm wishes. Increased quantities of lower energy, higher fibre rations could be used without bunks ever running empty. This approach keeps cattle satisfied without the fear of undesired weight gains.
"For calves, they're unique because they're young; they're still immune compromised, growing actively, and we want that growth from them. We desire some level of push out in this group."
Social behaviour
A further consequence of poor bunk management is reflected in the social behaviour cows exhibit when hungry. They come in all sizes, personalities and levels of aggression, and if they must fight to gain a position to eat, their maintenance energy needs are instantly increased.
"Hypothetically, if a cow's energy requirement is X grammes per day, a competitive situation with the added physicality of social interaction could drive her requirement to X + 5 grammes per day," Brady states. "But usually, if this type of event is routine, we aren't accounting for the higher number. Essentially, cows facing poor management, or placed in a non-consistent situation, lose feed efficiency, which is the biggest driver of profitability."
Even though technologies are beneficial, having good people is still going to trump them.
He believes that staff experience and accrued knowledge, along with the addition of technical options such as monitoring camera systems, help with reliability.
"Quality employees are still our biggest asset. They'll drive past a bunk and make the decision to give a little more or a little less. Even though technologies are beneficial, having good people is still going to trump them. I don't think we'll ever get away from the human side."
While beef and dairy operations differ in many aspects – such as goals, breeds and types of cattle – proper bunk management remains a constant in both industries. Reading bunks well and reacting with foresight and strong communication is a must to promote productivity in both situations.