Cnossen Dairy in Hereford in Texas in the US started 45 years ago and is owned and operated by Jim Cnossen. The dairy currently milks 11,000 cows and farms over 7,500 acres of cropland. The farm is struggling through one of the driest periods on record.
The new centre will become the largest indoor feed-growing facility in the world.
To deal with water shortages while safeguarding the best rations for their high-producing dairy herd caused them to look for new technologies to incorporate on their farm. The quest resulted in an agreement with Grōv Technologies to build a controlled environment feed centre to grow fresh feed year-round. The newly built Cnossen-Grōv Feed Centre will become the largest indoor feed-growing facility in the world.
Reducing the impact of droughts
The feed will be produced indoors in 'towers' (Grōv Tower Farm technology) that use machine learning growing protocols to consistently produce sprouted wheatgrass, a high-density nutrient feed. The feed centre will produce over 288,000 pounds (131,000 kg) of feed per day on less than 5% of the water used in conventional farming. These savings will be critical in lessening the impact of droughts affecting Cnossen Dairy, and many dairies in west Texas and across the western US.
Collaborating on the new feed centre is Dairy Specialists, a regional dairy supplier, who will provide local service and support for the automation, sensors, and machine learning capabilities of the new towers. Key goals in supporting the Feed Centre include the reduction of labour and carbon emissions as they work towards becoming a net-zero operation.
Steve Lindsley, president of Grōv said, "Being able to provide their cows with a highly nutritious, consistent feed year-round will reduce the impact of droughts and changing climates and help the Cnossens deliver a more sustainably produced product to consumers."
Sensors and computer vision
Cnossen Dairy will be the second installment of this tower system. Grōv is already producing about 30,000 pounds (13,600 kg) of high-density nutrient feed per day for trials at Bateman Mosida Farms in Elberta, Utah. This is the largest dairy in Utah, milking about 7,500 high-producing cows.
The high-density nutrient feed is produced under controlled circumstances using a cloud-based operating system, which automatically runs and monitors the towers and generators insights. Sensors and computer vision systems measure air temperature and humidity, weight, grow light values, and plant growth. This data is integrated into the operating system of each tower and will enable Grōv to manage and improve operations at installations across the globe.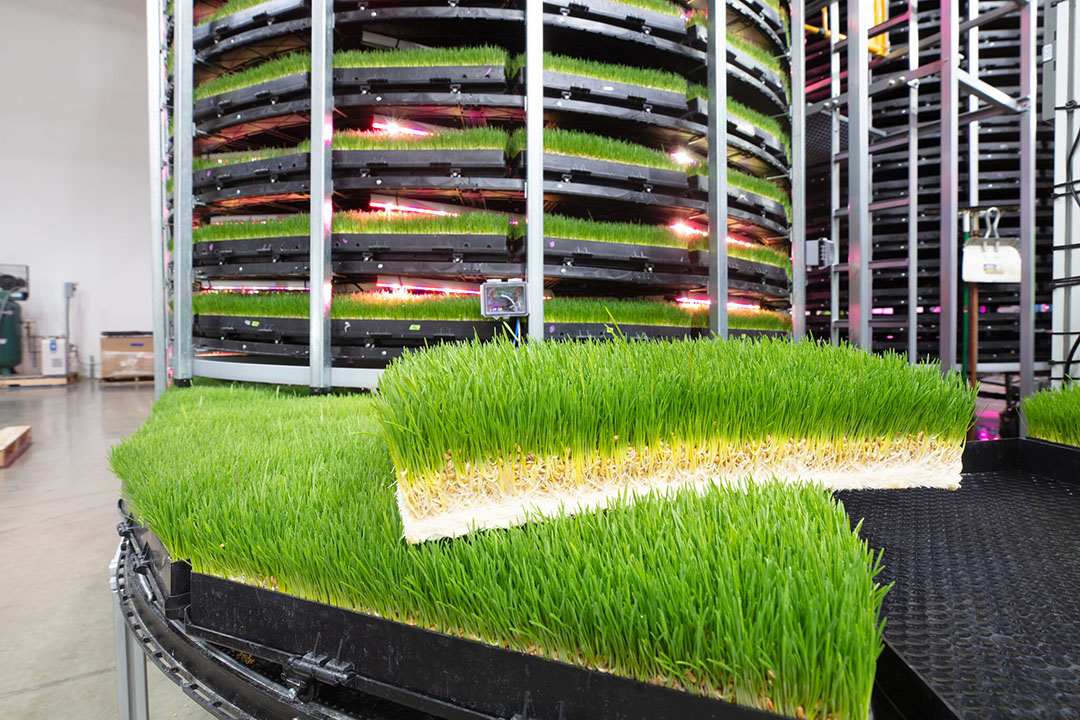 This optimised way of producing feed not only saves water, time, labour and space (1 tower replaces 34-50 acres, or 13.7-20.2 ha, of farmland), the high-density nutrient feed is said to benefit health and production of livestock.
Speaking at the recent Animal Agtech Innovation Summit, CEO of Grōv Technologies, Steve Lindsley, explained that the feed they produce has more protein, sugar, starch and higher digestibility than alfalfa hay and can replace 20-60% of a TMR. "The good nutritional profile of our feed can help to improve animal health and performance, and we have also tested this in practice".
Fresh cow feed farm trials
In cooperation with the Department of Animal, Dairy and Veterinary Sciences at Utah State University, Grōv tested the impact of the high-density nutrient feed on holstering beef performance and meat quality on Bateman Mosida Farms.
In this study, 80 Holstein cows (beef) were randomised into 2 groups and fed ad libitum either a high-energy (84% concentrate) grain-fed finishing ration or a ration comprising up to 42% high-density nutrient wheatgrass. The study showed that high-density nutrient-fed animals showed numerically higher average daily gain of 2.9 lbs vs 2.8 lbs (1.315 kg vs 1.27 kg), and body weight after 126 days on feed compared to the grain-fed finishing ration.
Carcasses from the high-density nutrient feed-fed group tended to grade at a higher USDA quality grade (Choice) versus grain-fed finishing ration-fed cows (Choice minus). Meat samples from the high-density nutrient-fed group had a lower percent of trans-saturated and polyunsaturated fatty acids present in the sample and a lower ratio of omega 6:omega 3 fatty acids in comparison to a high-energy finishing ration.
"We also just started a cooperation with Cornell University's College of Agriculture and Life Sciences (home to the Dairy Center of Excellence, one of the world's premiere dairy research facilities) to lead a study on the impact of our feed on milk production efficiency and carbon footprint," Lindsley explained.
Optimise and control
According to Lindsley, the technology they have developed is a modular system and can be applied on farms worldwide. "It allows us to control every aspect of a plant's environment, giving them the ability to adjust more variables and collect more data about plant growth than ever before. This, in turn, will help to achieve specific customisations of nutrient expression for the optimal total mixed ration for animals. We produce superfeed for super cows and we can grow the feed fast – in 5.5 to 7 days."
Improve and safeguard feed supply
At the Animal Agtech Innovation Summit, Linsdley also noted that the success of growing animal feed indoors is a way to do more with less. "The amount of farmland is not endless; we have to reduce pesticides and use water and antibiotics responsibly. At the same time, we have learned a lot during the Covid-19 pandemic around resilience and the vulnerability of the agro-food supply chain. By having a controlled, on-farm system to produce animal feed, we can improve and safeguard feed supply, optimise predictability and add value to animals, people and the planet. The cost of the towers are in line with the cost of field-grown fodder in many parts of the world."
Construction on the Cnossen-Grōv Feed Centre will begin in November and is expected to be complete in Q2-2022.