This decline has cast a shadow over the revenues of numerous prominent dairy companies, which are grappling with stable or only marginally increased volumes that fail to counterbalance the downward price trend. A pivotal factor contributing to this volume stabilisation is the escalating inflationary pressures experienced across critical consumer dairy markets, mainly in Europe.
Sales outlook: navigating price volatility
The drop in dairy prices has hit the industry hard, causing more than just financial effects. Dairy product volumes have somewhat stabilised, but this is not enough to make up for the sharp price drop. This has led to lower revenues for major industry players, who now need to adjust their plans to handle the situation. Notably, the impact of rising prices, especially in Europe, has worsened the situation, making the sales environment even more complicated.
Margin outlook: milk price fluctuations and increased raw material costs
While big players like Fonterra and Saputo experienced a strong first quarter, European dairy producers faced challenges in the first half of 2023. A closer look reveals that although milk prices went down, the decrease was slower than the broader drop in dairy commodity prices. This mismatch has led to an unexpected increase in relative costs for raw materials.
The situation is made worse by a delay in adjusting milk prices, forcing companies to sell stocks produced when input costs were higher at the current lower commodity prices. This has negatively affected the industry's profit margins, as highlighted by FrieslandCampina, whose operational margin (EBIT) dropped from 5% to 0.7% in the timeframe of H1 2022 to H1 2023 (Figure 1).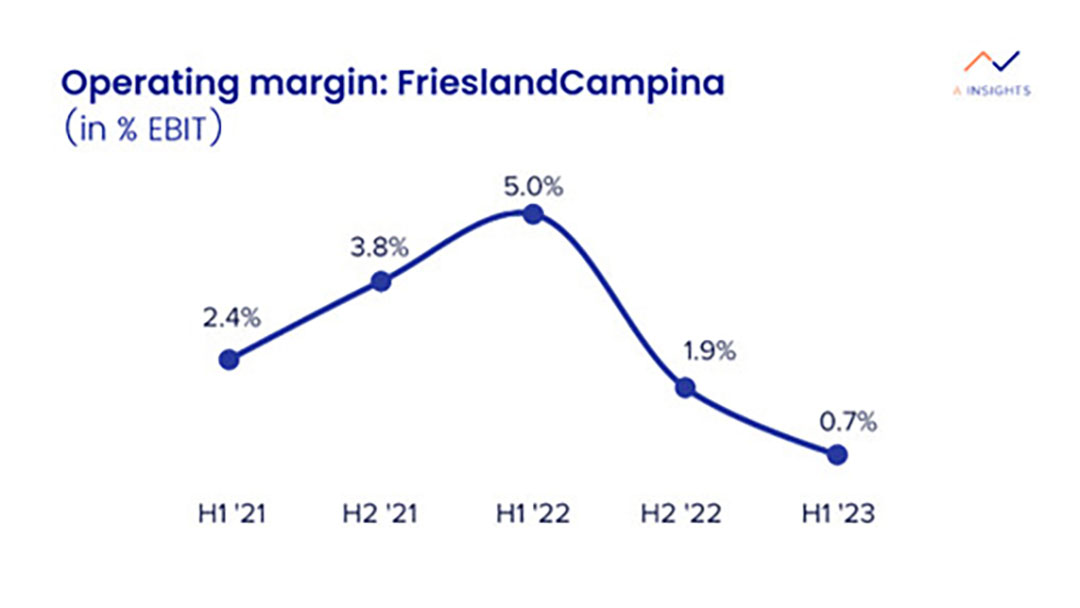 The company points to the delayed milk price adjustment as the main reason for squeezed margins in its Food & Beverage and Trading divisions. Interestingly, the Specialised Nutrition and Ingredients segments have had a better start, potentially due to being less affected by inflation-driven price changes.
Longer-term outlook: adapting to shifting dynamics
Looking ahead, let's explore the key trends that will shape the dairy industry's path in the long term.
Adjusting to EU's 'Farm to Fork' strategy – The European dairy sector is entering a transformative phase with the EU's Farm to Fork strategy at the forefront. This strategy aims to reduce the environmental impact of farming practices and will undoubtedly impact dairy production. With an expected decrease in milk production, dairy producers must pivot toward creating value-added products and focus on specific segments to counter the effects of reduced output. Successfully adapting to this new approach will be essential for EU producers to maintain profitability and sustainability in an evolving landscape.
Rise of organic dairy – The emphasis on organic dairy production is set to gain momentum in the coming years. This approach is seen as a way not only to sustain farmers' incomes but also to do so with a significantly smaller environmental footprint. Recent trends highlight the stability of organic milk prices when compared to conventional options. For instance, in July 2023, FrieslandCampina observed a 10.7% year-on-year decrease in organic milk prices, which is much less severe than the substantial 27.9% drop in regular milk prices. Another example of this growing trend is dairy giant Saputo's participation in the project 'Pathways to Dairy Net Zero', aimed towards optimising productivity and reducing emissions, mentioned in their annual Promise report. Their CEO, Lino Saputo, says of their initiative: "As we head into the second year of our Saputo Promise 3-year plan, I am confident in the strength of our strategy, vision, and culture, and I am energised by the opportunities we have to achieve compelling long-term sustainable growth and value creation."
Expanding horizons and diversification – Beyond their local boundaries, European dairy companies are reassessing their strategies to find growth in new territories. While past expansion efforts focused mainly on increasing sales in emerging Asian markets due to their higher dairy consumption growth, recent developments show a growing interest in diversifying sourcing and not just expanding sales in these regions. Notably, Arla's commitment to bolster local dairy development in Nigeria and FrieslandCampina's investments in dairy sourcing in Pakistan indicate a significant shift in focus for major European dairy players. These strategic moves in densely populated countries beyond their home markets reflect a notable change in strategy.