Four Idele experts presented on the possible impacts of the Russian/Ukrainian conflict on the French dairy industry. "The price of raw materials was already increasing before the Russian invasion of Ukraine on 24 February 2022," Philippe Chotteau, head of the GEB Economy Department of Idele, said in his introduction.
From February 2021 to February 2022, all input prices for cow's milk produced in France have been on the rise: up 13.3% for purchased feed, up 81.9% for fertilisers, up 29.5% for energy and lubricants, and up 23.8% for small equipment. The price of sea freight also increased and major companies, including MSC, Maersk & CMA-CGM, have suspended their activities from and to Russian ports since the beginning of March.
A high dependence on wheat, corn and sunflower
The Russian-Ukrainian conflict has led to a rise in commodity prices, with oilseeds reaching record highs. "The weight of Ukraine and Russia in world exports of wheat, corn and sunflower – the "Black Sea" origin provides 30% of world trade in wheat and 15% of that in corn – raises fears of shortages," noted Chotteau, who added that the increase in the price of grains and oils first affects food security for the people in the east and south of the Mediterranean.
OVERVIEW OF GLOBAL DAIRY MARKET PRICES
For many African countries, the share of wheat from Russia and Ukraine exceeds 60% of total imports. The EU-27 also significantly depends on Ukraine, with 29% of total Ukrainian exports of corn and sunflower in the 2020/21 campaign. The EU is also heavily dependent on Russian sunflower, with 56% of total Russian sunflower exports in the 2020/21 campaign.
Dairy products: Low trade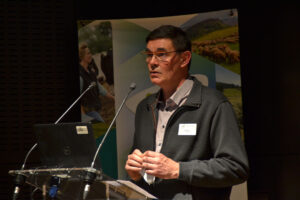 The Idele conference also discussed the position of Russia and Ukraine's dairy products in international trade. "France's trade with Russia and Ukraine remains low," said Gérard You, head of economy (see Box: Weak trade in dairy products between France, Russia and Ukraine). Ukraine, faced with a decline in its dairy herd (down 20% between 2011 and 2021), remains a marginal exporter of dairy products – 500,000 TEL-tonnes (milk equivalent in tonnes) in 2020. As for Russia, if it is the second world importer of dairy products in 2020 with a total of 5 million TEL, it is far behind China (13 million TEL in 2020).
Belarus is Russia's leading supplier of dairy products (€1.8 billion in 2021), which is far ahead of the EU-27 which in the same year only exported €252 million worth of dairy products to the Russian market.
Rising feed prices
What impact can the Russian-Ukrainian conflict have on French dairy farms? "With very volatile and unpredictable markets, caution is required," said You, who incorporates this uncertainty into the price of farm inputs with 2 hypotheses:
A low hypothesis (with a fairly rapid return to a situation at the start of 2022 before the war).
A high hypothesis with persisting tensions and instability, with prices at the level of early March 2022.
According to Idele's expert, the price of feed purchased could increase by 9% in the low hypothesis to 40% in the high hypothesis, that of fuels from 26% to 83% and that of nitrogen fertilisers from 30% to 61%.
You then completed this economic approach by presenting a study on the impact of this increase on the costs of a group of 133 lowland dairy cattle farms with 2.15 UMO (Unité de main d'oeuvre or unit of labour) and 346,000 litres per UMO). The results of this study show an increase in milk production costs ranging from €15 per 1,000 litres for the low hypothesis to €61 per 1,000 litres for the high hypothesis (see Table below).
The purchase of concentrates tops the 2 scenarios, with €7 per 1,000 litres for the low scenario and €38 per 1,000 litres for the most unfavourable scenario.
Table – Impact of conflict on milk production costs of lowland dairy farms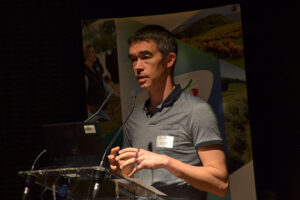 Then Benoît Rouillé, project manager of the Breeding Techniques and Environment Department at Idele, presented the levers available to farmers to cope with the soaring cost of raw materials. One of these levers consists of reducing production concentrate, its maximum efficiency is 0.8 kg of milk/kg of concentrate (0.5 kg of milk on average). According to Rouillé, the reduction in nitrogen corrector is a lever that can be used in some situations: on rations 100% at the trough with preserved fodder and on mixed rations with a small share of grazing. "In practice, to stop the nitrogen corrector, it is necessary to reach 50% of grazed grass in the ration as quickly as possible," says the expert, adding this half-ration of grass being reached from 20 acres of grass grazed per cow per day.
A less attractive job
The renewal of farmers and the attractiveness of the milk producer profession in France and in Europe were also the subject of a presentation.
With a replacement rate of departures at 45%, the dairy sector ranks at the bottom of all French agricultural sectors. Although this varies from 35% to 84% depending on the dairy areas. This low rate is due to a wave of significant departures linked to ageing farm managers, while the flow to the profession, although insufficient, has been fairly stable since 2010.
The renewal of farmers is a major subject for the dairy profession. "50% of cattle farmers active in 2018 may leave the sector by 2027," said Christophe Perrot of Idele during his presentation. According to him, the dairy sector suffers from a lack of image – 88% of young people think they are badly informed about jobs related to livestock farming.
Surveys carried out by Idele show that the concerns of French dairy farmers are shared by farmers in many European countries: average ages of taking on a position in the sector are also increasing and there is a shared concern about the number of people being in these sector roles and the recruitment of employees.
Concerns and obstacles in the profession are also shared: size of farms and necessary investments, permitted income, working time and arduous work. Human resource management is also a rising topic. The management of human resources is also a subject that is on the rise, with the increased use of salaried workers, there is a need to increase skills in the areas of human relations on farms, or the use of migrant workers to circumvent the lack of attractiveness.
Adaptation to climate change
The French dairy sector took up the issue of adaptation to climate change in 2015 by initiating the Climalait project. This research project carried out works with groups of farmers in 20 small dairy regions between 2015 and 2019. This led to the identification of levers for adapting livestock farming to climate change, both in terms of fodder systems and animals.
"Many levers are available to dairy farmers, in terms of genetics, adaptation of buildings, management of fodder resources", stated Aurélie Madrid from Idele, who has been working on French and European projects since 2016 related to climate adaptation.
"The animal genetic lever consists of exploiting the existing genetic variability and choosing the best-breeding animals for populations adapted to climate change; it is a very effective lever having a cumulative effect over generations," explained Aurélie.
Regarding livestock buildings, work carried out by Idele has made it possible to define an action plan to limit the impact of high heat on animals. With the definition of 5 sufficient actions in certain buildings according to their geographical location and their design, check watering conditions, provide palatable feed, provide shade for grazing animals, reduce direct and indirect sunlight inside buildings, and improve natural ventilation within buildings.