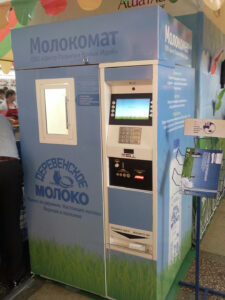 Sales of milk in churns can resume in Russia amid a lack of packaging, Tetra Pak's Nadezhda Shkolkina, deputy chairman of the agricultural committee at State Duma, the lower chamber of the Russian Parliament, said during a parliament meeting on 22 March, speaking about the problems in the dairy sector. Other options for selling milk include milkbots (vending machines), polyethylene, and plastic packaging, she added.
Among the elderly population, the reference to milk churns sparked memories of a food shortage in the late Soviet era and early 1990s when there were queues to buy these large metal cans or 'bidons'. The market economy in the past has made milk shortage synonymous with bidons in Russia, or at least it seemed so until recently.
At the time of writing, more than 500 Western brands publicly announced their decision to pull out of the Russian market due to the Russian invasion of Ukraine. Unprecedented sanctions have hit logistics and 80% of the Russian banking sector, prompting importers to suspend deliveries or downsize their business in the country. For the packaging industry, this heralded a beginning of the perfect storm.
Packaging crisis
Moscow-based think tank, Russian Business Consulting, citing local dairy companies reported the mass business exodus has triggered a full-fledged package crisis.
"The transnational company Tetra Pak, based in Sweden, is behaving badly towards Russia," said Arkady Ponomarev, founder of the Russian dairy holding Molvest, explaining that it prohibits releasing packages for such products like kefir and fermented baked milk.
"We have equipment in the country, there is a machine that can operate, but they are not giving the budget and permission to purchase materials so that the plant can produce this packaging," explained Ponomarev.
The dependence on imported equipment in the dairy packaging industry is nearly an absolute, commented Ravil Dautov, general director of the Russian dairy company, Laktis.
"Due to the sanctions, our company has faced a new challenge – to find analogs for imported parts. Ironically, they are indispensable not in the case of production, but in the case of packaging machines. [In this segment], 95% of the equipment is foreign-made," Dautov said, adding that the equipment is expensive, complex, and automated, so there are only a few possibilities where imported raw materials could be replaced for the products of the Russian-origin.
Imported raw materials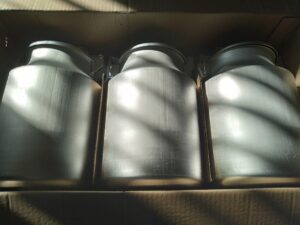 However, the package crisis is not only about Tetra Pak. In March, Elopak and Stora Enso announced that they would cease their operations in Russia, while Tetra Laval rolled out a decision to downsize operations in the country.
In the food packaging industry, cardboard, polyethylene, paints, aluminum foil, and other raw materials in Russia are primarily imported from the European Union. For example, bleached cardboard is imported from Finland.
Ponomarev said that there is a Svetogorsk plant that produces packaging for dairy products since the Soviet times, but it is owned by a US company. Polyethylene of Russian origin is suitable only for outer packaging, but another layer of polyethylene, which is in the middle of the package, is imported to Russia from Germany.
"We probably won't end up with milk in [metal] bidons, though, you know, it is better not to promise," Ponomarev stated.
Coping with the challenges
Indeed, Russian packaging manufacturers were quite deeply integrated into global supply chains, commented Artem Belov, chairman of the Russian union of dairy producers Soyuzmoloko.
"Although a decent share of the finished product has been made in Russia, many components are imported, and it will take some time to find alternatives or switch to other types of packaging," Belov said, adding that Soyuzmoloko has been working jointly with the Russian Agricultural Ministry to sort out the packaging issue.
"Suppliers have some stocks now, and the largest players will be able to increase the depth of stocks [enough to maintain operation] for several months in the near future. Things are tough, but we are not seeing a shortage of any products," Belov said.
Still, some dairy producers estimated that the current stocks would allow them to maintain operation for 1.5 to 3 months and that they were looking for a solution to the problem at the federal level.
Switching to glass, or bidons, would be associated with big challenges.
New best-before timeframe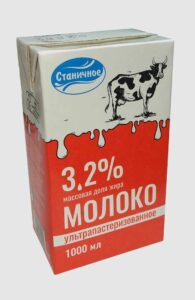 In the long run, packaging in the Russian dairy industry is likely to become more simplified, a spokesperson for a dairy company commented. This would be associated with shorter product expiration dates.
"The currently available packaging options are used because they are the cheapest and the most effective. Switching to glass, or bidons, would be associated with big challenges. After all, we are a big country, and not all regions are self-sufficient in milk, so when we talk about remote territories, expiration date is not only about customer convenience," the source said.
Ponomarev said that the dairy industry could return to the times when there were no protective firms for cheese – cut and packed right in the retail stores.
"You can move away from Tetra Pak products for the most part. However, it will not be possible to completely abandon the packages of this company," Aleksey Kobylin, Agricultural Minister of Chelyabinsk Oblast said during a press conference on 31 March.
Kobylin claimed that the packaging of dairy products in glass bottles is not the best idea, given that this approach would shorten the shelf-life of dairy products.
Bidons could jeopardise quality
Olga Abramova, deputy government head of the Udmurtia Republic said speaking to Russian press in early April, expressed hopes that Russia would not witness the return of bidons, since the use of this type of package would jeopardise product quality.
"I do not think that in the near future we will sell dairy products in these metal churns. Food safety issues are important here, so I'm not really happy about the bidons," Abramova said.