The size of the global dairy alternatives market is expected to reach US$50.15 billion by 2028, according to a new study by Polaris Market Research.
The report 'Dairy Alternatives Market Share, Size, Trends, Industry Analysis Report, By Source (Soy, Almond, Coconut, Rice, Oats, Others); By Product; By Distribution Channel; By Region; Segment Forecast, 2021 – 2028′ gives a detailed insight into current market dynamics and provides an analysis on future market growth.
According to a recent news release, an increasing number of people with lactose intolerance and a growing vegan population will drive growth in the alternatives industry. In addition, people are becoming more health-conscious, and lactose intolerance is increasingly prevalent among people globally. Furthermore, around 65% of people suffer from some kind of food intolerance, hence the growing need and demand for substitutes that will provide similar protein and vitamins.
Plant-based products such as almond milk and soy milk have lower calories compared to cow or buffalo milk. Hence, there is a preference for plant-based products to overcome obesity which is highly prevalent in many developed economies.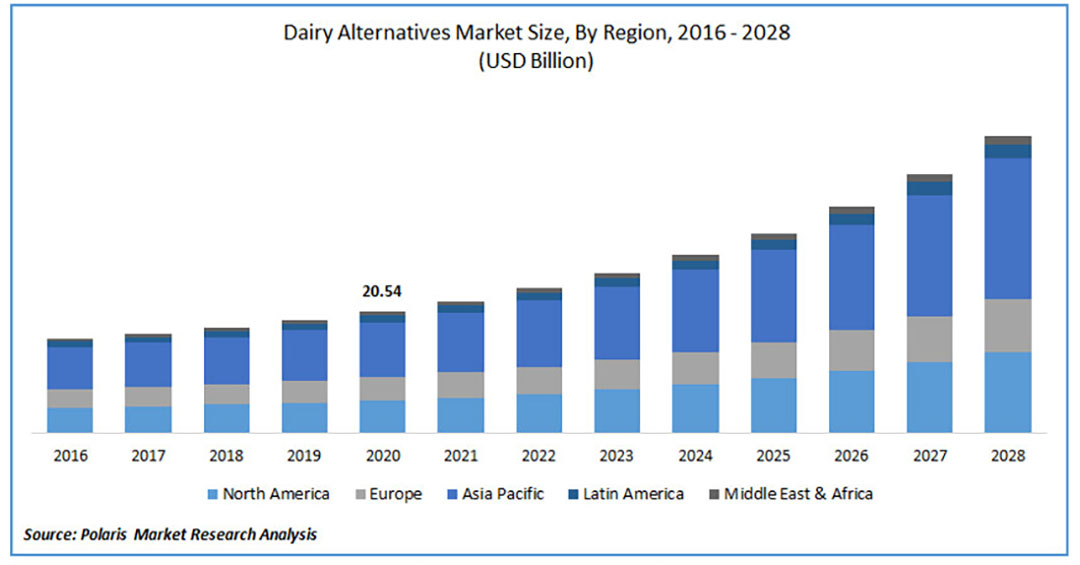 The Covid-19 pandemic is expected to positively influence the growth of the industry during the forecast period, as there is great demand for packaged items. Products such as packaged plant-based milk and beverages have more shelf life, and people are storing these products so that they don't have to go out of their residencies frequently.