​While some of the growth is driven by increased consumer interest in animal welfare and the environmental impact of livestock production, consumer surveys show that lactose intolerance plays a greater role in the purchasing behaviour of consumers of plant-based dairy alternatives.
In the latest trend report on Plant-Based Alternatives, there is a deep dive analysis on the performance of companies with a focus on plant-based alternatives within the agri food industry. Let's take a closer look at the 2 best-known producers of plant-based dairy alternatives, Alpro and Oatly. After analysing their annual reports, we can see that both companies occupy a different position within this growing market.
The originally Belgian Alpro has been making dairy alternatives from soy protein since the 1980s. Since 2016, the company is owned by dairy giant Danone and has shown steady growth, but has not surpassed the average growth rate of the dairy industry until 2020. Swedish company, Oatly, which has been making dairy alternatives from oats since the 1990s, has shown very strong growth after a shift in strategy in 2012.
Key insights from market and company analysis for the 2 companies:
Exponential growth is not a given in the plant-based segment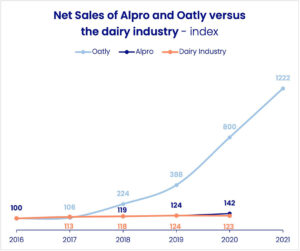 Higher margins than traditional dairy businesses?
A-INSIGHTS' analysis of the dairy industry shows that, on average, European dairy companies generated an operational margin of 2.7% of net sales in 2020, up from 2.3% in 2018 and 2019. This shows that higher margins than traditional dairy businesses are possible for plant-based dairy producers, but it might take a while to achieve.