The rumen is a complex ecosystem of bacteria and protozoa that enables carbohydrate fermentation, a process that produces volatile fatty acids and lactic acid. Cattle that consume a high proportion of barley and other cereals, which are rapidly fermentable carbohydrates, can generate excess quantities of volatile fatty acids as feed is digested. A highly fermentable diet supports increased milk production, but also increases the risk of ruminal acidosis.
In recent years, much emphasis has been put on the composition and function of the rumen microbiome and its association with environmental and economically important factors, such as methane emissions. However, a recently published review, suggests that a new and more global approach to rumen microbiome research may hold the answers necessary for further improvements.
Ruminal acidosis occurs when volatile fatty acids production exceeds the rumen's capacity to maintain equilibrium, causing a drop in ruminal pH. Normal pH of rumen fluid is 6.2 to 6.5 for animals on a diet of roughage and 5.8 to 6.2 for healthy animals on a high grain diet. Acute acidosis is defined as ruminal pH below 5 for an extended period of time and often results in death. Subacute acidosis is more common among dairy herds and is characterised by repeated periodic episodes of low rumen pH (below 5.6) for at least 3 hours per day. Subacute ruminal acidosis affects feed intake, milk production, rumen microflora and rumen digestion and can cause diarrhea, rumen mucosal damage, laminitis, rumenitis and liver abscesses in dairy cows.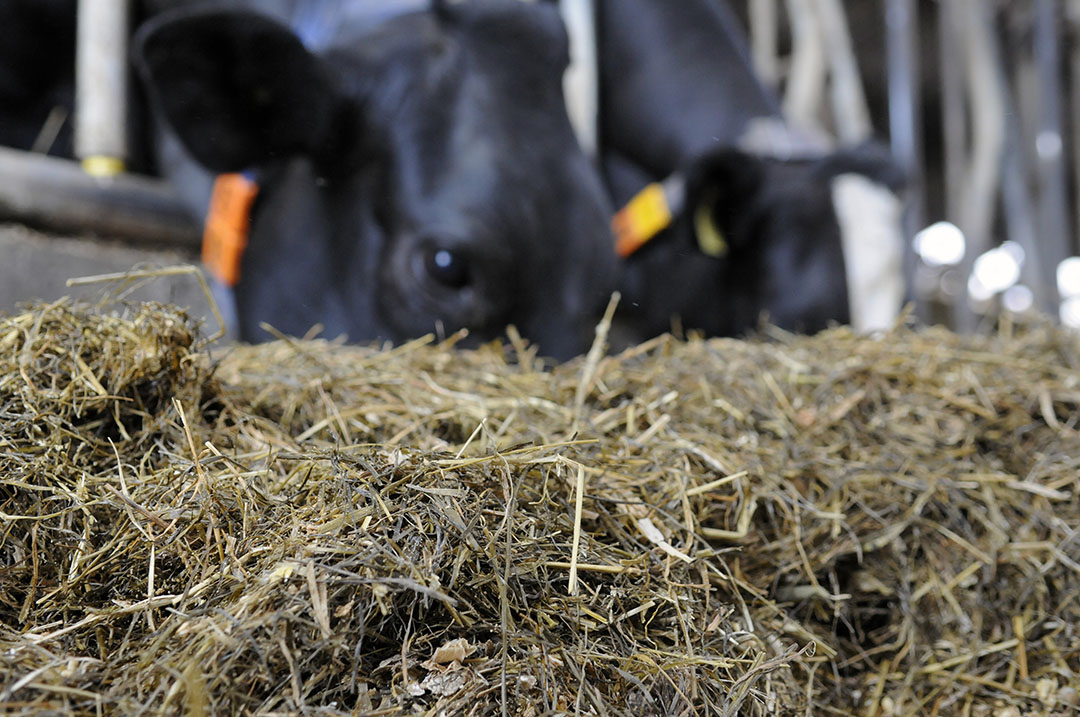 Less severe subacute ruminal acidosis cases can be mitigated by neutralising acids in the rumen and adjusting the feed formulation. Unfortunately, afflicted cows may not show any clinical signs before they go off feed, lose weight, become lethargic and suffer diarrhoea. Therefore, it can be difficult to identify animals with subacute ruminal acidosis without measuring rumen pH. Preventing subacute ruminal acidosis requires careful management of rumen fermentation.
Standard method
Manure evaluation is key to understanding the site and extent of both digestion and fermentation of consumed feeds. Any feed particles or nutrients not digested and absorbed by the rumen, small intestine or large intestine are excreted in faeces and urine. Although not a precise science, manure evaluation is a useful indicator of cattle nutrition and health.
The standard approach to dung analysis consists of washing and screening and then observing undigested residues. Nutrients from large undigested grain particles, like corn kernels, are not available to the cow or to rumen microbes. Additionally, the presence of excessive amounts of mucus suggests chronic inflammation of, or injury to, gut tissue. Both of these physical indicators can be signs of ruminal acidosis.
Digital tools
Digital applications can help dairy producers assess the risk of acidosis to prevent loss of productivity and economic performance of their herd. For example, My RumiDiag is a mobile app built for farmers, veterinarians and technical experts. It is designed to facilitate and deploy acidosis analysis in real time through a smartphone or tablet. My RumiDiag draws on the expertise of Wisium technicians and artificial intelligence (AI) technology.
Wisium, ADM's global premix and nutrition services business, delivers innovative solutions and value-added services to enhance producers' quality, productivity and profitability. My RumiDiag is a digital tool that can estimate subacute ruminal acidosis risk from a picture of cow dung. It's fast and easy to use, just take photos of fresh excrement with a mobile device, answer a couple of yes or no questions, and the app's AI will evaluate the quality of cow digestion to provide a preliminary diagnostic.
Starting with this risk assessment, dairy producers and their nutritional advisors can discuss potential solutions to improve animal productivity. Corrective actions might include adjusting the mixing and distribution mode, changing the diet particle size and frequency of meals, improving fibrosity diet status, rebalancing the diet for nitrogen and energy fermentability in the rumen and adding specialty buffer ingredients to the feed.
My RumiDiag is a simple and powerful tool that can be regularly used for rumen fermentation management. Farmers gain a free, reliable and objective indicator to help assess the impact of changing feeding practices on digestion quality. Paired with the tailored recommendations of Wisium nutritional experts, My RumiDiag is a time-saver that helps improve production quality and well-being of the dairy herd.