The agricultural kibbutz Mishmar Ha'Emek has a proud history. The kibbutz was founded in 1922 by emigrated Jews from Poland and Ukraine. During the War of Independence in 1948, in a violent firefight, kibbutz inhabitants prevented hostile Arabic troops from the east from continuing their way towards the port city Haifa.
Currently, the kibbutz is one of 20 to 30 kibbutzim in Israel, who live according to the classic socialistic ideology. The farm hasn't been primarily responsible for financing the kibbutz lifestyle, but the kibbutz cherishes its agricultural roots. There is however no room for nostalgia, the farm must be profitable. Last year the entire farm's profit was €3 million. The farm also functions as a testing company for Tama, producer of bale nets and bale rope, and current cash maker for the kibbutz (see box).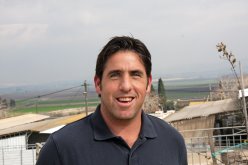 Profile
Name: Guy Shapira (35)
Function: Manager
Place: Mishmar Ha'Emek
Company: The kibbutz milks 240 dairy cows at the location Mishmar Ha'Emek. The milk quota of the kibbutzim Mishmar Ha'Emek and Galed is 6.4 million litres. The arable farming business includes 1,170 hectares of wheat, lucerne, corn, sunflowers, onions and cotton, 150 hectares of orchard with olives, almonds, avocados and pomegranates. The beef cattle business includes 1,900 cows, with 900 sellable calves on a yearly basis, covering 2,800 hectares of extensive grassland. Additionally six houses with 125,000 laying hens, two houses with 80,000 broilers and a hatchery with 28 million chicks.
Independent farm units
Earlier this year, manager Guy Shapira gave Dairy Global a tour around the company. With 22 degree Celsius it is pleasantly warm and the field surrounding the company are still green due to the rainfall in December and January. It is a versatile company with arable farming, poultry, meat cattle, almond and olive orchards, dairy cattle and contractual work, such as cotton threshing for other kibbutzim. Each business operates and is financed on its own. Arable farming does not facilitate the cattle business. The cattle business buys its feed from a feed plant, which buys it from either the kibbutz arable farm or externally, depending on the price. The stable is an open stable with a thick, soft layer of dried manure used as litter. Large fans blow to keep the manure dry. The stall is more suitbale to withstand extreme cold conditions than hot conditions. The cows are therefore placed outside during the summer. Almost the entire year, the manure remains bone-dry. In winter, the rainy season (600 millimetre annual rainfall drops from December to February), here and there some moist spots are visible. According to Shapira this does not lead to an increase in claw and udder problems. While the animals are eating at the fences, a tractor mills the manure loose with a harrow. This enhances good drying and keeps the top layer airy. The manure hasn't been removed for a decade, says the manager. Only the manure which tips over the sides is removed.
Robots replace expensive labour
In 1970 the farm was merged with the company of the kibbutz Galed. The joint milk quota is 6.4 million kg. At location 'Mishmar Ha'Emek', 240 dairy cows are housed, divided over four groups. Each group has a Lely Astronaut, generation 2 from 2005. In Israel, there are only three companies of this size using robots. All others use cheap workers from Thailand. The kibbutz's philosophy does not allow external staff. The farm must be run by people from inside the kibbutz, but Israelian salaries are high and increase the cost price. By using robots, four people are sufficient, instead of 8 to 10 as in the past, says Shapira. Before 2005, labour costs were 1 million shekel per year (€235,600), now only €117,700. "In four years' time we had earned the robots back."
Cows are pure production resources
Beautiful Holsteins, easily recognisable by large numbers branded on their backs with nitrogen, live in the stable. Just like elsewhere in Israel, milk production is high. Shapira proudly names a few key figures: the pregnancy rate is 43%. Average milk production has been 12,000 litres per cow since 2008. The average milk production over 2014 and 2015 is even 12,300 litres per cow. Fat content is 3.9%, protein content 3.35%. According to the Israeli Dairy Board, the Israeli average is 12,083 litres with a fat content of 3.64 % and 3.27% protein content. On average a cow has a daily milk yield of 42 litres, although this drops to 32 litres during the hot summer months due to heat stress. Shapira regards the cows as production resources. Annually at least 30% of the cattle is replaced. When a cow is not pregnant after the second insemination attempt, or the milk yield drops, the cow is culled immediately. "If a cow's milk yield is below 25 litres, it costs money." On average a cow remains only 2.5 lactating years on the farm. Most cows don't go beyond 31,000 litres in their productive lives. Shapira can't relate to the fact that some Dutch dairy farmers throw a little party when a cow reaches 100,000 litres.
Mishmar Ha'Emek supplies its milk to the leading dairy processor in Israel: 'en Tnuva-Dairy'. Israel has a closed market and has a milk quota. Governmental regulation extends even further. The milk quota is even set by the government. Currently the milk price amounts to 45.9 euro cents per liter. For this price, the job can easily be done, says Shapira. Per litre almost 9.4% profit is made. Per cow this amounts to a profit of €1,159.
Using Tama's profit to safeguard kibbutz ideology
The agricultural kibbutz Mishmar Ha'Emek, which counts 1,100 inhabitants, also owns Tama, producer of bale nets and rope for balers. Tama was founded in 1950. In 2015 turnover was €420 million. The average growth between 2010 and 2015 was 12.5%. Mishmar Ha'Emek uses Tama's profit to finance the socialistic lifestyle of the kibbutz. Both the CEO and the cleaner of the shared kitchen live in the same type of house and earn the same salary. Ego and status are irrelevant. Kibbutz members are taken care of by the community, from birth till death. Profit maximalisation of Tama on the one hand and socialism on the other hand do not coincide with each other, but Aviv Linn, commercial director of Tama and convinced kibbutz resident sees this differently. "Socialism is a noble idea for a life rich in terms of quality, but socialism without money will not live very long. Our kibbutz applies an idelology that is based on socialism that embraces capitalism. Thanks to Tama's profit, the kibbutz is able to finance this ideology. Classic 'farming' kibbutzim without a profitable company on the side are all defunct.