The expansion of Andrew Farrant's farm with 200 boxes was in the final sta-ges. After placing the cubicles and fences, it was a matter of filling the deep litter boxes and the cows could come in. Those cows roam in the meadows around the river Thames.
Farrant is expanding to 600 cows, a lengthy process. In 2004 he replaced his herringbone parlour with a 50 bail rotaryWaikato milking carousel and a waiting area outside the barn. Both were built attached to simple stables. In 2011 the demolition of an existing barn took place. The new building consists of two halls, without feed paths. There are six rows of 37 boxes with sand, manure corridors and two feeding troughs inbetween. The end walls are open to 3 metres high, surmounted by shelves. The roof is made of asbestos sheets. The construction costs, including increasing the manure storage from 2,000 to 3,500 m3, was around €1,400 per site.
The new barn and larger roughage supply is largely financed from cash flow. The company is a lease company. The problem is that there's no certainty of continuity, which makes financing harder. That's why Farrant's father and uncle decided in 1980 to start a second dairy location. That was converted in 2003 into an arable adjoining cattle business. They keep 650 beef cattle on 220 hectares. "That's where the collateral value of the firm is, the dairy branch makes the return." Farrant sells his milk in a premium segment, to the Waitrose supermarket chain. Waitrose is very keen on quality and 'natural' way of production. Farrant must for example construct hedgerows and wild strips in order to deliver to Waitrose. Well worth the extra mile, says Farrant: the group of 55 farmers under contract by Waitrose had on average the highest milk price received in England over the last ten years. "And it is a stable price. This facilitates investment in scaling up." A programme fee of about €0.3 cents per litre is part of the milk price. Of this, €0.5 to €1.5 cents is for hygiene and uniformity: €0.8 cents surcharge or €0.7 cents penalty for not realising it. The monthly supply must not exceed 15% deviation from the annual average. "That requirement has never created problems, but the expansion in animals in combination with the extremely dry summer leads to large deviation.
We are now at 14.8%, it will go well." It must, because Waitrose can let companies go which do not meet the uniformity requirements. Farrant wouldn't want to take that risk, pleased as he is with his contract. It makes him proud to be one of the 55 chosen farmers, but also from a business perspective it counts as a big plus. "This contract gives me a head start of €100,000 per year." In order to fulfill the uniformity requirement, he works with two groups of cows. "If necessary, I can go to three. But two groups are already one too many for a company that would produce maximum from thegreen stuff." All cows go into the meadow in March, day and night. The high production group returns around 1 September to the barn for the night and for extra feed. The second group follows a month later. In early November, Farrant keeps all the cows in the barn around the clock. Now there are five men working on the farm alongside Farrant and his father. Farrant works with the dairy cows, his father oversees the younger cattle. These calves stay until 12 weeks of age on the farm. Thereafter, feeding is outsourced to a former dairy farmer. "My father will eventually do less. That is unfortunate, because he is much better with the cattle than I'll ever be."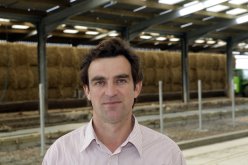 Profile
Andrew Farrant owns along with his father, uncle and nephew 585 dairy cows and 60 calves on 352 hectares (of which 85 hectares is property), in Eaton, Oxfordshire, UK. 300 heifers are housed elsewhere. The cows give 7,116 kg milk with only 3.97% fat and 3.30% protein at 1,400 kg concentrate. The emissions from cows is 19%. A 100 kilometres away, there's an arable farm from the family with 650 beef bulls.