Russia will decrease milk imports by 29.9% or about 3.2 million tonnes by 2020, while by 2025 imports should drop by nearly 9 million tonnes making the country almost fully self-sufficient in milk produc tion. This is according to a special report by the country's Agricultural Ministry.
During 2015-2020 the Russian government will invest RUB 568.2 (US$ 14 billion, based on the forecast exchange rate of 2018) and encourage private investors to put a lot of money in the industry through soft loans and tax benefits.
Over the coming decade imports should fall not only for milk, but also for all categories of dairy production – on average by 40-70%. An important element of the import replacement policy is the food embargo implemented in August of 2014. The report doesn't specify if it should last during all this period or if it will be cancelled in August 2015 as it was scheduled initially.
Neglected dairy sector
The recently appointed Russian Agricultural Minister Alexandr Tkachev said that the development of the dairy industry will be a main objective in his new position. He also stated that the situation in the industry is 'neglected' and in terms of self-sufficiency the situation in the milk sector is the worst out of the whole Russian agricultural industry.
Production indicators of the Russian dairy industry seem ambiguous. On the one hand, the volume of milk production in 2014 amounted to 30.8 million tonnes, which is slightly higher than in 2013. On the other hand, according to the Russian State Statistical Service, last year Russia produced only 5.3 million tonnes of 'treated liquid' milk, which is 1% less than in 2013.
This year, the negative trend continued as in Q1 of 2015 the production of 'treated liquid' milk decreased by 1.3%, to 1.4 million tonnes year-on-year, while the production of milk and cream 'in solid form' (dry) fell by 18.5% to 21,600 tonnes compared to the same period last year.
Increased costs of milk production
Estimations of Soyuzmoloko, the Russian Union of Dairy Producers, show that devaluation of the Russian ruble which took place last year and the systemic crisis of the country's economy after Western sanctions, increased the production cost of milk. In Q1 2015 it jumped by 30-40% compared to last year – RUB 22-23 (US$ 0.44 – 0.46) per litre in new complexes (excluding the investment load) and RUB 16-17 (US$ 0.32 – 0.34) per litre at old farmhouses.
Unattractive investment prospects
At the same time, market participants say that all government plans to increase production volumes will be ruined unless the authorities are able to find a way to increase the profitability of the milk production business. As of 1 May, the purchasing price of raw milk in the industry has been on average RUB 16-17 (US$ 0.32 – 0.34) per litre while in some regions, it dropped to RUB 13 (US$ 0.26) per litre, according to Soyuzmoloko data. This is roughly 10% lower than in May 2014. As a result almost half of the industry has been operating with losses during the first half of 2015. The situation is worsened by the fact that the milk production business in Russia has already been balancing on the edge of profitability for several years and many companies meet 2015 with huge debts which may eventually lead to bankruptcies.
"Milk inherently is a social product, it cannot be too expensive on the market, in contrast for example to meat, and therefore its production will not give producers a quick return," comments the chairman of Soyuzmoloko, Andrei Danilenko. According to him, this recent situation resulted from the fact that milk production was the last industry that agricultural businesses invested in. "So over recent years the milk industry has received less investment than other [agricultural] sectors," he added. Soyuzmoloko president, Ayrat Khayrullin, already offered the Ministry of Agriculture the idea to implement a corridor of minimum and maximum prices for raw milk. The idea is to force processing enterprises to purchase milk at prices not lower than the production cost, which should ensure that businesses will not suffer losses. Khayrullin didn't determine the certain rates for such a corridor, but stated that if such a measure would not be implemented, then 2015 will experience a decrease in the dairy livestock population and a drop in the levels of milk production.
The market however, will not face a deficit, as supplies will be increased by producers from Belarus and Kazakhstan which have common customs space with Russia and lower production costs which allow them to dump products.
However, this corridor measure will probably not be implemented, as the Russian Ministry of Agriculture would like to refrain from excessive regulation of market relationships. In this case Khayrullin pointed out that a decrease in the livestock population and bankruptcies of old farms will prove to be unavoidable.
Limit milk imports
Khayrullin suggests that the only alternative to support the industry is to limit imports of milk from Belarus. "In Belarus there is an oversupply of milk, so its average production cost is standing at RUB 13 (US$ 0.24). We have the common economic space, so cheap imported milk pushes our prices down and in future they could fall to the same level," he states. Import restrictions would not be needed if the Customs Union were to harmonise legislation in terms of operating agricultural businesses. "The direct government support for Belarusian farmers is not higher than in Russia, but there is a cardinal difference: they have access to very cheap loans, with rates that are below the inflation rate."
"Calculations by Soyuzmoloko show that the key problem of the cost of milk production in the Russian Federation is the cost of loans. If the loans were more available, the need for state support would be significantly less and profitability would be higher," adds Danilenko. He also adds that due to this situation the industry currently has 'price swings' with strong fluctuations of the market price in most categories of dairy production with a temporary rise and fall of consumption.
Smuggling is a problem
The situation currently is also complicated by the rising volume of smuggled milk and dairy production from the EU under the guise of transit supplies from Kazakhstan amongst other routes. Various market studies say that smuggling may provide 10-20% of all dairy product imports from European countries prior to embargo. At the same time, these products often get to the market without import duty and any financial burden, so it also negatively affects the overall price situation.
Finally, another problem is the rapid growth of palm oil imports. Russian veterinary and sanitary services suspect that the country's cheese and butter producers may replace the milk fats with it, thus supplying the market fake produce with a lower production cost.
According to Danilenko the first step Russian authorities should take to improve the situation in the dairy market is to toughen the liability for any illegal activity. According to him "with the current level of fines we have a ridiculous situation at the market where regular trade practices recently became less profitable and less attractive than cheating."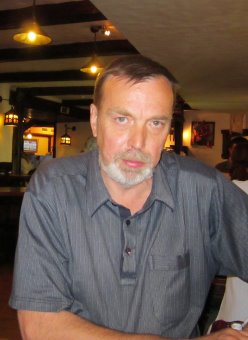 Interview with Russian dairy farmer: Viacheslav Shmauts
Viacheslav Shmauts runs a herd of 350 heads of dairy cattle in Voronezh Oblast, Russia. Representing a small-scale business he complains that the industry associations mostly focus on supporting the interests of large producers and it is mostly large projects in the country that actually may hope to receive state funding.
What are the main problems small dairy businesses are facing?
Well, it is hard to say what problems are the main ones as in fact there are a lot of them, but probably a high interest rate on loans and very limited access to retail sales. The cost of loans during the last year nearly doubled, so today it is too expensive for small farmers. The state subsidising is partly through Rosselhozbank (state-owned bank, designed to support agricultural activity in the country), but it mostly works with large businesses and it is especially hard for small farmers to receive even small loans there as dairy farming usually has a low level of return.
You've mentioned problems with retail sale, what is that about?
The fact is that small farmers usually have big problems with selling their produce. We have contracts with processing plants, but the purchasing price here is low and it would be interesting to have direct access to the market. In supermarkets and hypermarkets there are high entry fees so the only option is the open market and various fairs. However, here we also have to deal with a lot of administrative barriers, as to get into the market we have to pass numerous inspections. Places at markets and fairs are also limited so basically small farmers don't have any access to the consumers.
How is the situation with technology on small farms?
We have often heard from the state that we have to conduct some modernisation, apply new technologies and so on, to bring the level of profitability to the rate of European manufacturers. However, I don't think that we have a technological disadvantage compared to our competitors and of course I don't know what modernisation we can conduct to boost the return by a quarter, or so. We can only struggle for a couple of percent, but I don't think it will help us a lot. Although every modernisation also requires money.
Will a new 
state support 
programme improve the 
situation?
No, not if it will use the old 
forms of funds 
distribution, which includes mostly large players. In Russia, today more than half of all milk comes from small/medium sized business. There will be no progress until state support is equal for all.
So what should be done to make the import replacement programme 
successful?
My personal opinion is that simply distributing money for new projects is not working, especially given the fact that a large part of the funding is not spent effectively. The state should create conditions to make business more investment attractive without any funding. Otherwise after the end of the state subsiding period all these projects will fail, as they consider state support as part of their investment plan and for them it will be hard to work without it.