A good reproduction programme in place.
The ultimate goal of improving reproductive performance on a dairy is to improve profitability. In fact total milk production is determined by the proportion of cows along the different months of the lactation curve and by the level of milk production inside each of the different months. Improving reproductive efficiency improves profitability by maintaining the greatest proportion of cows in a herd producing milk at optimal levels. Basically we can state that herds with excellent reproduction have a more favourable lactation distribution, and several simulation studies have quantified the financial benefits of this more favourable lactation distribution as result of an improved reproduction in a dairy herd. So reproductive inefficiency in lactating dairy cows not only is a source of frustration to dairy producers and their consultants but also substantially reduces dairy farm profitability.
Maximising conception and service of your dairy herd
Excellent fertility inside a dairy herd is generally the result of healthy fresh cows, with minimum metabolic and infective problems, that are able to express an elevated capacity to become pregnant after the end of the voluntary wait period. Generally the rate at which cows become pregnant in a dairy herd is measured using the 21-day pregnancy risk which is determined by an interaction between service risk and conception risk. Thus, maximising both conception and service risk provides opportunities for management control of reproduction and profitability in a dairy operation. As reported by professor Frickie in the paper "The 7 Keys of Highly Effective Reproductive Management Programs: Powerful Strategies for Achieving a 25% Pregnancy Risk", a highly effective reproductive management program should be based on the following key points:
– Inseminate cows at the correct time in relation to estrus or ovulation.
– Inseminate cows quickly after the end of the voluntary waiting period.
– Employ accurate detection of estrus.
– Maintain high compliance to synchronised breeding protocols (or forget about using them).
– Identify non pregnant cows early after an insemination (but not too early).
– Aggressively re-inseminate non pregnant cows.
– Adopt and adapt to new technologies.
Heifer programme
In today's dairy industry, the heifer programme for dairy operations is crucial and should be considered an opportunity area for most producers. However, unfortunately heifer development programmes are often overlooked by dairy producers. Dairy producers commonly state that heifer raising requires too much effort and is not cost effective. However a better approach is to think of the heifer programme as a great investment that will generate a good return (milk production) tomorrow, instead of viewing it as a production cost of today. A successful dairy heifer development programme means managing the growing phases of a heifer's life to achieve high milk production early in first lactation with minimal health problems. It means implementing a programme which ensures strong immune competence in the heifer, controlled body condition scores and weights, desired hip height at a certain stage of age, an optimal feed efficiency and average daily gains. The input costs need to be carefully managed and this management style requires key performance indicators that traditionally we have not used. Average daily gain and feed efficiency are essential to track if we want to make the management decisions that yield the best return on the heifer development costs.
Reaching potential growth rates in heifers
Heifer management without recording and monitoring the most relevant key performance indicators would be like managing a lactating herd without milk production and reproduction records. Dairy farmers, herd nutritionists, and dairy vets must work together to establish a programme that works in correlation with the existing facilities and managerial ability, enabling replacement heifers to reach their potential growth rates. They should collaborate in order to design a programme that maximises dry-matter intake through well designed facilities and optimal management procedures for adequate feed bunk space access, providing every day fresh feed and water and utilising good quality forages in heifer rations. Rations should be formulated in order to increase growth rate by increasing frame size without excessive body condition. In general this means higher levels of metabolisable protein in comparison to traditionally-raised calf ration formulations. We need to monitor body condition scores as heifers mature to maximise frame size and reduce the possibility of heifers becoming over conditioned. Rations should be formulated to maximise rumen microbial growth, which improves feed efficiency while optimising amino acid balance. Once the breeding size is achieved at the optimal animal age (considered to be between 12 and 13 months) it is then essential to implement a robust heifer reproductive programme that ensure pregnancy occurs as soon as possible.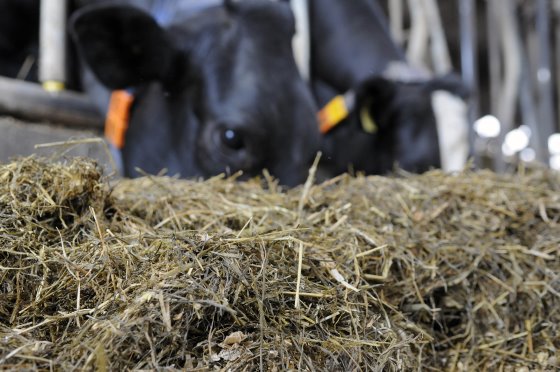 Forage production
Theoretically forage production is not part of the dairy operation per se. This practice is being utilised in large regions in the world, e.g. USA, but with increasing environmental restrictions many dairy farmers are forced to acquire fields for manure spreading. This then results in the necessity of producing and utilising home-grown forage. We have to remember that even in rations, which have a minimum amount of forage, the percentage in the ration used is about 40%. In Europe we tend to include up to 60%. This means that the quality of the forage used and ability of the cows to digest this forage is crucial. The importance of selecting appropriate crop type, hybrids and harvest stage is well established and there has been substantial emphasis on these options for decades. Less attention has been paid to the logistical problems that can occur during harvest. For example issues such as the chopper harvesting more tonnes per hour than the equipment on the stack can press together can occur. Issues such as these result in higher losses of forage and heating of the silage as a result of mold forming. Last but not least is the reluctant use of silage additives, this is despite the fact that many excellent results have been reported with the use of these additives over the last couple of decades. In many cases the reason for not using additives is that they are called 'expensive'. What many are not taking into consideration is that silage additives can help to reduce losses occurring in the silage as a result of spoilages and that using an additive increases the possibility of producing more litres of milk per tonne of feed produced.
Conclusions
Dairy herd reproductive and heifer rearing performance should be monitored routinely to identify strengths and determine opportunities for improvement. Without high quality forages the reproduction and heifer development can be impaired due to mold forming and lower energy levels than expected. Dairy herd owners and managers should work with their management teams to evaluate reproductive status, forage quality and feed efficiency and set appropriate goals for their herds.