Following the 2022 World Mycotoxin Forum held in Parma, Italy, from 16 to 18 May, Trouw Nutrition, Nutreco's livestock feed business, convened more than 50 university students, young professionals, faculty members, and industry leaders for the first-ever Young Scientist Forum.
Participants discussed the mycotoxin situation around the globe in 2022, considered emerging innovations and imagined how the future of mycotoxin management may evolve. Below, Dr Swamy Haladi, global programme manager for Mycotoxin Risk Management at Trouw Nutrition, provides some insight into the conversation at the Young Scientist Forum.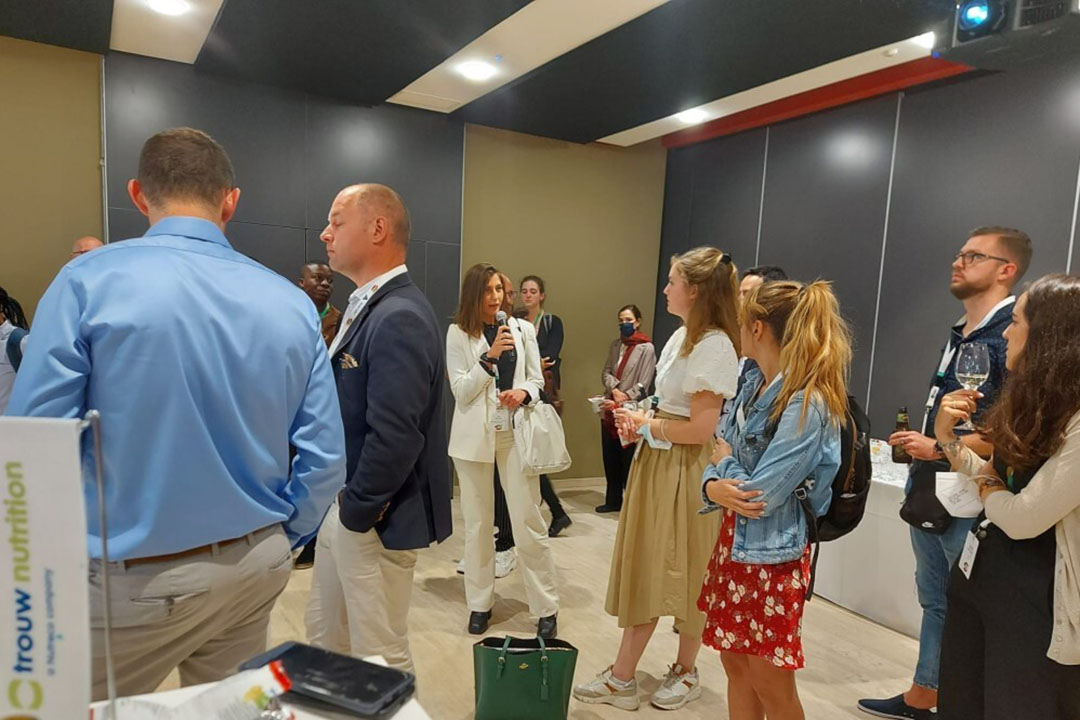 How may insights from the Young Scientist Forum influence future research on mycotoxins?
While it is essential that research continues to focus on mycotoxin analysis, the prediction of threats, the regulatory environment and the adverse effects mycotoxins have on human and animal health, new research priorities are emerging. For example, participants discussed the devastating effects mycotoxins have on low-income households in Africa.
Aflatoxin M1 is an excellent example of a mycotoxin that is inflicting extreme socio-economic consequences in many African nations. Considering mycotoxins through the lens of the social and economic harm they cause energizes us to come back to the drawing board and identify innovative, practical, and cost-effective solutions.
What are some aspects of mycotoxin management that were of particular interest to attendees?
Mycotoxins present a threat to sustainable livestock production as well as harmful effects on animal health and welfare. Climate change – extreme rains and more periods of sustained warmer temperatures for example – can increase the growth of mycotoxigenic fungi and the synthesis of multiple mycotoxins.
Many conversations during the forum focused on innovations and technologies that help improve not just the performance and productivity of animals, but also animal health and welfare. Given the complexity of mycotoxin contamination and the synergies that arise between different mycotoxins, it was very evident to participants that methods relying on one mode of action – like mycotoxin binding – are insufficient. A more targeted approach combining multiple modes of action such as binding, gut promotion and immune modulation, is required to address the varied challenges.
Why is it important to engage students and young professionals in efforts to reduce mycotoxins?
Young minds have always been at the forefront of coming up with out-of-the-box and innovative ideas for solving the world's problems – including producing safe food. Young people also understand the shifting and ever-evolving expectations of consumers. For example, as today's consumers are interested in the conditions on farms where animals are raised, it is essential to consider the safety of ingredients that are included in the animals' diets.
The energy that young people bring to solving problems encourages us to explore new possibilities and look beyond what initially might seem impractical. For example, during the Young Scientist Forum, a student mentioned ammoniation to control ergot toxin poisoning. While ammoniation was used long ago to control aflatoxin, it fell out of practice due to application difficulties. However, in light of the latest developments in application methods, ammoniation technology might be practical.
What kind of feedback did you receive from participants at the Young Scientist Forum?
The energy and enthusiasm of the students were really inspiring. But it was also heartening to see how young and more seasoned professionals – those young at heart – collaborated and learned from each other as scientists and industry leaders.
For example, Vivi Koletsi, a PhD candidate at Wageningen University, shared with event organizers the following, feedback: "I loved the open mic interaction during the Young Scientist Forum. The open mic allowed everyone to engage and learn about each other's field of research. It was also great to have a mix of young and more experienced people."
Another PhD candidate at Cranfield University in the UK, Abimbola Oluwakayode, shared, "An advantage was to have the opportunity to learn from more experienced industry professionals. The event was a great way to talk about what to do after university and see what research is ongoing."
And from my personal experience, collaboration with the animal feed industry during my Master and PhD studies helped inform my own career path. When young people and more mature workers get together to share, exchange ideas, and imagine the future, it can be a win-win.