Just how real is this challenge? When weather patterns or other factors impact fields, they negatively impact everything down the line—from harvesting and fermentation to the ultimate feed quality. Specifically, feed tends to be drier and higher in fibre, creating digestibility and feed intake issues.
And that's only the start of issues you'll be facing: Inconsistent silage also presents an even greater threat from mycotoxins. Studies show that 3 out of every 4 ration ingredients globally are contaminated by one or more mycotoxin. And in the U.S., researchers estimate that 3 mycotoxins alone—aflatoxins, fumonisins and deoxynivalenol—cost U.S. livestock producers US $900 million every year.
How to meet quality and safety standards?
In the face of so much variability in corn silage quality, what can you do to ensure what you feed your animals always meets the quality and safety standards you need? How can you avoid adverse consequences on cow health and milk production?
One way would be to know beyond a doubt that every feed source you choose is entirely free of mycotoxins. Trouble is this isn't always possible—at least not with the 100% certainty that would be needed. Marking bags to identify the source is impractical for many producers who prefer piles or bunkers. And not much is gained by testing for mycotoxins since it's more than likely confirming what you know is already there.
Mitigating risks
By now, you may be wondering if the entire cause is hopeless and there's nothing that can be done to mitigate the negative impact of inconsistent silage. Ready for some good news? There are innovative ways to mitigate risks that go beyond simply testing feed quality or other traditional approaches.
For example, consider the advantages of the Refined Functional Carbohydrates (RFCs) found in innovative products like Celmanax and BG-Max. Adding RFCs to the ration can help your cows take on mycotoxins and win, regardless of the feed source. In just one of many research studies, RFCs have demonstrated success in reducing carryover of aflatoxin M1 in milk (Figure 1).
Figure 1 -In vivo RFC mitigation of aflatoxin in milk.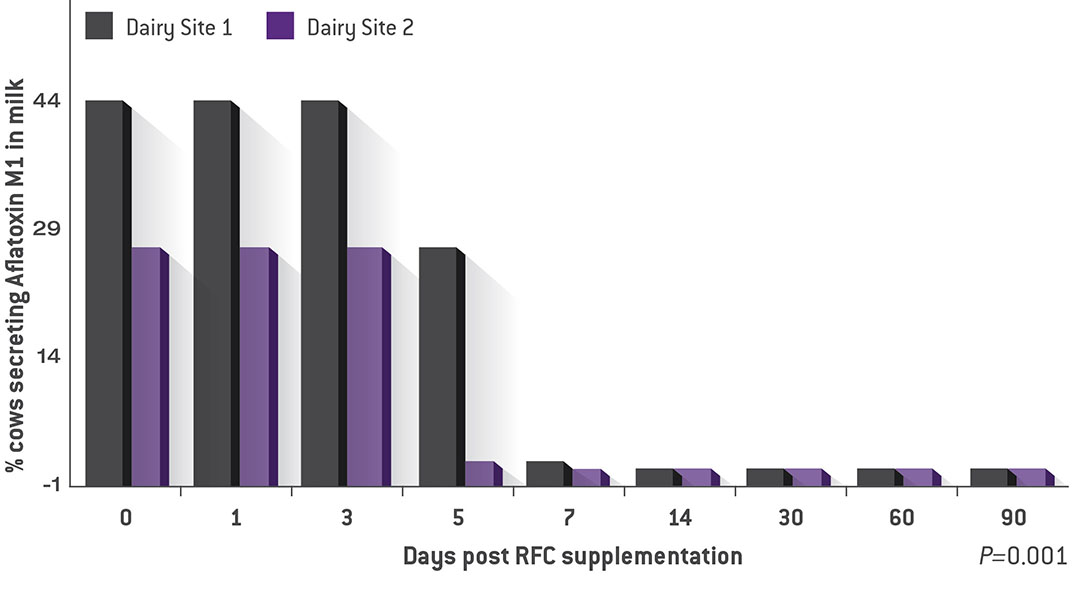 Optimising productivity
By giving your cows the edge that they need against mycotoxins with every bite of feed they take, you can focus less time and resources on feed and more on other ways to optimise productivity. You can also accomplish all the above without relying on multiple feed ingredients since RFCs are available in a single product formulation.
It's always a good time to manage the unseen, profit-stealing threats to your animals—and RFCs can help you do just that.
Research available on request.